Hall of Fame Award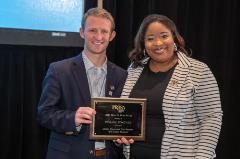 Help acknowledge the contributions that PRSSA alumni have made to the public relations profession by recommending someone for a Hall of Fame Award. This is a great way to honor your Chapter's Professional Adviser or other mentors if they used to be PRSSA students.
Deadline
April 30, 2023
Award
Plaque
Eligibility
The recipient of this award must be an individual who has built a distinguished career in public relations and who continues to contribute to public relations education through PRSSA involvement.
Application
To nominate someone for this award, submit the following materials:
A letter of recommendation from the nominator.
A copy of the nominee's current résumé.
Make sure all materials are error free and thoroughly proofread. UPDATE: All application materials must be included as attachments and sent via email to ben.castleman@prsa.org by April 30, 2023. Incomplete or late applications will not be considered.
Previous Winners
2022 Corinne Findlay, BCW
2021 Landis Tindell, Oklahoma State Regents for Higher Education
2020 Katie Thomas, APR, Nationwide Children's Hospital
2019 Ben Butler, APR, Top Hat
2018 Brandi Boatner, IBM
2017 Rachel McKee, Ohio Northern University
2016 Nick Lucido, Michigan State University
2015 Tom Isaacson, Northern Michigan University
2014 Kevin Saghy, Ohio Northern University
2013 Matthew Prince, California State University, Fullerton
2011 Todd R. Bailey, Ohio Northern University
2010 Michael Neumeier Jr., APR, University of Florida
2007 Cassandra Miranda, University of Texas, San Antonio
2005 Chad Darwin, University of Florida
2004 Kent Landers, APR, University of Tennessee, Martin
2002 Sonja Popp-Stahly, APR, Ball State University
2001 Travis M. Parman, APR, University of Tennessee
2000 Rochelle Tillery-Larkin, APR, Howard University
1999 E. Lyle Henderson, University of North Texas
1998 Robert D. Stack, APR, Boston University
1997 Arthur Merrick, APR, Fellow PRSA, UCLA
1996 Mary Beth West, APR, University of Tennessee, Knoxville
1995 Dr. Laurie J. Wilson, APR, Fellow PRSA, Brigham Young University
1994 Brian Hujdich, Glassboro State College
1993 Kathleen Ziprik, Glassboro State College