Student-run Firm Awards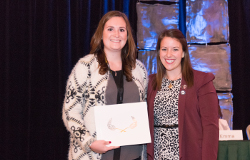 Best Campaign or Best Tactic
If your Nationally Affiliated Student-run Firm is creating amazing campaigns and tactics, then apply for the PRSSA Student-run Firm Awards.
Deadline
April 30, 2023
Award
Certificate
Eligibility
Your student-run firm must have current National Affiliation status. If your firm is not yet affiliated but you wish to apply for this award, you may become eligible by applying for National Affiliation and being approved before the award application deadline.
Your campaign or tactics must have been implemented at least in part between May 1, 2022, and April 30, 2023. Entries tend to have better chances of winning near their completion, when evaluation against initial objectives can be measured.
Application
You need to submit the following to apply for this award:
Three-page summary - This summary is the most important part of your entry and should give the judges a thorough view of the complete campaign or tactic.
Samples - If you are applying for best campaign, submit samples of work created to support the overall objectives of the campaign. Samples may include research data, collateral materials, schedules, photographs and videos. If you are applying for best tactic, enclose a sample of the tactic.
A 100-word description - Include a 100-word description of your program. The description will be used to explain your entry if it receives the award.
UPDATE: All application materials must be included as attachments and sent via email to ben.castleman@prsa.org by April 30, 2023. Winners will be announced at the PRSSA 2023 International Conference and receive a certificate.
Past Winners
2022 Best Tactic: Capstone Agency (University of Alabama, Tuscaloosa)
2022 Best Campaign: Capstone Agency (University of Alabama, Tuscaloosa)
2021 Best Tactic: Boiler Communications (Purdue University)
2021 Best Campaign: GrandPR (Grand Valley State University)
2020 Best Tactic: Capstone Agency, The University of Alabama
2020 Best Campaign: Grand Valley PR, Grand Valley State University
2018 Best Tactic: Capstone Agency, The University of Alabama
2018 Best Campaign: Capstone Agency, The University of Alabama
2017 Best Tactic: Capstone Agency, The University of Alabama
2017 Best Campaign: Capstone Agency, The University of Alabama
2016 Best Tactic: Texas Christian University
2016 Best Campaign: Grand Valley State University
2015 Best Tactic: The University of Alabama
2015 Best Campaign: Syracuse University
2014 Best Tactic: Biola University
2014 Best Campaign: Syracuse University and University of South Carolina
2013 Best Tactic: University of Nebraska, Omaha
2013 Best Campaign: Syracuse University
2012 Best Tactic: Syracuse University