2022 PRSA Association/Nonprofit Section Conference
Taking Care of Your Business, Yourself and Your Community
Virtual Learning Event
Oct. 26-28
Join fellow nonprofit and association communicators Oct. 26-28 for a virtual event focused on the issues and priorities most relevant to your daily opportunities and challenges. Get the latest best practices and experts' real-life tips for taking care of business by taking care of your organization, yourself, and your community.

Attendees will come away from this event with solutions and strategies you can apply right away and get results, regardless of the size of your organization's budget and staff.
Day One
Oct. 26
11 a.m. to 1:30 p.m ET

Taking Care of Business – For Our Organizations
The PRSA Association Nonprofit Section (#ANPRSA) 6th annual conference opens with insights, tips, and tools to help you bring your communications work to the next level, including:
The latest best practices and ideas for doing research, measurement, and evaluation
Using data and research in campaigns and planning
Social media tips
Media relations tips
Board selection, engagement, and management tips
Employee engagement for a hybrid workforce
11 a.m. ET
Keynote Speaker J.W. Arnold, APR, Fellow PRSA, CAE
The 4 Cs for Success in the Post-Pandemic Environment
In this engaging session, J.W. Arnold, APR, Fellow PRSA, CAE will explore the four "Cs" for success in the post-pandemic association/nonprofit sector: Commitment, Creativity, Collaboration, and Communication. As organizations of all types come to grips with the Great Resignation and "quiet quitting," the hybrid workplace and new technologies, and the sweeping changes to business and consumer behavior, these four "Cs" can guide communications professionals at all stages of their careers as they navigate the new normal and reposition themselves and their organizations to thrive.
Learning Objectives:
Following the RPIE/SPIE process, attendees will
Understand the professional and organizational challenges and opportunities resulting from the COVID-19 pandemic.
Develop strategies to leverage technology and behavioral changes to increase effectiveness in communication, marketing, and other key business functions.
Learn to reinforce the role of the communications professional as a key member of an organization's leadership team and in strategic decision-making.
Better predict emerging industry and business trends to advance their career.
J.W. Arnold, APR, Fellow PRSA, CAE- Full Bio
J.W. Arnold, APR, Fellow PRSA, CAE has more than 20 years of experience working with local, national and international associations and nonprofits. As a consultant with offices in Washington, DC, and South Florida, he has developed successful marketing and communications, membership recruitment and retention, professional development and strategic planning programs for both small and large organizations. His clients have included the White House Historical Association, National Academies of Science and Education, Rotary International, Direct Marketing Association and Leukemia & Lymphoma Society.
Noon ET
Panel Discussion featuring Cedric Brown, APR, and Kristie Aylett, APR, Fellow PRSA, Q&A
Moderator: Hernan Rozemberg
Kristie Aylett, APR, Fellow PRSA - Full Bio
Kristie Aylett, APR, Fellow PRSA, provides strategic counsel and senior-level expertise to clients throughout the United States as an agency principal with The KARD Group Public Relations and Marketing. Clients have included a variety of healthcare organizations, including a health science center, hospitals, and medical device manufacturers. Since 2009, she has worked with the American Association of Critical-Care Nurses, including managing its media relations during the COVID-19 pandemic.
An accredited public relations practitioner, Kriste has been elected to leadership positions with various local, state, regional, and national communications organizations and currently serves as chair for the Association Nonprofit Section of the Public Relations Society of America. She is a member of the Universal Accreditation Board, a governing body with representatives from nine PR organizations charged with oversight of the APR, APR+M and other PR credentials
Kristie earned undergraduate and graduate degrees from Texas Christian University in Fort Worth and later joined the TCU journalism faculty as an adjunct instructor. She currently teaches PR classes at Tulane University and an online marketing course for educational consultants for the University of California at Irvine.
Cedric F. Brown, APR - Full Bio
Cedric F. Brown, APR, is a digital strategist at Change Consulting, LLC, an agency that supports social and racial justice changemakers. His decade of expertise includes the use of analytics and research to develop content that achieves social impact. Cedric has earned international recognition in the profession for both his work and diversity, equity, and inclusion advocacy efforts.
Cedric's past work includes leading digital strategies for Advancement Project National Office, a national racial justice organization that utilizes movement lawyering and communications to help communities take back their power. Cedric's campaigns included collaborations with Ben & Jerry's, Players Coalition Charitable Foundation, and local grassroots organizations across the country in the collective effort to advocate for voting rights and protection, immigrant rights, justice system reform, and education justice.
Cedric is Accredited in Public Relations and earned his Master of Science in Public Relations from the S.I. Newhouse School of Public Communications at Syracuse University. His Bachelor of Business Administration is from Northwood University with an emphasis on marketing and management.
1 p.m. ET
Open Discussion with Speaker and Panelists
Day Two
Oct. 27
11 a.m. to 1:30 p.m ET
Day Two's sessions focus on taking care of yourself as a professional and a person. Speakers, panelists, and fellow conference attendees will share real-world tips for:
Being productive
Remote working
Controlling the chaos
Addressing stress and burnout
Making work easier by establishing a set of daily habits
11 a.m. ET
Keynote Speaker Kivi Leroux Miller
Here's the truth: As a nonprofit communicator, you will never have enough time to do all the things you and others would like you to do.
And yet, if you are like most nonprofit communicators, you have thoughts like . . .
If I can just get through this week/month, things will be better.
I could catch up if people would just leave me alone for a minute!
Why am I so stressed out? I must be doing something wrong.
Here's more truth: It's not you. It's the workload, nonprofit culture, and how we've been trained to think about time management. Instead of looking for a magic solution, it's time to look inside and find a new mindset and new approaches to how you think about your to-do list and the time you have to work on it. It's time to find a more peaceful approach to your work.
Attendees in this session will learn:
The latest thinking on productivity for knowledge/creative workers like nonprofit communications directors.
Strategies for making time for the right things and how to ignore or defer on everything else.
What is reasonable to expect from your leadership and coworkers, even if you aren't getting it right now.
Kivi Leroux Miller - Full Bio
Kivi Leroux Miller is the founder and CEO of Nonprofit Marketing Guide, where she helps nonprofit communications professionals learn their jobs, love their work, and lead their teams through various training and coaching programs. She has personally mentored hundreds of nonprofit communications directors and communications teams as a certified executive coach.
She is a popular and trusted keynote, workshop, and webinar presenter. Kivi is also the award-winning author of three books on nonprofit marketing and communications that are often used in college and certificate programs.
CALM not BUSY: How to Manage Your Nonprofit's Communications for Great Results (2018, published by Bold & Bright Media)
Content Marketing for Nonprofits: A Communications Map for Engaging Your Community, Becoming a Favorite Cause, and Raising More Money (2013, Winner of the Terry McAdam Book Award, published by Wiley & Sons)
The Nonprofit Marketing Guide: High-Impact, Low-Cost Ways to Build Support for Your Good Cause, Second Edition (First published in 2010 and re-released in 2021 by Wiley & Sons).
Because she can't get enough of nonprofits and entrepreneurship for good, Kivi serves as the president of the Lexington Farmers Market Association (Lexington, NC) and co-founded a baking business with her teenage daughter called Rabble & Rise Baking Co. After attending college in the San Francisco Bay Area and a few years working in Washington, DC, Kivi moved to rural North Carolina where she has lived for the last 20 years with her husband, two teenage daughters, and seven rescue cats, including a tripawd. She enjoys year-round gardening, baking, vegetarian cooking, hiking, and kayaking.
Noon ET
Panel Discussion featuring Echelle Rutschman, APR, Fellow PRSA, and Leonard Greenberger, Q&A
Moderator: Heather Willden
Echelle Rutschman, APR, Fellow PRSA - Full Bio
Echelle Jobe Rutschman, APR, Fellow PRSA, has spent her 29-year career leading nonprofit health care public relations for some of the nation's most respected brands. As head of communications at St. Jude Children's Research Hospital, Youth Villages and Baptist Memorial Health Care, she focused on strategic communications planning as the foundation for successful public relations and marketing. She continues that in her lead marketing communications role for Convatec Triad Life Sciences, a global medical products and technologies company focused on solutions for the management of chronic conditions. Echelle serves on PRSA's Association and Nonprofit Section executive committee, which she chaired in 2020 and 2021. She frequently leads workshops on strategic communications planning and measuring communications results.

Leonard S. Greenberger - Full Bio
Leonard is a vice president at AKCG – Public Relations Counselors and heads the firm's Washington, D.C.-area office. Leonard provides strategic planning, issues/crisis counseling, branding and marketing communications, and media training services. He has particular expertise working with 501(c) organizations in the energy, science and construction sectors.
Prior to joining AKCG, Leonard was a partner at Potomac Communications Group, where he led the firm's 501(c) practice and specialized in risk and crisis communication. His work included branding, repositioning and marketing communications services for numerous trade associations and professional societies, as well as crisis communications and community engagement counsel for corporations and government agencies across the country.
Leonard serves on the Public Relations Society of America's Association/Non-Profit Section Executive Committee and is the author of What to Say When Things Get Tough: Business Communication Strategies for Winning People Over When They're Angry, Worried, and Suspicious of Everything You Say. He also hosts an eponymous podcast designed to help people communicate effectively in difficult situations, both professional and personal.
He earned a Master's Degree in journalism from Northwestern University and a Bachelor of Arts degree in communications from the University of Michigan.
1 p.m. ET
Open Discussion with Speaker and Panelists
Day Three
Oct. 28
11 a.m. to 1:30 p.m ET
Taking Action to Support Our Communities
Day Three wraps up the conference with ideas and tools to help you take care of your communities in highly charged environments, including:
Racial justice
Diversity, equity, and inclusion
Employee activism
Organizational involvement in community hot-button issues
Balancing organizational activism with employee and community needs
11 a.m. ET
Keynote Speaker Brandi Boatner
Advocacy in the New Era of Communications
Advocacy and influence can lead to action. What organizations stand for and how they portray themselves to the rest of the world and world, matters.

Traditionally, the term advocacy has referred to legislative or government issues. However, there's been a shift in what the term means in today's current landscape. Advocacy has taken on a new definition. The imperative for organizations to respond to social justice and humanitarian issues has never been greater. Employees and external audiences expect organizations to advocate for what's right, condemn what's wrong and work to make a difference. Communications practitioners must help shape the narrative for how, when, and where organizations advocate in a meaningful, impactful way.
Learning Objectives:
Learn how to communicate with purpose through cohesive, authentic messaging both internal and external aligned with company values.
Understand why advocacy should be an essential part of the communications function.
Define the difference between advocacy and activism from a communications perspective and how to build an advocacy framework.
Brandi Boatner Manager, Digital & Advocacy Communications, IBM - Full Bio
Brandi Boatner is an award-winning digital communication, public relations, social media professional, and prolific public speaker based in New York City. Currently, she is a member of IBM's social media and content experience team, supporting influencer and advocacy efforts across social platforms (includes enablement and activation) both internally and externally for corporate marketing.
Prior to this role, Brandi was on the internal corporate communications team supporting key initiatives for the Transformation and Culture function, including social media support for the SVP of Transformation and Culture and digital engagement for diversity and inclusion channels while also leading initiatives that drove employee advocacy through social activation.
Among her many awards, in 2021, PR News named Brandi a Changemaker as one of its Top Women in PR, and she received Honorable Mention recognition for Outstanding In-House PR Professional by PRWeek.
Brandi is a true advocate for diversity and inclusion serving as a member of IBM's Diversity and Inclusion Council and also serves as the former chair and current chair of external partnerships for IBM Black Network of New York business resource group. In 2020, Brandi led social justice communications for Emb(race), IBM's response to combating implicit bias, discrimination and racial inequality. She is one of more than 40 PR leaders featured in the book Diverse Voices: Lessons in Leadership published by the Public Relations Society of America Foundation.
She is very active in the public relations industry, where her leadership positions include serving as the current chair of the PRSA Tri State district and past chair of the PRSA Technology Section.
Noon ET
Panel Discussion featuring Rachel Bookman and Jon Goldberg, Q&A
Moderator: Michelle Stuffmann
Michelle Stuffmann - Full Bio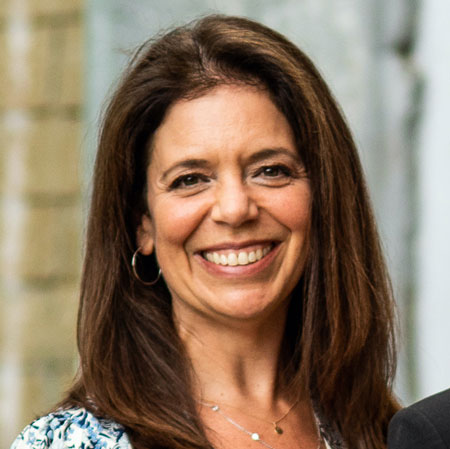 Michelle Stuffmann is the Director of Communications at Venice Family Clinic, a nonprofit community health center that provides comprehensive primary care to people in need in Los Angeles, CA. In this role, Michelle guides the Clinic's communications and content strategy across a wide range of applications and activities, including traditional and digital communications, social media, internal communications, donor communications, media relations, and advocacy communications.
Prior to her current tenure, Michelle was Director of Communications at MAZON: A Jewish Response to Hunger, where she was an integral part of the leadership team and led development of This is Hunger, an award-winning, first-of-its-kind community engagement program utilizing state-of-the-art storytelling techniques and hands-on activities to take visitors on a compelling journey of awareness and activism.
Michelle has more than 20 years of experience in marketing, brand and digital strategy and advertising across a broad range of industries in both the not-for-profit and for-profit sectors. She currently sits on the Executive Committee for the Association/Nonprofit section of the Public Relations Society of America.
Michelle holds a BA in Sociology from UCLA and an MBA in Marketing from the University of Texas at Austin.
Rachel Bookman - Full Bio
Rachel Bookman is the director of communications at the Institute of Scrap Recycling Industries. She leads the association's overall messaging and storytelling efforts. This includes social media and overall member communications and outreach strategies. Additionally, Rachel leads ISRI's Women in Recycling Council as well as efforts regarding DEI in the recycling industry. She currently serves as chair-elect of the PRSA Association Nonprofit Section.
Rachel is a proud New Orleanian and a graduate of Louisiana State University (LSU). She currently resides in Arlington, Virginia, with her husband Lorenzo and son, August.

Jon Goldberg is the founder and chief reputation architect of Reputation Architects Inc., a strategic communications and reputation risk management advisory firm dedicated to building, protecting, and restoring reputations in a world of evaporated trust and unprecedented stakeholder engagement.
Trained as a journalist, Jon founded Reputation Architects in 2009 after more than 25 years as an advisor to corporate and nonprofit executives and boards and a senior leader at some of the world's most prominent communications firms. Before founding Reputation Architects, Jon was a partner and director of the Corporate Affairs practice of Porter Novelli. He previously served as executive vice president, general manager, and national director of crisis and litigation communications at Edelman; held senior client management roles at J. Walter Thompson Company; and was manager of corporate media relations and a principal spokesperson for Prudential Financial.
A frequent author, speaker, and media commentator on reputation and reputation risk management and related topics, Jon is a member of the Executive Committee and past chair of PRSA's Counselors Academy.
1 p.m.ET
Open Discussion with Speaker and Panelists