The College of Fellows is the gold standard of public relations professionals. College of Fellows is an active, honorary organization comprised of more than 350 leading practitioners and educators, each of whom has left a significant footprint on the public relations profession. A rigorous peer review process has singled out these professionals to be among the 'best of the best.' Election to the College is considered the pinnacle of one's professional career.
The PRSA College of Fellows Induction Celebration will stream on Sunday October 10, 2021 at 8:00 PM ET / 5:00 PM PT on Facebook, YouTube, and here on prsa.org.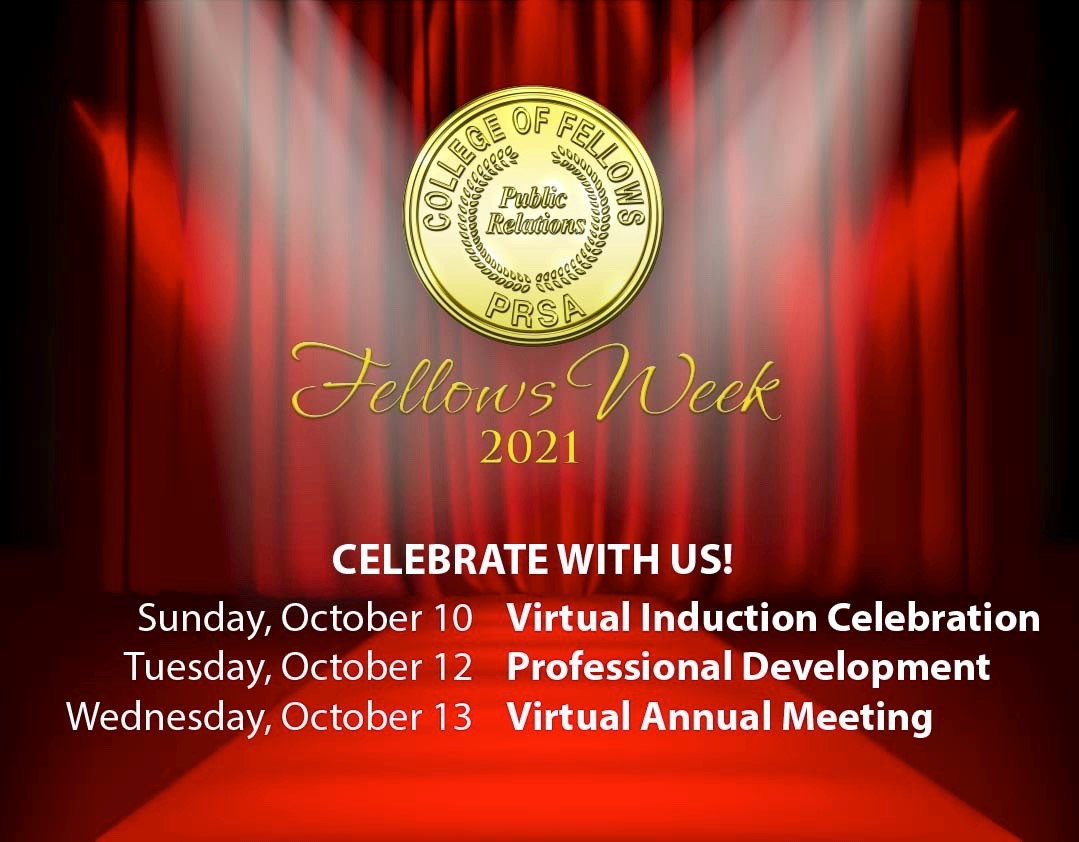 Previous Inductees by Class
*Indicates that this Fellow is deceased
Class of 2021
Class of 2020
Class of 2019
Class of 2018
Class of 2017
Class of 2016
Class of 2015
Class of 2014
Class of 2013
Class of 2012
Class of 2011
Class of 2010
Class of 2009
Class of 2008
Class of 2007
Class of 2006
Class of 2005
Class of 2004
Class of 2003
Class of 2002
Class of 2001
Class of 2000
Class of 1999
Class of 1998
Class of 1997
Class of 1996
Class of 1995
Class of 1994
Class of 1993
Class of 1992
Class of 1991
Class of 1990
Class of 1989
Jill Allread
Andrew Corner
Ellen Crane
Stephen Dupont
Alison L. Gaulden
Lisa F. Lochridge
Robert G. (Bob) McCullough
William D. Moak
Renea P. Morris
Lt. Col. Christian Patterson
Samuel James Morrey Sims
David H. Thompson
Michelle Von Tersch
Judith (Judy) Smith Asbury
Kathy Barbour
Pam Gutel Campbell
Kelly Jackson Davis
Ronele M. Dotson
Kim Marks Malone
Marlene S. Neill, Ph.D.
Jo Ann S. LeSage Nelson
Susan S. Pollard
Mike Porter, Ed.D
Christopher E. Vadnais
Mary Louise VanNatta
Clare L. Wade
Kevin M. Waetke
Brooke Worden
Stephen Michael Brown
Gail Dundas
Jennifer Young Dzwonar
Jessica M. Graham
Rebecca Huckaby
Kenneth Hagihara
Thomas J. Jollie
Paul G. Omodt
Echelle Jobe Rutschman
William Swanger
Janet E. Swiecichowski
Denise Blackburn-Gay
Katie Coates
Myra S. Cocca
Daniel R. Dunne
Jennifer Lane Grizzle
Suzanne Hartman
Mark W. McClennan
Timothy S. Penning, Ph.D.
Philip Poole
Stacy A. Smith
Brian S. Terrett
Loring Barnes
Joseph A. Brennan
Dotti Gallagher
Kevin Gaydosh
Janelle Guthrie
David Hakensen
Barbara Paynter
Sonja Popp-Stahly
Nancy J. Sterling
Kaye D. Sweetser
James W. (J.W.) Arnold
W. Gregory Bailey
Kay Barkin
Kristie Byrum
Mary J. Clark
Melissa K. Clark
Dr. Deborah A. Davis
Catherine S. Dunkin
Michelle J. Egan
Aaron Ellis
Gayle Lynn Falkenthal
Robert T. Hastings
Mary T. Henige
Sherry Kast
Jangyul Robert Kim
Mitchell E. Marovitz
Jeri Matheney
Margaret C. Ritsch
Robert F. Schultz
Kristine M. Simoes
Jaron M. Terry
Ana Toro, APR
Larry M. Weiner
Lauren F. Brookey
E. Ronald Culp
Rosanna M. Fiske
Checky Herrington
Barbara Kerr
Lori L. Marble
Michael L. McDougall
W. Patrick McSweeney
Paula L. Pedene
Michael A. Pflughoeft
David L. Remund, Ph.D.
Sara Spaulding
Charles R. Suits
Susan Balcom Walton
Judy DeRango Wicks
Gregory J. Zimprich
Anita Brightman
Douglas Cannon
Fred Cook
Amy Coward
Sandra Duhé
Geri Evans
Michele Ewing
William Gay
Laura Hammel
Suzanne Holroyd
Rose McKinney
Christopher Payne
Robert Sheldon
Brenda Smith
Olga Mayoral-Wilson
Kelly Womer
Kristie Aylett
Vicki Bagwell*
Brook DeWalt
Kathleen Donohue Rennie
Mark Dvorak
Mary Eaddy
Janet Hart
Susan Hart
Betsy Hays
William Jasso
Chris Lynch
Chad Perry
Douglas Spong
Gigi Westerman
Jill R. Alexander
Barbara A. Burfeind
Dianne Danowski Smith
Karen Mess Frashier
Barbara S. Hyman
Raymond L. Kotcher
John Charles Mitchell
Gail E. Rymer
Deborah A. Silverman
Linda L. Staley
Michele A. Swaner
Philip Tate
Tom M. Unger
Julie Ann Vincent
Frederic L. Whiting
Steven C. Zenofsky
Dana Birkes
Chris Bozman
Michael Cherenson
Joe Gollehon
Beth Hallisy
Janet Kacskos
Irene Maslowski
Melinda Morgan Kartsonis
Ellyn Pollack
Sydney Ayers
Jack Berkman
Jacqueline Clark
Jane Dvorak
Julie Fix
John Forde, Ph.D.
Dennis Gaschen
Amiso George, Ph.D.
Jodi Horton
Jeffrey Julin
Fran Onofrio
Judy Parker
Susan Whyte Simon
Elizabeth Toth, Ph.D.
Richard Batyko
John Deveney, ABC
Anne Dubois, CPRC
Lynne Timpani Friedmann
Allen Kirk Hazlett
Margaret Ann Hennen
Stephen Johnstone
Paul Kincaid
Nance Larsen
Diane Gage Lofgren*
Sandra Longcrier
Ann R. Carden
Nora Carr
Ray A. Crockett*
Anthony D'Angelo
Jeanette Drake, Ph.D.
Tom Gable
Alan L. Gaudynski
Mary Graybill
Steve Iseman, Ph.D.
Erik C.A. Johnson
Ellen A. Liston
Mickey G. Nall
Lea-Anne O'Hare Germinder
Elizabeth A. Pecsi
Shelli A. Ryan
Robert S. Saline
B. Kathleen Skipper
Helen M. Sullivan
Marisa Vallbona
Joan Gladstone
David R. Grossman, ABC
Scott Hanson
Bruce K. Hetrick
M. Larry Litwin
Janet Oppenheimer
Bonnie Parnell Riechert, Ph.D.

Margalit Toledano, Ph.D.
Barbara Jeanne Whitman
Henry J. Amann Jr.
Thomas L. Amberg
Lynn D. Appelbaum
Jimmy Martin Autry, CCC
Susan G. Barnes
Alan R. Freitag, Ph.D
Donald L. Ferguson
Del Galloway
Kathryn D. Hubbell
Donald P. Kirchoffner*
James A. McClure
Gary D. McCormick
Robin Schell
Diane Slaughter, CAE
Stacey Smith
Ira W. Yellen
Bruce T. Batten
Reed B. Byrum
Myra J. Borshoff Cook
Suzanne Sparks FitzGerald, Ph.D.
Judy Ganulin
Al Golin
Cary A. Greenwood
Vincent Hazleton, Ph.D.
Roland H. King
William M. Lawrence
Blake D. Lewis, III
John R. Lyday
Debbie A. Mason
John J. Mead, CAE*
Merrie Elyn Meyers-Kershaw
John J. Moscatelli
Ronald Owens
Robert C. Ross
Carol A. Scott
David L. Shank
Martha W. Steger
Frank Walsh
Barbara W. Wellnitz
Mara Woloshin
Glynn A. Young
Edward Albanesi
David Bressen
Jeffrey S. Douglas
Mary Dulle
Dr. Carol Hackley
Hatti Hamlin
Dr. Julie Henderson
Thomas Hoog

Katherine Hutt
Dan Millar
Elise Mitchell
Liz Oliphant
Captain Robert Pritchard
Deborah Radman
Deborah Saline
Dr. Shirley Serini
Alison Sneider
Robert Stone*
Joette Storm
Frederick Bagg
Gail Baker, Ph.D.
Mary Deming Barber
Michael Furtney
Gene Hall
Sandra Knoesel
Devere Logan
Donald Miles
Elaine Nathanson
Mary Phelan
Robert Ristino, Ph.D.
Laurie Sherman
Donna Stein
Joseph Trahan, III, Ph.D.
J. Lindsey Wolf*
Nancy Wood
D. Sean Brickell*
Marleen C. Burford
John R. (Rick) Fischer, Ph.D.
Jim Haynes
Howard Penn Hudson*
Stanton H. Hudson, Jr.
Gary McKillips
Roberta Wong Murrary
Robert J. Oltmanns
Honey Rand, Ph.D.
Kelly Rossman-McKinney
Kenneth G. Trester
Steve Turnbo
Kenneth G. Ulrich
Tom Vitelli
Nancy M. Wiser
Carolyn Bobo
Marty Campanello*
Jeffrey R. Caponigro
Karen L. Cedzo
Dr. Barbara J. DeSanto
Ofield Dukes*
Salvatore J. Giammo
John E. Guiniven
Louise L. Hayman
Ralph T. Kam
Aileen Katcher
Leslie Lamkin
Luis W. Morales
Eric M. Morgenstern
Robert J. O'Gara
Joseph P. Rowson*
Robert A. Schenkein
Robert Stack
J. Donald Turk
Linda P. Walton
Charles A. Wood
Karen F. Buchsbaum
Roger D. Buehrer
Gigi de Mier*
R. John DeSanto
Thomas E. Eppes
Vivian M. Hamilton
Charles W. Kenworthey*
Debra A. Miller
Robin B. Perrin*
Cheryl Procter-Rogers
Rhoda Weiss
Philip C. Wescott
Diane Witmer
Don Bates
Edward M. Block
Carol A. Bodensteiner
Robert D. Frause
T. Michael Jackson
Steven L. Lubetkin
John E. Milkereit
John Paluszek
Scott Shirai
Posie Lee Starkey*
Judy O. Williams
W. Randolph Baker
Dr. Michael E. Bishop
Gerald E. Buldak
Gerard F. Corbett
W. Thomas Duke
Ellen Weaver Hartman
Mitchell Head
Michael L. Herman*
Lowell F. Ludford
Kenneth Makovsky
Pender M. McCarter
Patrick F. McGee
Edward J. Menninger
Ronald T. Sconyers
Kenneth P. Service
Jana V. Stone
Dr. Donn J. Tilson
Sherry Treco-Jones
Barry Wanger
William Wendling*
John W. Wiater
Laurie J. Wilson
Cathryn Gibbs Harris
Kay Herring*
James G. Lubetkin
Gary A. Myers
Deanna K.W. Pelfrey
Philip G. Ryan
Lynne M. Sallot, Ph.D.
Thomas A. Schick
Frank R. Stansberry
Joseph A. Vecchione, CLU*
Catherine B. Ahles
Sue A. Brush
William R. Cumerford, Ph.D.*
David R. Dunnigan
Richard L. Harmon*
George L. Johnson
Kathleen S. Kelly, Ph.D.*
Dennis B. McGrath*
D. Gayle McNutt
George W. Miraben
Frederick W. Morgan
Bruce Lloyd Olsen
Richard F. Pender, Ph.D.
J.D. Rayburn, II*
Mack D. Secord
Robert K. Sells
William E. Sledzik
James J. Wallace
Linda H. Walter*
Kathleen Ladd Ward*
Judith Williams
Richard E. Wilmot*
David M. Eisenstadt
David M. Grant
Dr. Kirk E. Hallahan
Thomas A. Harrison
Frances M. Minakowski
Joseph T. Nolan*
Sunshine Janda Overkamp
Cynthia I. Pharr-Lee
Jack Pyle
Richard B. Ridgway
Hugh A. Smith*
Nina Streitfeld
Samuel L. Waltz, Jr.
Anne R. Warner
Harland W. Warner*
Richard K. Arnold*
Thomas A. Bartikoski*
Donald W. Braman*
Donald C. Cannalte*
Louis Capozzi
James M. Caudill
Sandra D. Clary
John R. Cook
Mark Curtis
Diane G. Davis
Bob Dorf
James B. Ellis*
Robert W. Hefty*
Rene A. Henry
Theodore Hutchcroft
Joann E. Killeen
David Kirk
Donald M. Levin
Craig T. Miyamoto
Erik V. Peterson
Judith Turner Phair
Daniel C. Pinger*
Stephen D. Pisinski*
J. Thomas Poling*
Skip Ragland
Nat Read
Neil T. Regan*
Don G. Reichardt
Ewald A. Richter
Rosalee A. Roberts
William C. Rolle, Jr.
Thomas C. Sanger
Jerome H. Schmelzer
Karl J. Skutski
Jerry L. Sloan*
Ronald D. Solberg
Larry R. Werner
Neil M. Alperstein, Ph.D.
Rendall P. Ayers
Lee W. Baker*
Howard M. Blankman
James H. Bradley*
Joan L. Capelin
John J. Daly, Jr.
J.B. Dixson
Raymond B. Durazo
Donald P. Durocher*
Joe S. Epley
Mountfort A. Euston
William Robert Faith, Ph.D.
Paul Fullmer*
Felton H. Gordon*
Carole M. Gorney
R. Danner Graves*
Jack J. Heeger*
Sandra M. Hermanoff
Richard E. Hodges, Jr.
Patricia E. Howlett*
Ned S. Hubbell*
Frances A. Hunter
Gwinavere A. Johnston*
L. James Lovejoy*
James E. Lukaszewski
Reynold W. Malmer
Elizabeth M. Martin
James T. Maunders
Broun H. Mayall
John P. McGill
Arthur P. Merrick
Nann S. Miller
Wesley M. Pattillo*
A. Bruce Pozzi
Diane B. Pucko
Claude Ramsey
Ronald E. Rhody
Jay Rockey*
A. Lee Rogers*
James J. Roop*
Rolf C. Rudestam
Carl H. Schrank
Steven V. Seekins
Art Stevens
Thomas K. Stewart*
David C. Swanston*
David J. Therkelsen
Park M. Trammell, Jr.
Patricia A. Trubow
Stanley L. Ulchaker*
John David Williams
Frederick A. Woodress
Charles H. Zeanah*
William C. Adams*
B. Richard Berg, Ph.D.
Ferne G. Bonomi, ASPR
Adri G. Boudewyn
A. Brown-Olmstead
Alvin R. Busse
John P. (Jack) Casey
R.G. Charlton, ABC
Yung-Kai Chung
Richard Jay Coyle
Aaron D. Cushman*
H.J. (Jerry) Dalton, Jr.*
Clifford Dektar*
William M. Dietrick
Paul A. Dowd
M. Robert Ferber
Robert H. Gardner*
Harriet C. Gonzalez
Edward Gottlieb
John L. Gregory
Charlene H. Hillman*
Carol L. Hills
P.H. Hollister, CPRC
E. Roxie Howlett
Ruth B. Kassewitz
Elaine Falk Katz, Ed.D.
William J. Koch
Patricia W. Leslie, Ph.D.
Kathleen Larey Lewton
Warren A. Logelin*
Frank X. Long*
Gerald Lundy
Bruce G. MacDonald
Gordon D. MacKay, CLU*
Gene G. McCoy*
James E. McKee, Jr.*
Robert L. Mead
Eugene Miller
James M. Montgomery
Richard M. Newman
Wallace Nicoll*
Wellington F. Osterloh*
Jeannette E. Paladino
Pat Penney
Mary Ann Pires
Patrick A. Pollino
Sammie Lynn Puett*
John M. Reed*
David R. Richards*
Maria P. Russell
John E. Sattler*
Stan Sauerhaft*
Charles A. Stengstock, Jr.
David H. Simon
E. Brent Snodgrass*
William A. Spencer
Douglas P. Starr, Ph.D.
Robert G. Strayton
M. Lane Talburt
Richard J. Toth, ABC
Richard R. Tyler
F.E. Valverde, ABC*
Gabriel Werba*
C.R. Werle
Ed Wheeler
D. Christopher Whittle
Ernest Wittenberg
Roger Yarrington, Ph.D.*
Dale O. Zabriskie
James Walter Anderson*
James E. Arnold
Howard K. Back
Daniel H. Baer
Theodore Baron
Bill L. Baxter*
George L. Beiswinger*
David M. Bicofsky
Sue Bohle
Celia C. Boswell
E.W. Brody, Ed.D.
Jerry L. Bryan, ABC, CBC
Bruce Butterfield, CAE
Frederick A. Chapman*
Richard G. Claeys
J. Kenneth Clark*
William R. DeLay*
David R. Drobis
Alice M. Dykeman
David Ferguson*
Winston C. Fournier
John H. Francis, Ph.D.
Anthony J. Fulginiti
Thomas L. Harris
E. Bruce Harrison*
Everett A. Hayes*
Anna Sceia Klein
Mitchell Kozikowski
Herbert M. Kraus
Stephen R. Lawrence
Frederick E. Leuschner
Diane Levin
Amelia Lobsenz*
Theodore Lustig, ABC

Terence A. McCarthy*
E. Zoe McCathrin*
P. Michael McDermott
David A. Meeker*
Hank Moore
J. Maestre Morata
Greta W. Murphy, Ph.D.
Norman R. Nager, Ph.D.
Isobel Parke*
Morris V. Rosenbloom
G. Robert Ruff
Leonard M. Schodowski
Jean Way Schoonover*
Alan Scott, Ph.D.
Joel A. Strasser
Gordon B. Strayer*
Graham Sudbury
Dolores M. Swift*
Frederick C. Teahan, Ph.D.
Richard H. Truitt
Judy Van Slyke Turk, Ph.D.*
H. Brian Wilson
William F. Zorzi*
Paul H. Alvarez
Joseph F. Awad*
Stephen H. Baer
Herbert B. Bain*
Ann H. Barkelew
Jeanne Viner Bell
Phyllis H. Berlowe*
Robert Kingdon Berry*
Judith S. Bogart
George C. Brown
John M. Butler, Ph.D.
George F. Caulfield
William J. Corbett
F. David Cotten
Wilson Cronenwett
Scott M. Cutlip*
Stafford G. Davis
William E. Duke
Daniel J. Edelman*
Marcelle W. Farrington
John W. Felton*
Paul S. Forbes
John D. Graham
Barbara W. Hunter
D.A. Kruckeberg, Ph.D.
Frank T. Le Bart*
Otto Lerbinger
James A. Little
William M. Michelet
Douglas A. Newsom, Ph.D.*
Lawrence W. Nolte*
Thomas L. Preston
Michael Radock*
Ed Reed
Jack M. Reed*
James J. Richard*
Irving I. Rimer
William J. Roach*
Joseph Roos
J. Kenneth Sanford
Parry D. Sorensen
Robert E. Steele
James B. Strenski
Dwayne Summar
Charles W. Tisdall*
James L. Tolley
Walter J. Walsh*
Philip J. Webster
Richard Weiner*
Paul M. Werth*
C. Thomas Wilck
Dennis L. Wilcox, Ph.D.
Robert B. Wolcott, Jr.*
Nancy B. Wolfe
Donald K. Wright, Ph.D.
Davis Young
Leone Baxter*
Dr. Edward L. Bernays*
John F. Budd, Jr.*
Chester Burger*
Harold Burson*
Allen H. Center, Ph.D.*
W. Howard Chase*
Kalman B. Druck*
Dan J. Forrestal*
Lawrence G. Foster*
James F. Fox*
Ralph E. Frede*
Denny Griswold*
George Hammond*
Rex F. Harlow, Ph.D.*
Carl F. Hawver, Ph.D.*
Patrick Jackson*
Lee K. Jaffe*
Philip Lesly*
Ed Lipscomb*
Donald B. McCammond*
Hale Nelson*
Betsy Ann Plank*
J. Handly Wright*
Frank W. Wylie*
Kenneth Youel*
Short panes should extend past all tabs
Past and Present Leadership
Executive Committee
Committee Chairs
Past College of Fellows Chairs
Chair
Greg Bailey, APR, Fellow PRSA 
Chair-Elect
Margaret Ann Hennen, APR, Fellow PRSA
Vice Chair
Olga Mayoral Wilson, APR, Fellow PRSA
Secretary-Treasurer
Philip Poole, APR, Fellow PRSA
Immediate Past Chair
Barbara Kerr, APR, Fellow PRSA
APR Marketing
Stacy Smith, APR, Fellow PRSA
Tim Penning, Ph.D., APR, Fellow PRSA
Education Initiatives
Kristie Aylett, APR, Fellow PRSA
Deborah Davis, APR, Fellow PRSA
GoodFellows
Rose McKinney, APR, Fellow PRSA
Janet Oppenheimer, APR, Fellow PRSA
Mentoring
Robin Schell, APR, Fellow PRSA
Susan Balcom Walton, Ph.D., APR, Fellow PRSA
 Kathy Hubbell, APR, Fellow PRSA
Professional Development
Julie Fix, APR, Fellow PRSA
Kelly Davis, APR, Fellow PRSA
Sage Award
Mark Dvorak, APR, Fellow PRSA
Kathy Barbour, APR, Fellow PRSA
Social Media
Paula Pedine, APR, Fellow PRSA
Janelle Guthrie, APR, Fellow PRSA
Strategic Communications
J.W. Arnold, APR, Fellow PRSA
Ronele Dotson, APR, Fellow PRSA
Strategic Planning
Bob Frause, APR, Fellow PRSA
Kevin Gaydosh, APR, Fellow PRSA
Brooke Worden, APR, Fellow PRSA
2020 – Barbara Kerr, APR, Fellow PRSA
2019 – Geri A. Evans, APR, Fellow PRSA
2018 – Deborah Radman, APR, Fellow PRSA
2017 – Julie B. Fix, APR, Fellow PRSA
2016 – Philip Tate, APR, Fellow PRSA
2015 – Steven Seekins, APR, Fellow PRSA
2014 – Anthony D'Angelo, APR, Fellow PRSA
2013 – Maria P. Russell, APR, Fellow PRSA
2012 – Mary Deming Barber, APR, Fellow PRSA
2011 – Frederick Bagg, APR, Fellow PRSA
2010 – Judith T. Phair, APR, Fellow PRSA
2009 – Michael L. Herman, S.A.G.E, APR, Fellow PRSA*
2008 – Bob Frause, APR, Fellow PRSA
2007 – Debra A. Miller, Ed.D, APR, Fellow PRSA
2006 – Scott Shirai, APR, Fellow PRSA
2005 – Vivian Hamilton, APR, Fellow PRSA
2004 – Joe S. Epley, APR, Fellow PRSA
2002 – Pender M. McCarter, APR, Fellow PRSA
2001 – Rene A. Henry, APR, Fellow PRSA
2000 – David A. Meeker, APR, Fellow PRSA*
1999 – Joan L. Capelin, APR, Fellow PRSA
1998 – David H. Simon, APR, Fellow PRSA
1997 – Judy VanSlyke Turk, Ph.D., APR, Fellow PRSA
1996 – Richard G. Claeys, APR, Fellow PRSA
1995 – Sue Bohle, APR, Fellow PRSA
1994 – James Strenski, APR, Fellow PRSA*
1993 – Ann Barkelew, APR, Fellow PRSA
1992 – Douglas Ann Newsom, Ph.D., APR, Fellow PRSA*
1991 – Joseph F. Awad, APR, Fellow PRSA*
1990 – Chester Burger, APR, Fellow PRSA*
*Indicates the chair is deceased
Short panes should extend past all tabs
A New Direction to Embrace a New Generation

In 2021, the College of Fellows will continue to aspire higher and inspire others, and we'll do so by refining some outstanding initiatives and creating new ones – charting a new direction in this new decade.

Today, the College is inducting a new generation of outstanding professionals; many of whom graduated from college with degrees in public relations or communications; went to work in the profession at a young age and are eligible for the College at the mid-career point. Selection to the College does not cap their career. It is the next personal plateau for an accredited PRSA member who has made exceptional contributions with their work, in their community and our Society.

Therefore, the College must embrace and recognize, first, the changing nature of our profession, fueled by unprecedented technological advancement, and second, the generational shift in our applicants and new Fellows. We must be an aspirational step for these members and demonstrate the value of being a member of the College of Fellows by developing programs and practices that are worthy of the "best of the best" in public relations and communications.
Our new direction in 2021 will include three priority initiatives: modernizing our processes, focusing on diversity and inclusion and an intentional campaign on the value of accreditation.
Further, we must step up and step forward as leaders of our Society and our profession, which means embracing change, a vision for the future and a commitment to excellence that is the hallmark of the College of Fellows.

We hope that our PRSA colleagues will take a few minutes to explore our site, learn more about the College and contact us with questions.
Greg Bailey, APR, Fellow PRSA
2021 Chair, College of Fellows
Do you know of someone in the PRSA College of Fellows who has mentored and guided individuals or groups to aspire higher and advance their careers?
Did this Fellow provide guidance and wisdom that had a measurable outcome or significant, life-changing impact on mentees?
Does this Fellow consistently rise above and beyond in the development of future industry leaders, new pros and PRSSA members?
Please consider recognizing their commitment to serve with a Sage Award nomination.
Becoming an Officer of the College of Fellows
The College of Fellows is now accepting online applications for the positions of chair-elect, vice chair, and secretary-treasurer for 2022. All applicants – including those who are serving or have previously served as Officers – are considered as new candidates.
Serving in each of those positions provides unique opportunities to learn about and lead signature College programs. Those experiences are invaluable for those who ultimately serve as chair of the College.

College of the Fellows officers are elected by the membership to serve one-year terms beginning January 1, with the exception of the Chair-Elect, who moves on to serve as Chair and then as Immediate Past Chair.

Online applications for 2022 officers – including a signed ""Willingness to Serve"" form and letters of support – must be submitted by 5 p.m. Eastern Time on Thursday, July 1, 2021.

Are you ready to lead our community of extraordinary leaders?
To be considered for admission to the College of Fellows, PRSA members must meet a stringent list of qualifications and complete the application process by the applicable deadlines. Applications are reviewed by the Fellows Selection Committee, which recommends new Fellows to the PRSA National Board of Directors for approval.
Our 2021 webinar - College of Fellows: Preparing to Apply – was held on January 14, 2021. GoodFellows Co-Chairs Rose McKinney, APR, Fellow PRSA and Janet Oppenheimer, APR, Fellow PRSA, reviewed admission requirements, discussed the application process, shared helpful tips and suggestions, and answered questions. Participants also learned about GoodFellows, a free, confidential coaching program for applicants provided by specially trained volunteer members of the College of Fellows. A recording of the webinar is now available for those interested in applying to the College of Fellows.
Membership Criteria
Current PRSA membership
Minimum of 240 months public relations and communication experience
Current accreditation in Public Relations (APR)
Demonstrated superior professional performance in the practice/teaching of public relations
Advanced the profession
Contributed to the profession or the community through service and leadership
Served as a role model in the profession and the community
In addition, you must provide six letters of support with your application.
How to Apply
The College of Fellows Application is under review and the 2022 Application will be posted the week of December 13, 2021.
College of Fellows Application Processing Fee
College of Fellows Application Processing Fee — $100. This fee is non-refundable.
Application Schedule
All applications and letters are due by 5 p.m. (EDT), May 6, 2021.
Selection Committee meets to discuss applications in late June.
Recommendations are submitted during the July meeting of the PRSA board.
Applicants are then notified of their status by the first week of August.
New inductees are inducted into the College during the PRSA International Conference.
GoodFellows are members of the College who help candidates with the application process. Request a GoodFellow if you are considering starting the application process. Deadline to request a GoodFellow is March 17, 2021 at 11:59 pm Eastern.
College of Fellows 2019 Induction Ceremony