PRSA Certificate Programs
Improve Your Career Prospects By Advancing Your Expertise
The rate at which professional skills become obsolete is increasing. Today, the half-life of a learned skill is estimated to be five years and even shorter for technical skills, according to the World Economic Forum.
All of us, from Gen Zers to Boomers, are dealing with work environments that are transforming at a faster pace than ever before.

In this rapidly evolving marketplace, it's essential to stay competitive by proactively keeping your capabilities fresh and up to date.
So we wanted to share this handy list of PRSA's available Certificate of Completion programs, designed to equip communicators with best practices and the latest resources to meet the changing demands in our converging industry.
To accommodate your schedule, you can choose from live and on-demand options. Furthermore, you can select individual course modules or an entire course.
Sample
Certificate of Completion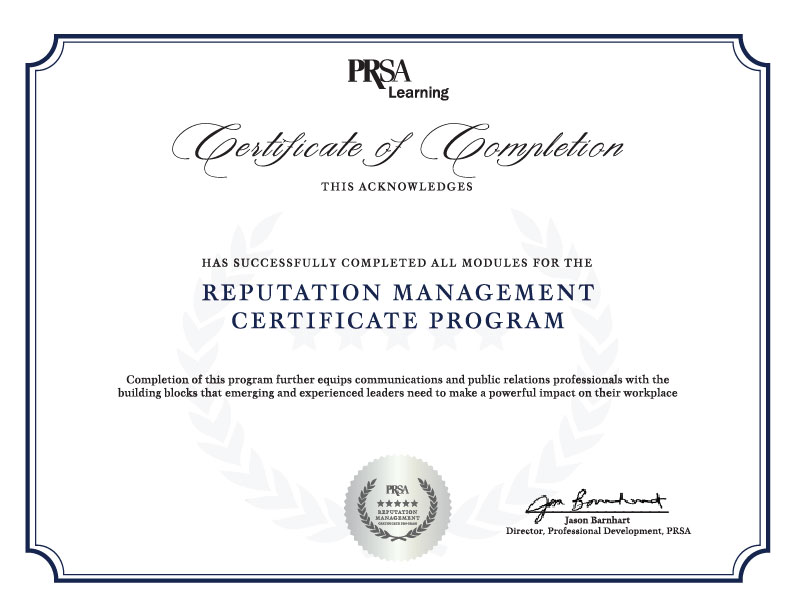 After successfully completing a certificate program, you'll be awarded a certificate of completion like the one shown above.
On-Demand
Certificate Program Pricing
PRSA Member: $975
Nonmember: $1,225

Individual modules can also be purchased.