Accreditation in Public Relations (APR)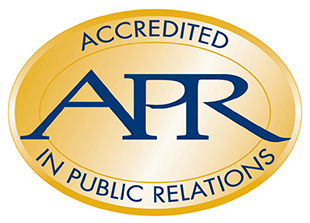 As a skilled public relations professional, you know that your success is dependent on staying relevant, resourceful, and inspired.
The Accreditation in Public Relations (APR) credential certifies your drive, professionalism, and principles, setting you apart from your peers and positioning you as a leader and mentor in the competitive public relations field.
---
The APR:
Asserts professional competence
Communicates professional expertise, plus personal and professional dedication and values
Reflects progressive public relations industry practices and high standards
PRSA members receive a $100 rebate upon passing the APR examination on the first try. Contact accred@prsa.org for further details.
---
APR Promotion and Renewal
Contact us for more information.
Showcase your hard-earned knowledge and commitment to life-long learning by attaining your Accreditation in Public Relations (APR).
For Military Communications Experts
Military public affairs professionals can earn the Accreditation in Public Relations + Military Communication (APR+M).
For College Seniors and Recent Grads
Show employers you mean business by adding the Certificate in Principles of Public Relations to your resume.
The monthly APR newsletter
Catch Up on Recent Newsletters
September 2023
Preparing Your Teams to Use Generative AI Ethically
August 2023
See How an APR Helped Your Peers Build Credibility and Level Up Media Relations Expertise
July 2023
How to establish an ethics-first mindset in your team
June 2023
How to Make Ethics a Part of Your Hiring Processs
May 2023
How Earning an APR Can Help You Successfully Navigate a Crisis
April 2023
How the APR Can Enhance Your Internal Comms Practices
March 2023
Try the 'Ask an Expert' Format in Chapter, District Forums
February 2023
Breaking Down Barriers: Attaining the APR
January 2023
10 Reasons to Start Earning Accreditation in 2023
December 2022
Hot Topics at the ICON 2022 'Ask the APR/APR+M' Session
October 2022
How the APR process can help, even before sitting for the exam
September 2022
Accreditation, Raises and Promotions
August 2022
Conquering the Fear of Research
July 2022
Your APR Can Be a Powerful Asset
June 2022
Taking a Broader View of Research; Leveraging the APR to Advance Your Education
May 2022
Crisis Management Pivoting Post COVID-19: Draw On Your APR Training
April 2022
Five Years Later: Reflecting On Why I Started My APR Journey
March 2022
Explore Proven Strategies and Tactics for Getting Your APR
December 2021
Why Getting Your APR Should Be One of Your New Year's Resolutions
November 2021
Lifelong Learning at ICON — Why APR Is a Cornerstone of Our Profession
September 2021
See How the APR Journey Is Worth the Trip
August 2021
Finding Your Own Path to APR
July 2021
Getting Accredited During a Pandemic
June 2021
How My APR Helped Me Lead Through Crisis
May 2021
Debunking Myths About APR
April 2021
Help Celebrate APR Month and Learn More About This Valuable Credential
Going through the Accreditation process not only made me a better practitioner, but also made me realize that I was capable of doing so much more for my career. It was a challenging process but it has changed the way I think and execute.
Sara Robbins, APR — Director of Social Media, KPS3
APR+M has made me a stronger leader, communicator and positioned me to effectively assist with mentoring the next generation of public relations and public affairs professionals.

Lt. Col. Christian Patterson, APR+M, Fellow PRSA — Director of Communications , U.S. Army ERDC Vicksburg, Mississippi
My APR gives me the confidence to help me work from a strategic point of view. It reminds me only to make the best ethical choices for my company and its audiences. Because of my APR, I am equipped to practice communications in any industry.
Ivy Johnson, APR — Senior Account Executive, MP&F Strategic Communications