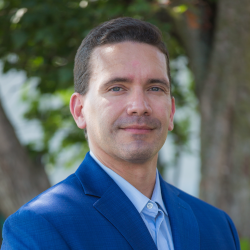 Bill Balderaz is the president and founder of Inc. 5000 company, Futurety, a data analytics and marketing consulting firm. Futurety specializes in serving regulated industries, including healthcare, pharma, finance, government and medical devices.
Previously, Bill was the founder and president of Webbed Marketing which went from a one-man consultancy to one of the fastest-growing interactive marketing agencies in the Midwest.
Throughout Bill's career, he's found himself working in industries in their very earliest stages. Starting in 1998 (the same year Google was founded) he worked in search engine optimization, online advertising, and eCommerce. In 1999, he worked for one of the first companies developing HTML based online learning. In 2005, five years before the iPad was invented, Bill worked on a concept for a tablet-based electronic health records software. He also worked in social media and viral marketing in 2006 (the same year YouTube and Twitter were founded).
Bill has spoken at more than 150 conferences from New York to California on public relations, sales, innovation, marketing, healthcare, search engine optimization, data mining, social media and more. He's also been featured in more than 100 media outlets, including The Wall Street Journal, Money Magazine and NPR.
Bill serves on the board of Chapel Hill House, a group serving pediatric cancer patients and was co-founder of Lifting Hopes, a nonprofit dedicated to children battling serious illnesses.
Organization
President and Founder
Futurety