Rhoda Weiss, Ph.D., APR, Fellow PRSA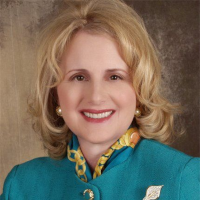 Rhoda Weiss, Ph.D., APR, Fellow PRSA, is president of Rhoda Weiss Consulting Group Inc and a past PRSA national chair. Dr. Weiss leads weekly conferences (135 so far over the last 18 months and counting) with CMOs/CCOs from 115 health systems representing the majority of U.S. hospitals. These conferences feature experiences, challenges and solutions during this seemingly never-ending pandemic.
The recipient of the 2019 PRSA Gold Anvil Award, Dr. Weiss is past national chair and CEO of 32,000-member Public Relations Society of America, past president of the 6,000-member American Hospital Association Society for Healthcare Strategy and Market Development, past president of Women in Health Administration, American Society for Healthcare Public Relations and Marketing and Healthcare Public Relations and Marketing Association and former vice president of PRSA Health Academy and American Marketing Association of Southern California.
She also chairs both Becker's Healthcare annual C-Suite conferences which draw over 6,000 executives annually and for almost a decade has chaired AMA Executive Summit of CMOs/CCOs of the nation's largest health systems that also meet semi-annually. She also serves the U.S. Air Force Chief of Staff and Secretary of the Air Force as a National Civic Leader and recently received the Air Force's highest honor presented to a civilian for Distinguished Public Service.
Dr. Weiss has received many national honors: AHA Society for Health Care Strategy and Market Development inaugural National Award for Individual Professional Excellence, Michigan State University College of Communication Arts & Sciences Outstanding Alumni Award, PRSA Health Academy Lifetime Achievement Award, Women in Health Administration Woman of the Year Award, PRSA Los Angeles Professional of the Year, PRSA National Volunteer Award, UCLA Extension Distinguished Instructor, Ball State University Public Relations Award, PRSA Educators Academy Award for Contributions to Education and others.
CEO, president and board chair of nationally known organizations, she has traveled 6 million miles speaking and consulting to 700+ organizations in the U.S. and abroad. Dr. Weiss helps advance organizations with governance, finance, operations, marketing and strategy efforts leading to growth in referrals, awareness, profitability and customer engagement.
Popular and trusted consultant to scores of organizations and a prolific speaker, Dr. Weiss is highly sought for her knowledge, expertise, experience and innovations in moving organizations well beyond their strategic objectives.
Organization
President and Founder
Rhoda Weiss Consulting Group Inc