2023 District Conferences
District Conferences are planned, hosted and attended by PRSSA Chapters. They are an opportunity for attendees to network and learn, and for planners to build their portfolio and gain event planning experience. Consider attending a District Conference — you may have the opportunity to participate in a competition, attend a workshop, participate in a roundtable or Leadership Summit, or meet and greet your peers and professionals at a social.

UNIVERSITY OF GEORGIA
AND KENNESAW STATE UNIVERSITY
PR Beyond Zoom: Expanding Your Professional Network.
Virtual
Feb. 10, 2023
This virtual conference will help PR students that have been deprived of the opportunity to develop their face-to-face communications abilities and develop their confidence in the new hybrid PR world. By discussing both in-person and virtual networking strategies, attendees will learn how to navigate an evolving job network.
Email Lauren Nye or Dolores Trobradovic with any further questions.
Register Here!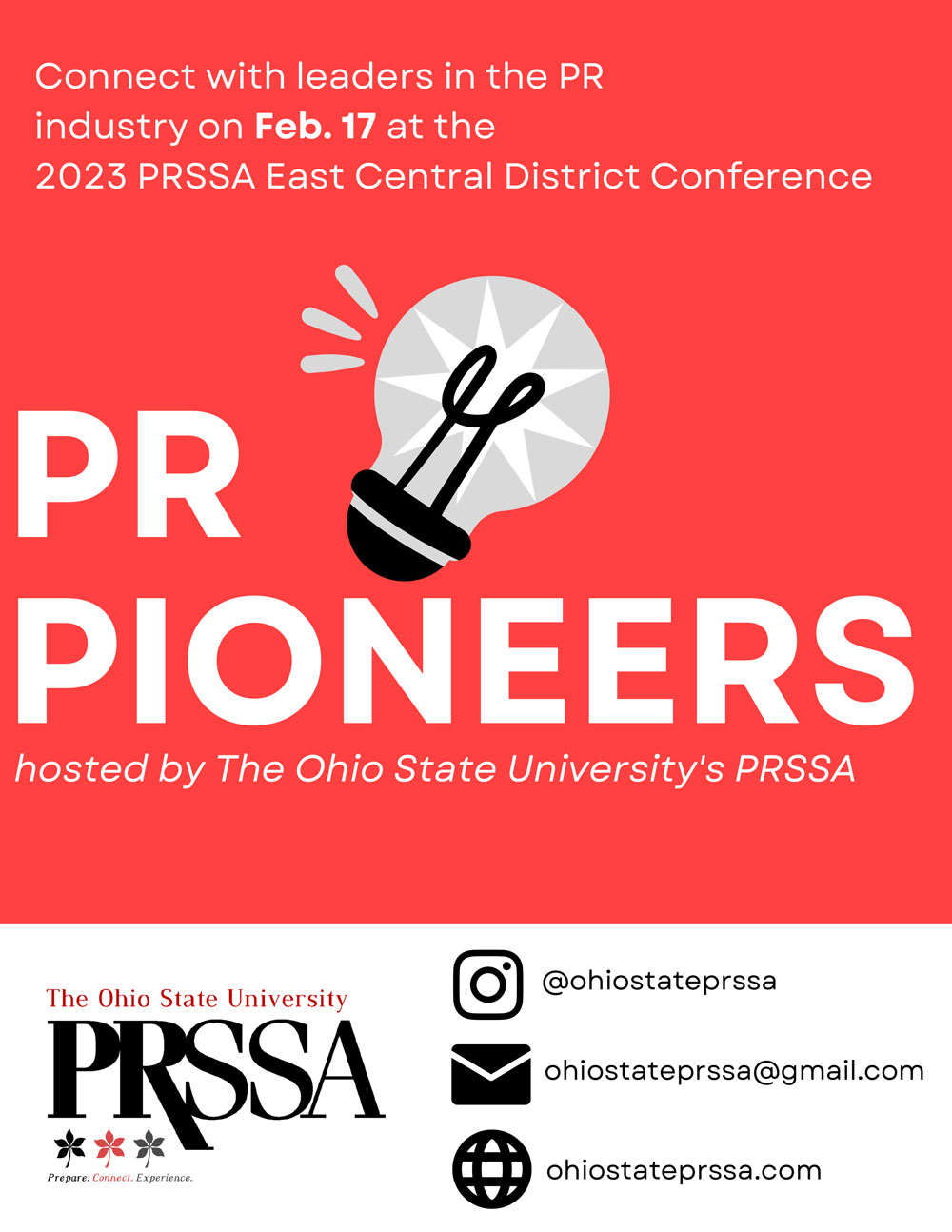 THE OHIO STATE UNIVERSITY
PR Pioneers
Hybrid
Feb.17, 2023
This conference focuses on the strategies, management practices, and campaigns that have shaped the face of the PR industry. It will teach attendees about the people pioneering the PR field and where the field is headed next.
Email ohiostateprssa@gmail.com with any further questions.
Register Here!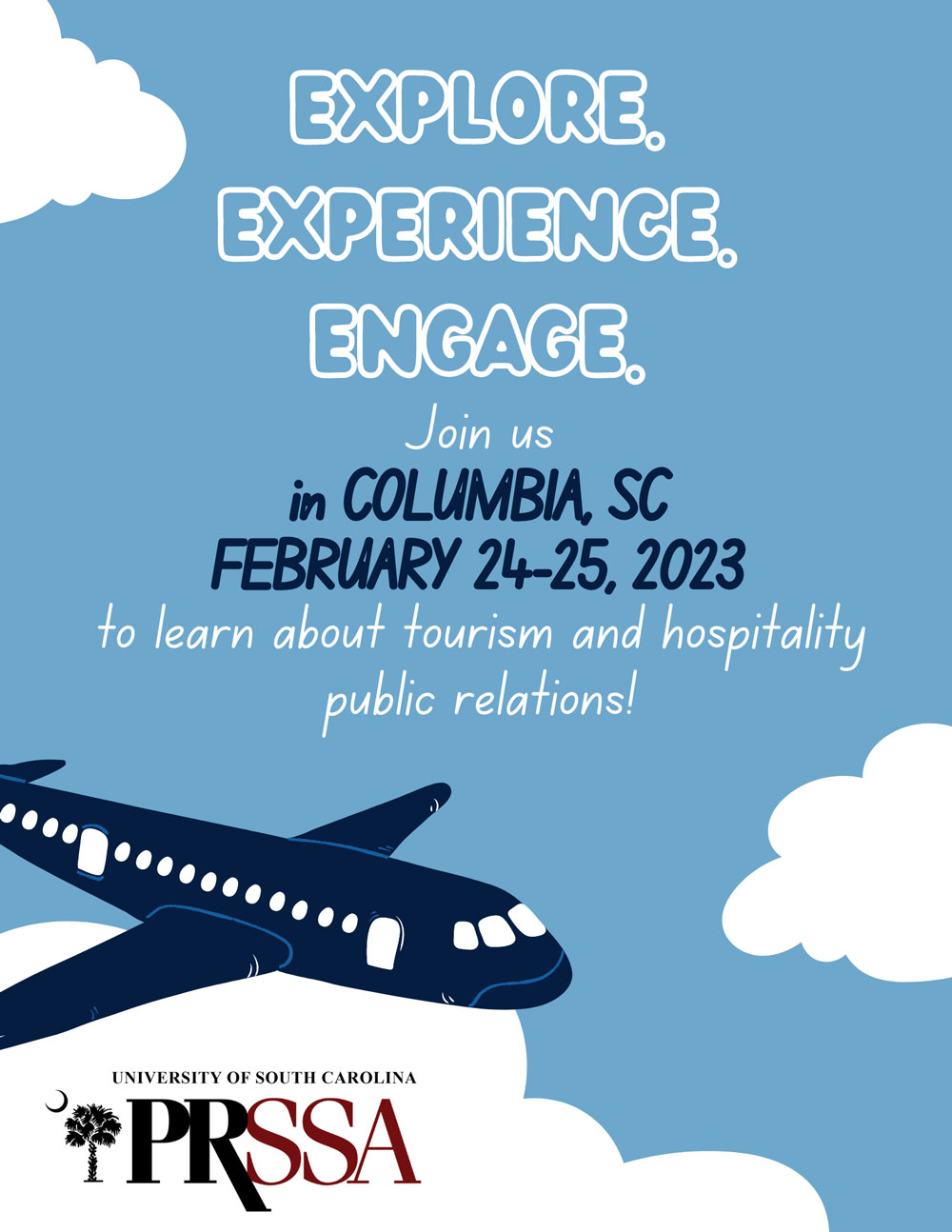 UNIVERSITY OF SOUTH CAROLINA
Explore. Experience. Engage.
In-person
February 24 and 25, 2023
This conference will cover topics regarding tourism and hospitality public relations. Attendees will have the opportunity to hear from speakers in the travel, tourism, and hospitality space and will learn more about how public relations can be used around the globe!
Email Julia Phillips or Gracie Bryant with any further questions.
Register Here!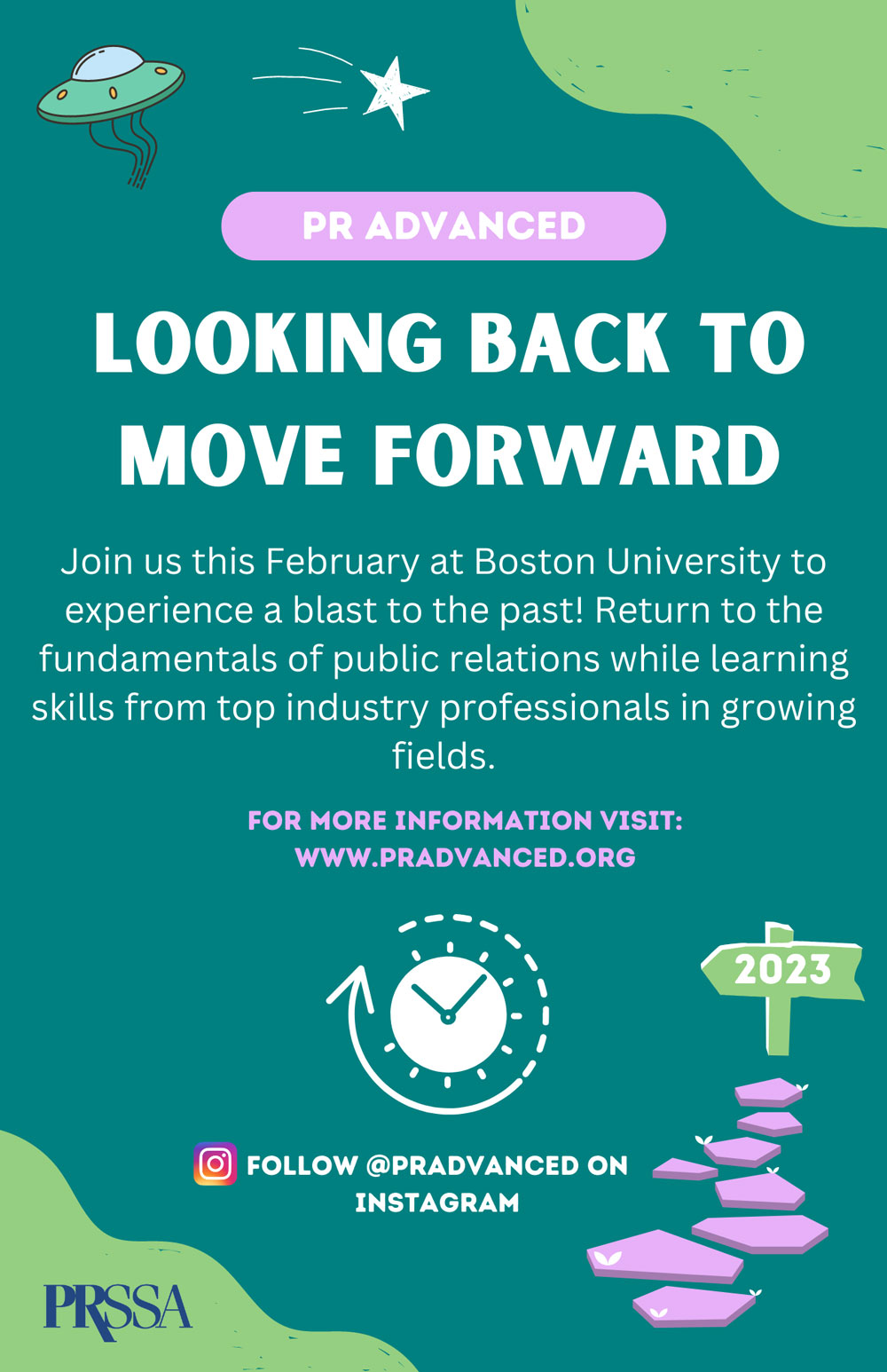 BOSTON UNIVERSITY
Looking Back to Move Forward
In-person
February 25, 2023
Join PR Advanced 16th Annual District Conference to experience a blast from the past. The last three years have brought about a surge in our profession. From crisis communication with the pandemic to international communications, DEI communications, and employee engagement as people work remote-hybrid. Despite the ever-changing environment, the fundamentals of communication -clear objectives, strong strategy, and a good understanding of audiences- remain true. Like the industry professionals before us, we don't know what the future holds. Thus, we must look back at the past to move forward with their legacy.
Email pradvanced@gmail.com or Sue Kim with any further questions.
Learn More Here!
Register Here!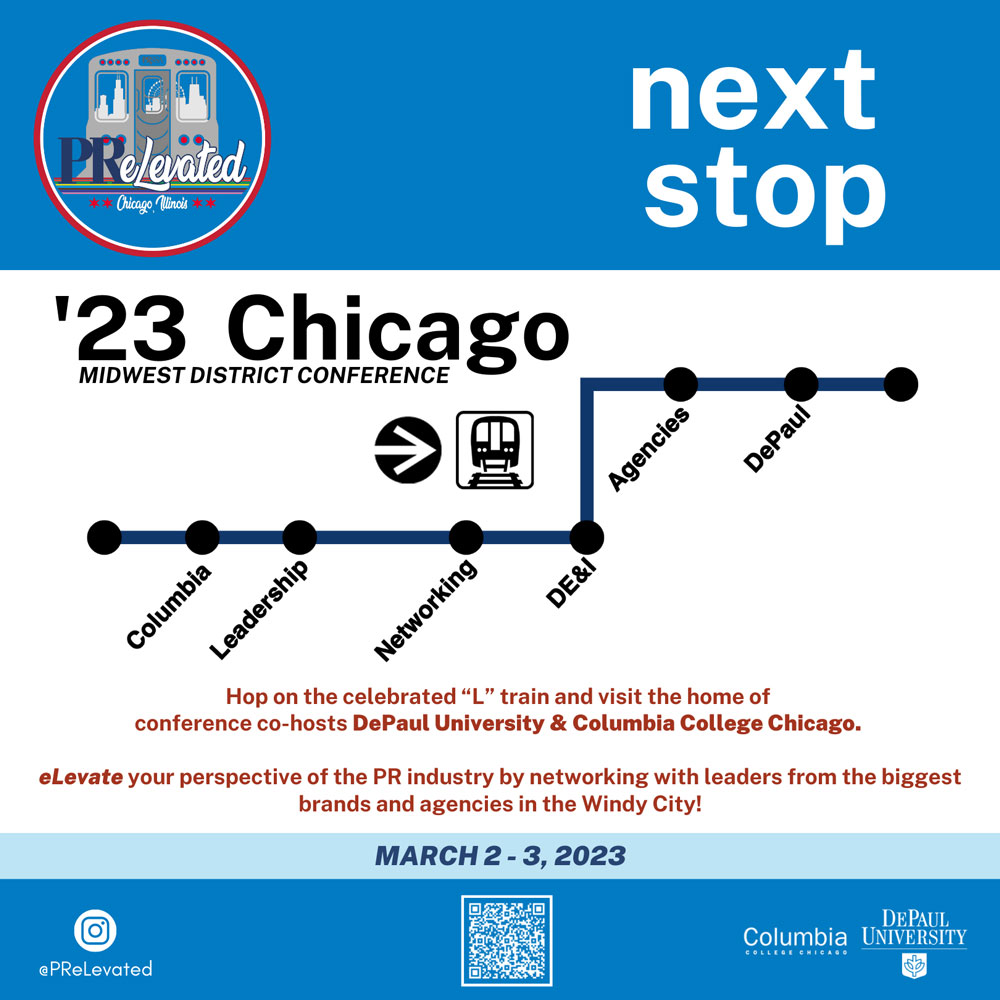 DEPAUL UNIVERSITY AND COLUMBIA COLLEGE CHICAGO
PR eLevated
In-person
March 2 and 3, 2023
This conference invites students to gather in Chicago, voted the best big city for the sixth-year in a row (Condé Nast Traveler Readers' Choice Awards). Attendees will heighten their perspective and broaden their horizons on the industry through visits to some of the largest global PR agencies and powerhouse boutiques. They'll also network directly with communications leaders from the biggest brands, causes, entertainment venues, and nonprofits. Everything you can imagine is just a few stops away on the celebrated "L" train!
Email prelevated23@gmail.com with any further questions.
Learn More Here!
Register Here!
UNIVERSIDAD ARGENTINA DE LA EMPRESA
PR Perspectives
Hybrid
March 31, 2023
With the slogan "Think globally, act locally", this conference will analyze the disruptive and innovative role communication plays in order to adapt global trends to different Latin American countries.
Email prssauade@gmail.com with any further questions.
Register Here!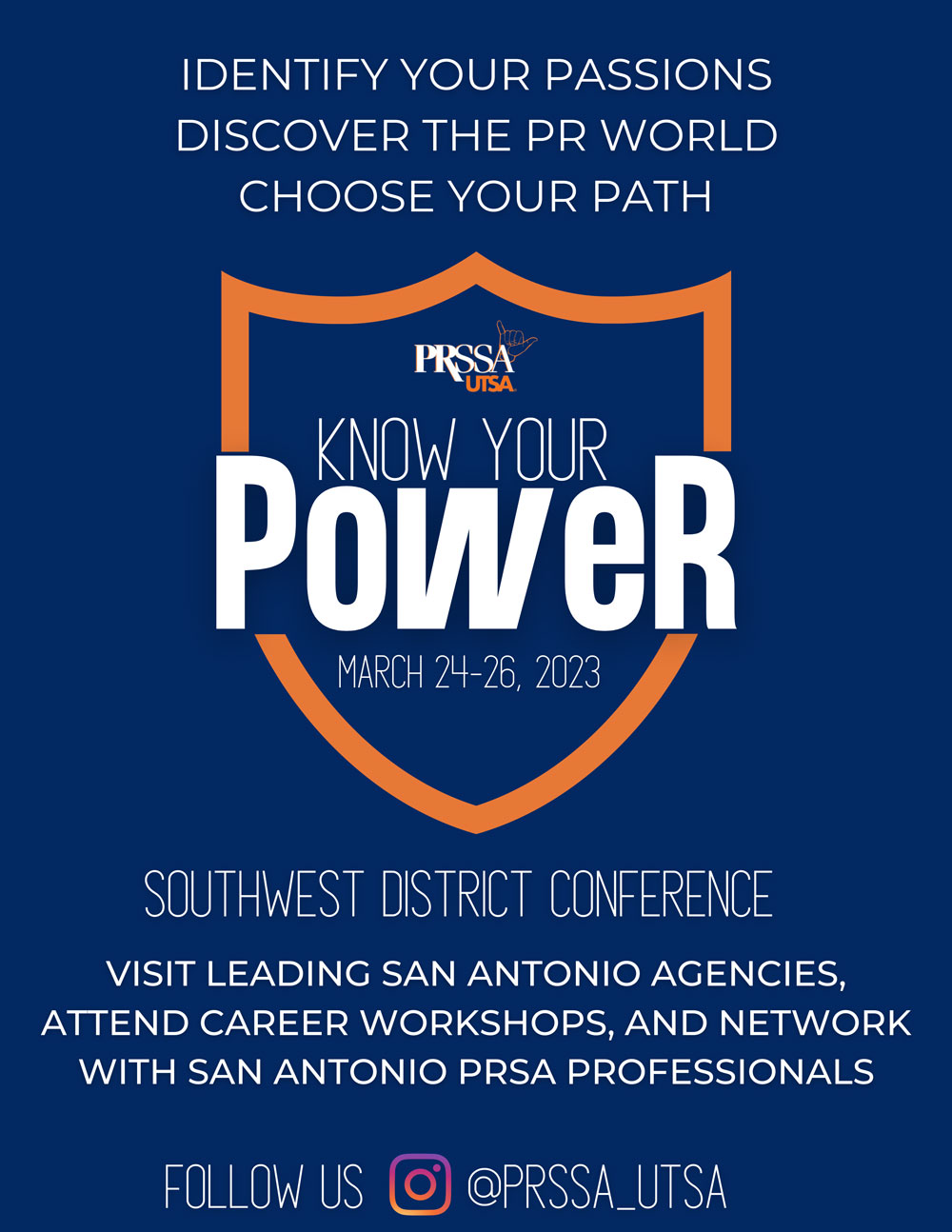 UNIVERSITY OF TEXAS AT SAN ANTONIO
Know Your PoweR
Hybrid
March 24 to 26, 2023

This conference will provide workshops to help attendees identify their passions, establish their brand, and showcase all fields of PR. This conference will host a mixer for attendees with award-winning San Antonio PR professionals. Attendees will also have an opportunity to tour a leading San Antonio agency.
Email Angela Sanchez, conference coordinator, with any further questions.
Register Here!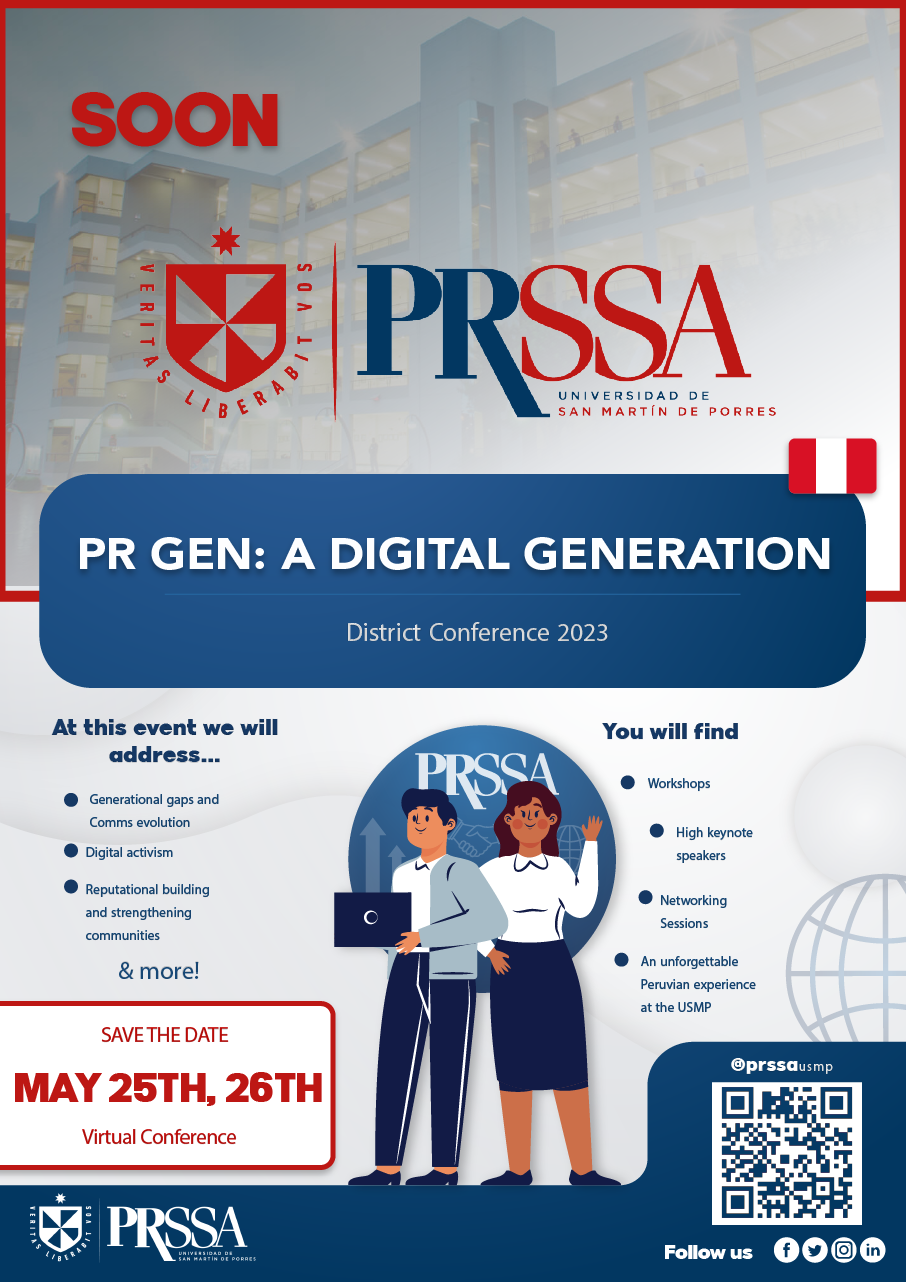 UNIVERSIDAD DE SAN MARTÍN DE PORRES
PR Gen: A Digital Generation
Virtual
May 25 to 26, 2023
Digitalization has changed the way we manage public relations; hence it's important to understand these changes and learn how we can benefit from them. Join this District Conference to analyze our roles in an international context where new challenges have to be faced.
Email prssa_usmp@usmp.pe with any further questions. Visit their website for more information.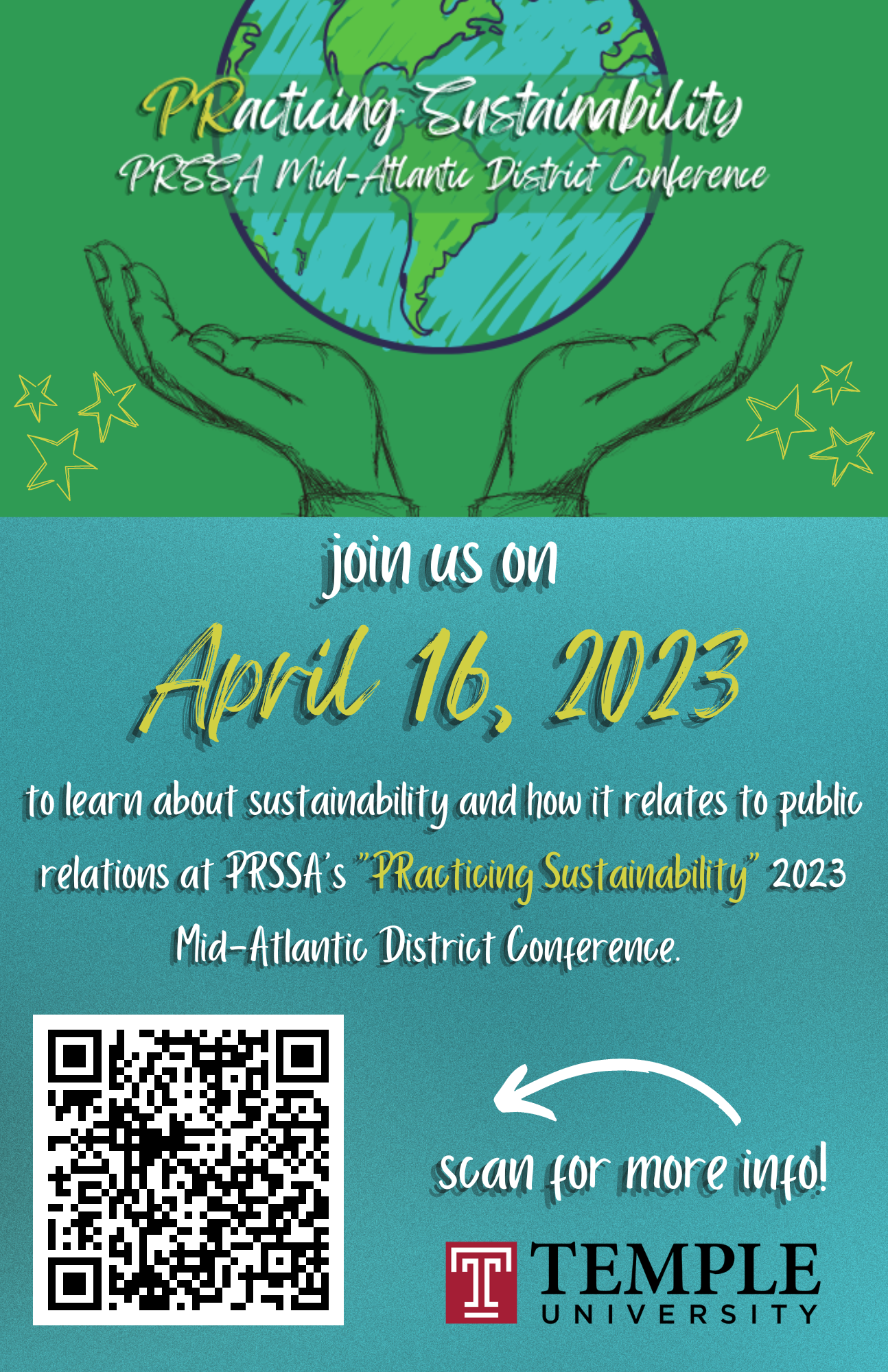 TEMPLE UNIVERSITY
PRacticing Sustainability
Virtual
April 16, 2023
Learn about sustainability and how it relates to public relations at Temple University PRSSA's "PRacticing Sustainability" Mid-Atlantic District Conference. This in-person event, located on Temple University's campus, will cover aspects of sustainability within the public relations sphere such as: environmental, social, human, and economic.
Email Rachael Dickson, conference coordinator, with any further questions.

Register Here!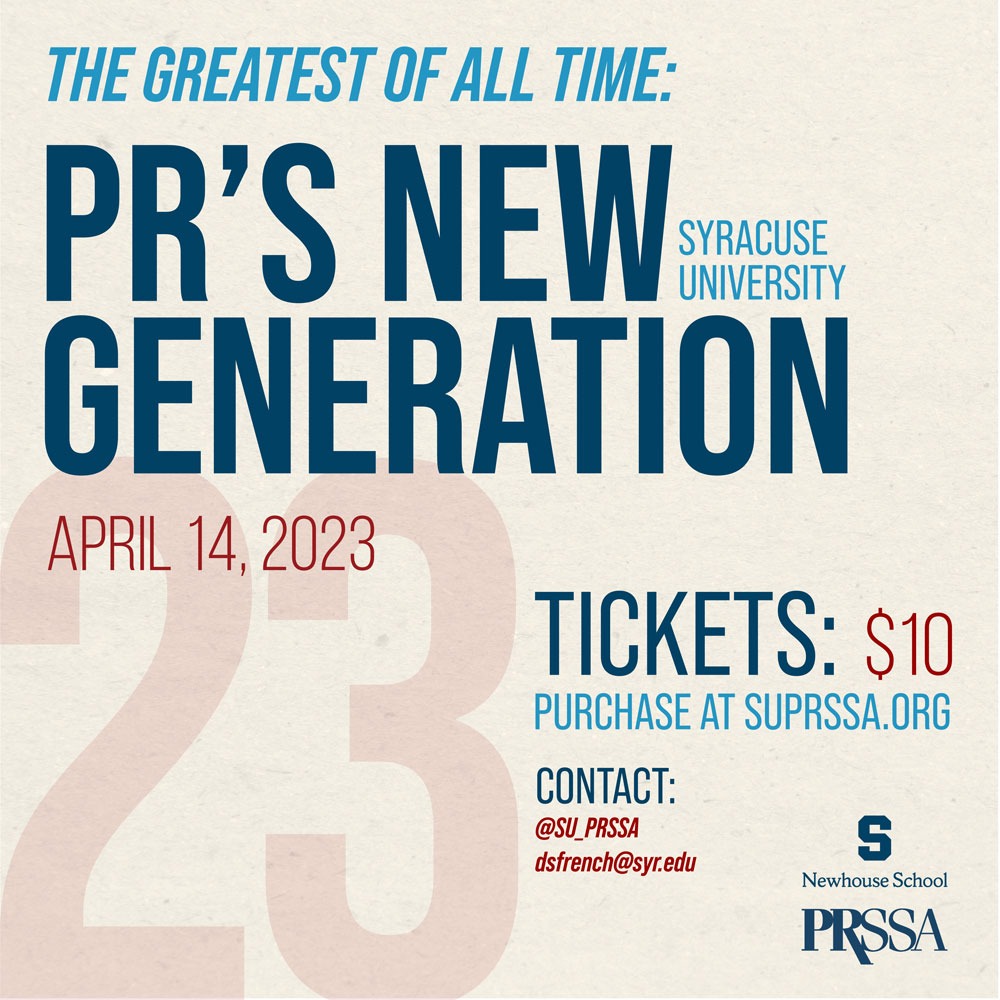 SYRACUSE UNIVERSITY
The Greatest of All Time: PR's New Generation.
In-person
April 14, 2023
This conference combines the significance of the number 23, an ode to Michael Jordan, and the re-emergence of life and business after the peak of the COVID-19 pandemic to showcase the next generation of PR professionals. This in-person conference will feature a variety of speakers from different communications sectors sharing their insights about how the public relations industry has undergone a major shift in the last few years.
Visit www.suprssa.org to learn more about The W.P. Ehling Chapter of PRSSA. Email suprssa.districtconference@gmail.com with any further questions.

Learn More Here!
Register Here!