75th Anniversary
PRSA Day: Celebrating the Power of Influence for 75 Years
Originally Recorded Jan 17, 2023 05:30 PM Eastern Time (US and Canada)
75 Years of Advancing the Profession and the Professional
PRSA was born in 1947 when the American Council on Public Relations and the National Association of Public Relations Counsel merged to form the Public Relations Society of America.
PRSA has been through many changes over these 75 years and has marked milestones along the journey, from establishing a strong network of Chapters across the United States to creating a student-focused organization; from establishing the PRSA Code of Ethics, revered for its critical guidance for PRSA members, to creating the APR, the most essential credential in the public relations world. PRSA has always led the way.
You cannot celebrate 75 years of PRSA history without reflecting on the meaningful moments in the history of public relations and strategic communications.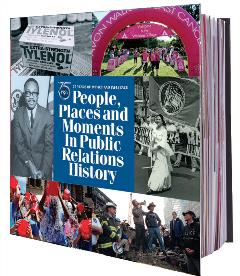 PRSA Publishes 75 Years of PR History

Early on in our discussions about marking PRSA's milestone anniversary, we decided to look beyond the world of PRSA and explore the moments and individuals in public relations history that stood out, had influence, changed perceptions or changed the world. We knew we would share what we learned with you and that we wanted to find the most important moments and most notable figures in PR history in a collaborative way, including input from members, peers and thought leaders, the academic community and practitioners. And so the 75th Anniversary Moments and Notables Initiatives were born.
During 2021, the 75th Anniversary Task Force led a research initiative including member crowdsourcing and a rigorous review among practitioners, agency leaders, thought leaders and academicians to curate a spectacular collection of the top moments and the notable professionals, often the "hidden figures" of public relations over 75 years.
These moments and individuals are celebrated in a commemorative history book published by PRSA and now available. Visit
PRSA.org/book75
to order your copy. This is a limited-edition collection and will no longer be available once sold out.
---
"PRSA's impact over the last 75 years has been meticulously captured in this comprehensive book that you will treasure. It will capture your heart and enlighten you about the people and the stories that have made incredible differences over the years. Every PR professional should invest in this book and take the stories within it to heart as we work to build the future stories that matter." — Jamie Floer, APR, CPRC, Fellow PRSA and Communications Manager at Toho Water Authority
---

Gratitude Is Essential
And that's not all. To celebrate 75 years of moving the profession forward, the task force reached out to important industry associates, supporters and business partners to seek funding to help publish the coffee table commemorative book and to underwrite the cost of membership for a large group of students and new professionals in 2022. It was and is still important to PRSA's Board of Directors and leaders that no member dues be spent on marking the anniversary, and so a separate fundraising initiative was born. All initiatives have been funded through the contributions of our sponsors, and we thank them.

Inaugural Programs for Students and New Professionals
We are pleased to announce that two new programs will come to life in 2022 in celebration of 75 years of history and a future that celebrates diversity and delivers on the promise of equity and inclusion. One program will be focused on mentoring students and new professionals of diverse backgrounds, and a second program will focus on developing leaders from diverse backgrounds.
Let the Celebration Begin
We join five PRSA Chapters also celebrating their 75th anniversary this year as we look to a bright and promising future. Consider joining us at ICON 2022 in Grapevine, Texas, this November for the 75th PRSA International Conference, and attending the 75th anniversary opening night reception that promises to be an amazing evening celebrating the people, places and moments that matter most.
Finally, none of this would be remotely possible without PRSA members. From the leaders in the earliest days who had a vision and moved it forward; to the champions and exemplary practitioners who have influenced and led the most compelling conversations along the years that changed the way we do business and the very way we live in our society; to the leaders of today who recognize that more must be done to achieve the diverse, equitable and inclusive future the profession requires, PRSA members represent the very best in the public relations and strategic communications practice.
On this momentous occasion, we honor you.
PRSA is excited to provide all PRSA Chapters, Sections and Districts with tools and resources to help everyone commemorate PRSA's 75th Anniversary.
We are thrilled to join together on social media to spotlight history-making contributions made over the years by public relations and communications professionals.
This commemoration will run throughout 2022 and culminate in PRSA Day on Jan. 17, 2023.
Download the Toolkit