Gender Inequality and Communication
December 3, 2020 12:00 p.m. – 01:00 p.m.
Non-Member

$99

Members

$0

Student Members

$0
While the global pandemic and civil and political unrest have captured a great deal of media attention, protests against gender inequality across industries, sectors and national borders continue to make headlines. And for good reason. The World Economic Forum reports that that the gap between men and women in economic participation is growing and at present is expected to take 257 years to close.
This talk examines the role language and communication have played in perpetuating gender inequality and how it can be used as a tool for emancipation and empowerment. By examining relevant literature and examples the audience will be able to identify their own normatively gendered styles of communicating, learn strategies to challenge gendered stereotypes in the workplace and advance the interests of those who hit barriers to advancement due to gender bias.
Thursday, Dec. 3, Noon–1 p.m. EST
Sponsored by Columbia University.
Speaker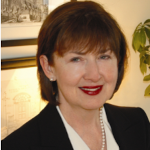 Kristine Billmyer is professor of professional practice in communication and dean emerita of the Faculty of Professional Studies in Columbia University's School of Professional Studies. Her scholarship and teaching focus on gender equity, diversity and global communication in the workplace, and organizational leadership. In an increasingly competitive world, these issues are critical to organizations' imperative to realize their human capital potential. A speaker, consultant and executive trainer, Dr. Billmyer applies research findings to contemporary business needs and challenges, and helps clients find practical and effective solutions. This powerful combination enables her clients to develop and implement long-term strategy, build diversity and equity into their structure and communication, and design successful, forward-thinking 21st-century workplaces. Dr. Billmyer works with multinational companies, governmental and non-governmental organizations, and institutions of higher education in the US, Europe, Latin America, the Middle East and Asia.