Counselors Academy 2022 Conference
May 15-17 | Scottsdale, Arizona
The annual Spring Conference is Counselors Academy's largest event and attracts senior agency executives, decision-makers, advisers and partners. In addition to agency principals and other leaders, attendees include growth and leadership consultants, industry sponsors, and executives from related businesses and industries.

Year after year, this conference gets rave reviews due to the quality of its content and attendees' willingness to share experiences, insights and best practices. This year will no doubt continue this tradition.
Registration
11 a.m. - 5 p.m. MT
Pre-Conference Session
12 p.m. - 4 p.m. MT
Heritage 3 & 4
This special pre-conference session brings together a selection of some of the most highly rated speakers from past Counselors Academy conferences for a master's course on how to build and manage a stronger and more profitable agency.
Nicole Morgan, Moderator; Molly Eyerman (founder & CEO, Vivo Growth Partners), Human Resources; Ken Jacobs (principal, Jacobs Consulting & Executive Coaching), Business Development; Darryl Salerno (president and owner, Second Quadrant Solutions), Finance
This session and the registration fees for first time attendee are sponsored by:
Networking
12 noon - 4 p.m. MT
Mix & Mingle
Fire Pits & Poolside
For repeat attendees, or those looking to casually connect, meet by the hotel poolside to catch up with your fellow Counselors and kick off conference in good spirits.
Counselors 101 New Attendee Session
5 p.m. - 6 p.m. MT
Orangedale C &D and Patio
Is this your first time attending the Counselors Academy Conference? If so, join us for this informal get-to-know-you session.
Networking with other industry and agency leaders is the No. 1 benefit of the conference, so come meet fellow newcomers and veteran attendees alike, and learn how to make the most of your conference experience!
Opening Reception
6 p.m. - 7:15 p.m. MT
Laguna Lawn
Join the Counselors Academy Executive Committee as we welcome you to Scottsdale and kick off the conference!
This reception is sponsored by:
Dine Around Scottsdale
7:30 p.m. - 9:30 p.m. MT
Join your fellow attendees for the chance to enjoy Scottsdale's delicious cuisine while networking in small groups.
*Food and beverage costs are the responsibility of the attendee. Registration will take place online and at the conference registration desk.
Networking
9:30 p.m. MT
The Canal Club Bar
Join your fellow Counselors for cocktails and conversation in The Canal Club.
Registration & Sponsor Tables
8 a.m. - 5:30 p.m. MT
Heritage Foyer
Breakfast Buffet
8:15 a.m. - 8:45 a.m. MT
Heritage Foyer
Opening Keynote
9 a.m. - 10:30 a.m. MT
Heritage 1 & 2

The New Megatrends: Seeing Clearly in the Age of Disruption
Marian Salzman, Senior Vice President, Global Communications, Philip Morris International (PMI)
Marian Salzman shares her sightings on emerging trends that will shape how things play out in 2022 and beyond.
Full Description >>
Breakout Sessions
10:45 a.m. - 11:45 a.m. MT

The ROI of LGBTQ+ Inclusion
Heritage 3 & 4
This session gives leaders the edge in actually moving the needle in their inclusion of marginalized populations.
Full Description >>
---
Creating a Culture of Innovation
Sunset
Creating a culture of innovation provides agency clients a fresh and unique perspective that resonates in the marketplace.
Full Description >>
---
Luncheon Keynote
12 noon - 1:15 p.m. MT
Heritage 1 & 2
Intrinsic Inclusion
Vincent Brown, President & CEO, V.Randolph Brown Consulting
The Inclusive Leader experience that Vincent Brown, President & CEO of V. Randolph Brown Consulting, will facilitate is designed to be highly interactive, introspective, insightful and impactful. Vincent will lead us in exploring and applying tools that we, as Leaders, can use to motivate and engage with all, and ensure our organizations are inclusive and instills a sense of belonging for all.
Breakout Sessions
1:30 p.m. - 2:30 p.m. MT
Using Centralized Management Tools to Thrive in the Era of Remote Work
Heritage 3 & 4
In this breakout session, we will educate senior-level communications professionals about how to understand and adapt to managing their teams efficiently without being in the same location
Full Description >>
---
The Brown Crayon - How My Agency Nailed Diversity and Community From Day One
Sunset
A session that shares lessons in core values, human resource education, and changes to services in order to meet the equity diversity and inclusion needs as a public relations owner.
Full Description >>
---
You Don't Have to do Everything! Licensing Methodologies to Expand Your Agency Services and Increase Income
Citrus
Create new lines of income and equip your senior staff with new skills by licensing methodologies and frameworks from other communicators.
Full Description >>
Break
Networking Break
2:30 p.m. - 3 p.m. MT
Breakout Sessions
3 p.m. - 4 p.m. MT
Authentically Marketing Your "Workplace" to Retain and Attract the Right Talent for Your Agency
Citrus
This discussion will leave agency owners with actionable steps to build rapport with their existing teams and position themselves for new talent through a transparent and distinctive approach.
Full Description >>
---
Building A Culture of Accountability
Heritage 3& 4
Give your employees permission to take on real responsibilities and be held accountable.
Full Description >>
---
Afternoon Keynote
4:15 p.m. - 5:30 p.m. MT
Heritage 1 & 2
Busting the Myth that Working Harder Leads to Success
Nick Leighton, Serial Agency Owner, Speaker & Coach
Nick Leighton takes us on a speaking journey from being hijacked in Pakistan, to having tea with Royalty in England.
Reception & Dinner
7 p.m. - 9 p.m. MT
Laguna Lawn, Heritage 1 & 2
Networking
9 p.m. MT
The Canal Club
Registration & Sponsor Tables
8 a.m. - 5 p.m. MT
Breakfast Buffet
8:30 a.m. - 9 a.m. MT
Breakout Sessions
9:15 a.m. - 10:15 a.m. MT
Strategies to Maximize Profitability within Your Virtual Firm
Heritage 3 & 4
This session will inspire and equip you with critical resources, ideas and mindset shifts to maximize profitability within your virtual firm.
Full Description >>
---
Evolve Your Leadership Style So Your Teams Will Enthusiastically Follow You Through Any Uncertainty
Sunset
How Agency Leaders Should Evolve Their Leadership Styles So Their Teams Will Follow Them Through Continuing Uncertain Times, And Situations We Don't See Coming
Full Description >>
---
The Art and Science of Managing Influencer Campaigns
Citrus
There's a way you can build and manage influencer campaigns using your existing team and a straightforward process.
Full Description >>
Breakout Sessions
10:30 a.m. - 11:30 a.m. MT
Human Motivation
Heritage 3 & 4
This session explores the way we make decisions related to what to buy and how to act.
Full Description >>
---
Doing Content Strategically
Sunset
How can we think of content more holistically, and develop programs around it that really move the needle for our clients?
Full Description >>
Organize Your Giving to Get a Greater Return on Clients
Citrus
Learn how to stop giving service and time away.
Full Description >>
Luncheon Keynote
11:45 a.m. - 1:30 p.m. MT
Heritage 1 & 2
The Science of Trust and Change
Elizabeth Edwards, founder of Volume PR, Engagement Science Lab, and the Behavioral Communication movementIn The Science of Trust and Change, Elizabeth Edwards reveals how to use this science to tune your words and strategies to the frequency the mind prefers to accelerate the creation of trust and change with strategic communication.
---
Breakout Sessions
1:45 p.m. - 2:45 p.m. MT

Your Secret Weapon: Creating the Ultimate Business and Career Relationship
Heritage 3 & 4
This presentation provides a seven-step method for taking relationships to a higher, more productive level by creating advocates.
---
Financial Transparency: What to Say? How to Say it? Why to Say it
Sunset
This informative workshop will equip CAPRSA owners with a "script" to help them talk to their staffs about financial performance and their role in ensuring financial success.
---
Ignite Sessions
3 p.m. - 4 p.m. MT
Heritage 1 & 2

Enjoy these dynamic five-minute, 20-slide presentations designed to hold your attention, shake up your thinking, and leave you with great takeaways.

Wilson Camelo, President and Chief Marketing Officer of Camelo Communication - Effective Public Relations for the New America
Tony Cheevers, Customer Success Officer, Researchscape International - Survey Says… What's on the Mind of Your PR Peers
Dan Farkas, Lecturer of Strategic Communication at Ohio State University - Finding Your Talent Flow: A Yogi Guide to Recruitment & Retention
Missy Hurley, PR, co-founder and principal of B2 Communications - Intern Today, Employee Tomorrow: How to Shape the Next Generation of PR Pros
Chris Salem, CEO & Business Advisor - CRS Group Holdings, LLC - Fostering Diversity & Inclusion in the Workplace
Janet Tyler, President of True Depth - Time for a Glow Up? Closing the Generation Gap
DIY Dine Around Dinner
6:30 p.m. - 10 p.m. MT
Use the list of Dine-Around Restaurants to plan a dinner with new and/or old friends for the final night of our Spring Conference!
Networking
10 p.m. MT
The Canal Club
Join your fellow Counselors for cocktails and conversation in The Canal Club

Registration Options
Standard
(after April 1)
FULL PACKAGE
(Includes all conference sessions and meal functions, except for the dine-arounds and any extra activities)
PRSA Counselors Academy Section Member
$1,575
PRSA Member*
$1,775
Nonmember
$1,975
DAY REGISTRATION
(Includes all sessions and meal functions offered on the day noted)
Monday (Member or Nonmember)
$1,075
Tuesday (Member or Nonmember)
$925
GUESTS

GUEST MEAL PACKAGE(Includes Sunday Night reception, Monday and Tuesday Breakfasts and Luncheons and Monday Reception & Dinner)
$1,125
Monday Night Reception and Dinner Only
$455
PRE-CONFERENCE SEMINAR
Best of Counselors Academy
(Sunday, May 15 — 12 – 4pm)
Free to first time attendees
$150

*Global Alliance members qualify for the PRSA member rate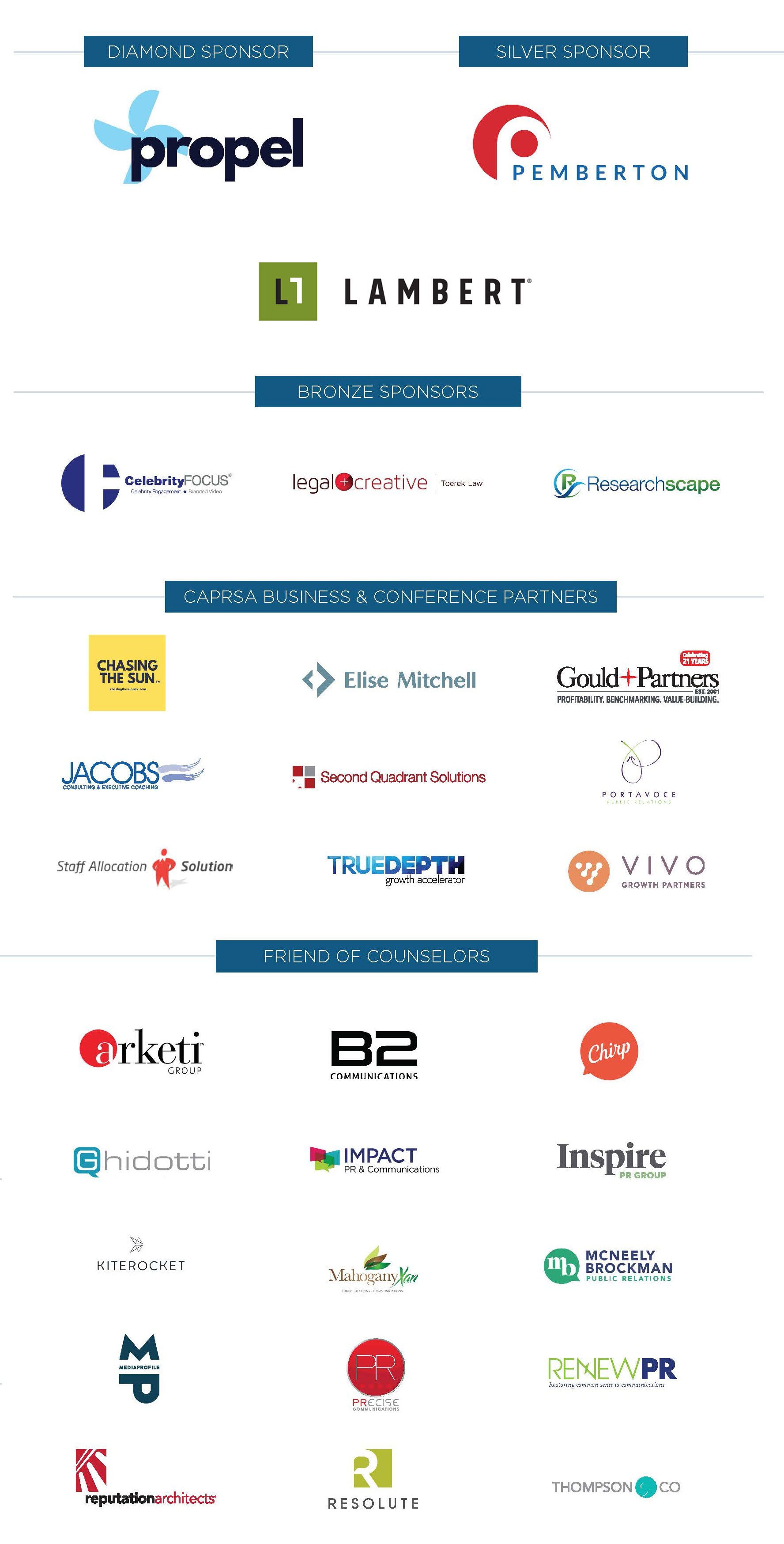 Hotel Accommodations: For accommodations at The Scott Resort & Spa, click on the link or call (800) 528-7867. The special room rate is $239 per night. Rooms are guaranteed on a first-come, first-served basis, based on availability, through April 23, 2022. You are responsible for arranging your own hotel accommodations.
PRSA's Counselors Academy Spring Conference is scheduled to be held at the Scott Resort &Spa in Scottsdale, AZ and will be subject to the COVID-19 protocols, guidelines, laws and regulations of the State of Arizona and the City of Scottsdale. As the situation evolves, these orders are subject to change and can be found here here and here. We ask that all attendees frequently monitor them.
The best way to have a successful gathering in these times is to commit to keeping each other safe! Please monitor your health and use all precautions to protect everyone in our community. We encourage attendees to get vaccinated if they can and wear masks when in large crowds. If you test positive for COVID-19, are feeling symptomatic, are required to quarantine, or have been in contact with someone who has COVID-19 or been exhibiting COVID-19 symptoms in the lead up to the event and need to stay home, we will be flexible on the cancellation policy for these reasons.