Louisiana State University Wins Top Prize in PRSSA Bateman Competition
May. 21, 2018
NEW YORK (May 21, 2018) — The Public Relations Student Society of America (PRSSA) is proud to announce that Louisiana State University (LSU) has been selected as the first place winner of the PRSSA 2018 Bateman Case Study Competition. Kent State University — Gold (KSU) won second place and California State University, Long Beach (CSULB) won third place.
This year's Bateman Case Study Competition challenged students to develop and present a comprehensive public relations campaign to increase awareness of the problems surrounding childhood cancer treatment in the U.S. on behalf of With Purpose, a youth-led movement dedicated to ensuring kids with cancer have better treatment options.
The campaign focused on the following issues: only 4% of the National Cancer Institute's budget is allocated to pediatric cancer research; only four pediatric cancer treatments have been FDA approved in the last 30 years; and 1 in 5 children diagnosed with cancer will not survive.
Eighty-four teams from across the country developed strategies to educate the next generation of childhood cancer advocates. Each team was judged on their research, creation, implementation and evaluation. The top three finalist teams were invited to Charleston, S.C. to present to representatives from With Purpose and PRSA.
LSU's Fight for Five campaign was a fight for improvement; a fight for the fifth percentile, the fifth treatment option, and the fifth child. Their campaign reached over 45,000 people via social media and nearly two million people through earned media. Additionally, the teams established a With Purpose chapter at LSU.
"I knew the Bateman Competition would help to prepare me for a career in public relations, but I never imagined that I would grow to love the cause so dearly," said Josie Bonnette, the LSU Media Relations Director. "
The KSU team campaign raised awareness of the childhood cancer research funding inequity and succeeded in encouraging college and high school STEM students to advocate for With Purpose to narrow the pre-clinical research gap. While the CSULB Live With Purpose campaign educated one million people about the reality of childhood cancer and harnessed the growing power of youth activism.
"All three teams presented comprehensive, well-researched and impactful campaigns. Selecting a winner proved incredibly difficult and we plan to incorporate elements from each team's efforts in national efforts," said With Purpose Executive Director Erin Benson. "In the end, the cohesive narrative driving the Louisiana State University team's campaign and their ability to spread With Purpose's mission to a wide audience spanning multiple states in a short period of time made their team stand out."
As the first-place team, LSU will receive a $3,500 monetary prize. The KSU team will receive $2,500, and the CSULB team will receive $1,500. Also, all honorable mention recipients were offered a complimentary PRSA Associate Membership.
The Bateman Case Study Competition originated in 1973 as a National Case Study, allowing PRSSA members to exercise the analytical skills required for public relations problem solving. In 1983, the name of the Competition was changed to honor the late J. Carroll Bateman, APR. Bateman was a past president of the Public Relations Society of America (PRSA) and was instrumental in the founding of PRSSA. The Competition has partnered with organizations such as Home Matters, Fiserv, United Way Worldwide, Ally Financial, U.S. Census Bureau and more.
The three finalists will be recognized at an awards ceremony during the PRSSA 2018 National Conference, to be held in Austin, Oct. 5–9. For additional information about the PRSSA Bateman Case Study Competition, visit the PRSSA website. The campaign summaries from the three finalist teams will be available soon on the PRSSA website.
About the Public Relations Student Society of America (PRSSA)
The Public Relations Student Society of America (www.prssa.prsa.org) is the foremost organization for students interested in public relations and communications. Founded in 1968 by its parent organization, the Public Relations Society of America (PRSA), PRSSA includes more than 10,000 student members and advisers, and is active at more than 340 colleges and universities.
About With Purpose
With Purpose is a nonprofit organization dedicated to making sure kids with cancer have access to safe, effective treatment options by empowering youth and community leaders to take action. Childhood cancer is currently the leading cause of death from disease among children in the U.S. For many pediatric cancers, there has been little to no advancement for treatment since the 1970s, which is one of the reasons why one in five kids diagnosed with cancer in the U.S. today will not survive. Even current life-saving treatments often result in long-term, costly medical issues for children who do survive. At With Purpose, we know with the right resources and energy, we can do better. We invest in the power of young people to change the world, and believe it will be the next generation of leaders that will change the story for childhood cancer treatment in the U.S.
###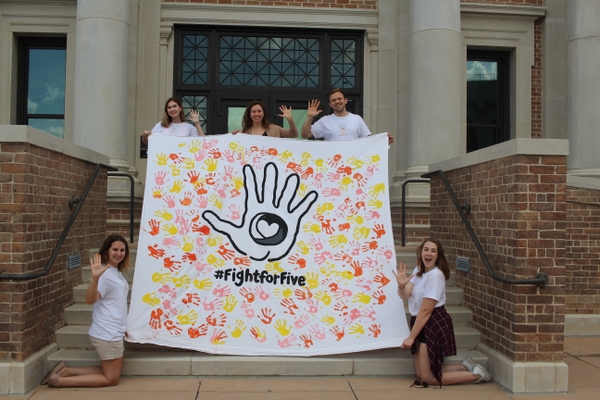 Contacts
Karen Mateo
Chief Communications Officer
(212) 460-1454
Rod Granger
Director, Content and Integrated Communications
(212) 460-0307
Communications Associate
(212) 460-1479