PRSA Adds Grievance Process, Amends Two Bylaws at Annual Leadership Assembly
Oct. 6, 2018
NEW YORK (October 6, 2018): The Public Relations Society of America (PRSA) today announced the successful passage of two amendments to the organization's bylaws at its Leadership Assembly in Austin, TX. The amendments update the definition of a "member in good standing" and establish a grievance procedure for the organization, key changes that will take the organization forward as it continues to chart a strong course for the profession in a rapidly changing world.
PRSA's Governance Committee developed the two bylaw changes to ensure that PRSA members uphold the highest standards of personal and professional conduct.
"These bylaw changes establish that PRSA is committed to defining precisely the standards of our membership, and to instituting procedures that address any concerns or allegations about activities that do not uphold those standards," said Anthony D'Angelo, APR, Fellow PRSA, 2018 National Chair, Public Relations Society of America. "This is important, foundational-level work to protect PRSA's reputation and that of our members."
"PRSA embodies the best of our profession and advocates tirelessly for the hard work of our members and practitioners around the country," said PRSA CEO Joseph P. Truncale, Ph.D., CAE. "Both amendments enhance our ability to do so, and were developed based on research into association best practices and in consultation with our legal counsel."
Four other proposed amendments put up for a vote at the Leadership Assembly failed to pass. PRSA encourages and respects spirited and constructive debate on the organization's governance.
The Society thanks all voting delegates, volunteers and members for their thoughtful contributions and ongoing commitment to improving the society.
About the Public Relations Society of America:
PRSA is the nation's largest professional organization serving the communications community. The organization's mission is to make communications professionals smarter, better prepared and more connected through all stages of their career. PRSA achieves this by offering its members thought leadership, innovative lifelong learning opportunities to help them develop new skills, enhance their credibility and connect with a strong network of professionals. The organization sets the standards of professional excellence and ethical conduct for the public relations industry. PRSA collectively represents more than 30,000 members consisting of communications professionals spanning every industry sector nationwide and college and university students who encompass the Public Relations Student Society of America (PRSSA). Learn more about PRSA at https://www.prsa.org .
Media Contact:
Rod Granger
Director, Content & Integrated Communications
PRSA
212-460-0307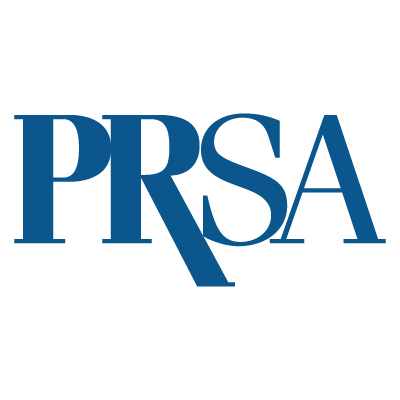 Contacts
Karen Mateo
Chief Communications Officer
(212) 460-1454
Rod Granger
Director, Content and Integrated Communications
(212) 460-0307
Communications Associate
(212) 460-1479