PRSA Announces Winners of 2022 Anvil Awards
May. 20, 2022
Best of Silver Anvil Award Presented to The Office of the Minnesota Attorney General with FGS Global
Weber Shandwick, FleishmanHillard, UPS, St. Jude's Research Hospital
Among Agencies and Brands Honored
NEW YORK, May 20, 2022 -- PRSA, the nation's leading professional organization serving the communications community, announced the winners of the 2022 Anvil Awards, which recognize the best public relations tactics and campaigns of the year and the highest standards of performance for the profession.
"Congratulations to all our well-deserved Anvil Award winners," said Dr. Felicia Blow, APR, 2022 PRSA Chair. "I am consistently impressed with the quality of innovative and inspiring work created throughout our profession. The Anvil ceremony is always one of my favorite events, and it was an extra thrill to be able to present the awards in person this year."
A new Silver Anvil Organizational Awards category was created this year to showcase overall agency excellence. Winners included:
Best Boutique Agency:
· BRG Communications
Best Small Agency:
· The MRKT
Best Mid-Sized Agency:
· Current Global
Best Mega Agency:
· Ketchum
Among all winners, tactics and campaigns encompassed a wide breadth of topics, causes and themes. These included the importance of the rollout and delivery of COVID-19 vaccines; connecting to and incorporating diverse audiences; and helping brands break through and have an impact on the increasingly turbulent media landscape.
This year's Best of Silver Anvil Award was presented to the Office of the Minnesota Attorney General with FGS Global, for their work on Minnesota v. Chauvin, one of the most high-profile and consequential criminal cases of the 21st century.
FGS Global provided pro-bono communications and legal support to Minnesota Attorney General Keith Ellison and his team in their successful prosecution of Derek Chauvin for the murder of George Floyd. While it's unusual for a PR firm to work for state prosecutors in a criminal trial, Ellison brought FGS on to help with the challenge associated with prosecuting a case that drew massive worldwide and public attention
FGS developed a communications plan to ensure the prosecution's key messages were resonating with both media and the public, all while adhering to strict professional and prosecutorial standards and ethics. In total, they reviewed and analyzed more than 54 million tweets, a quarter of a million news articles and 86,000 broadcast segments during the trial alone. They also worked on more than 30 media statements, remarks and op-eds. Following the verdict and sentencing, FGS arranged 44 interviews for members of the prosecution team with top-tier print, radio and broadcast outlets.
A total of 40 Silver Anvil Awards, 24 Bronze Anvil Awards, 29 Awards of Excellence and 18 Awards of Commendation were presented during the evening. Click here to see the full lists of winners.
About PRSA
The Public Relations Society of America (PRSA) empowers its members to succeed at every stage of their careers through a wide breadth of professional development, networking and leadership opportunities. Guided by its Code of Ethics, PRSA is collectively represented by 110 Chapters and 14 Professional Interest Sections, as well as on nearly 375 college and university campuses in the U.S., Puerto Rico, Argentina, Colombia and Peru through its student organization, the Public Relations Student Society of America (PRSSA). PRSA's signature events include the Anvil Awards and ICON, the premier annual gathering for communications professionals and students. For more information, visit prsa.org.
###
Media Contacts:

Vinica Weiss
vinica.weiss@prsa.org
(212) 460-1479
Rod Granger
rod.granger@prsa.org
(212) 460-0307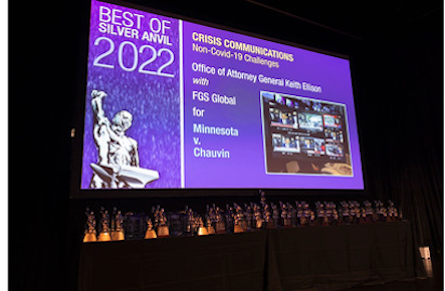 Contacts
Karen Mateo
Chief Communications Officer
(212) 460-1454
Rod Granger
Director, Content and Integrated Communications
(212) 460-0307