Colonel (RET) Derik Crotts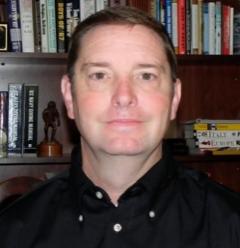 An experienced leader, manager, communicator and marketing strategist whose work spans from Daytona to Wall Street, to Europe and Asia. Derik has more than 35 years of governmental and international experience in corporate counseling, marketing, media relations, public affairs, law enforcement, along with sports communication and education. In addition to his current position as Communications Strategist for the Military Health System and the Defense Health Agency, he is an associate professor in scuba diving emergency management and rescue for the Uniformed Services University of the Health Sciences, and an adjunct professor for sports communication; sports media, law and ethics; and conflict management at Queens University of Charlotte. He has additional academic experience at the University of Maryland University College where he taught Organization Theory and Development. Prior to his current position at the Department of Defense, Derik served as Director of Marketing, Communications, and International Operations for the National Association of Underwater Instructors (NAUI), Worldwide
Derik is a retired U.S. Army Colonel who has held numerous leadership and command positions, including Director, Strategic Communications, Marketing and Outreach for the U.S. Army, where he managed all U.S. Army marketing and advertising efforts and was the architect behind numerous recognitions for innovative and creative marketing, recruiting and community outreach programs. Included in these awards were the Public Relations Society of America (PRSA) Bronze Anvil Award of Excellence in 2000 and the Silver Anvil in 2011. Programs under his direction also received a Gold Jay Chiat and a Gold and Silver Effie award. As a senior military consultant to Fleishman-Hillard International Communications, Derik served as a media trainer, public relations and crisis communications manager in support to Olympic Sponsors during the 1996 Olympic Games in Atlanta. Additionally, he served as the public affairs advisor to the Supreme Allied Commander Europe and NATO. In this role, he helped lead the establishment and support for NATO Public Affairs operations in Afghanistan. He has also served as commander, 40th Public Affairs Detachment, 101st Airborne Division; Director of Public Affairs for the U.S. Army Maneuver Support Center, and commander of American Forces Network (AFN) Southern Europe and AFN Americas, with responsibility for development and distribution of public and command information, along with radio and television communication, to service members, government employees and their families.
Initially enlisting and eventually commissioned into the U.S. Army Military Police Corps, he has served as a Patrolman; Platoon Leader; Military Police Operations Officer; Military Police, Physical Security and Counter-Terrorism Advisor and Trainer; Company Commander and installation Provost Marshal, throughout numerous garrison and tactical assignments around the world. Derik was prominently noted for his management of the U.S. Army's motorsports programs. A familiar and respected fixture in NASCAR and NHRA, his expertise included maintaining and enhancing strategic alliance and partnerships between stakeholders and uniting hundreds of diverse staff members to serve a common goal. He managed and directed digital media, broadcast, and print support for the U.S. Army and its motorsports program. He served as General Manager for NASCAR's Drive for Diversity Race Team from 2011-2013 and led Rev Racing to a NASCAR K&N East Championship in 2012.
As a scuba course director trainer, Derik has planned and conducted certification training for instructors and dive operations throughout the United States, the Caribbean, Europe and Asia. Diving in some of the world's most unique areas and situations, Derik has relied upon his experience to develop and conduct a wide range of dive specialty training, including a unique training program covering underwater investigative techniques.
Derik holds a Master of Arts in Strategic Studies and International Affairs from the U.S. Naval War College, Newport, Rhode Island, and a Master of Public Administration from Murray State University, Murray, Kentucky.
Organization
Communications Strategist
Military Health System/Defense Health Agency