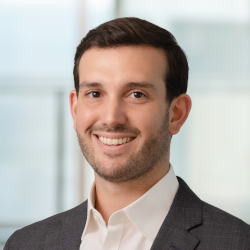 Andrew Richman supports all aspects of entertainment, media, sports, advertising and technology transactions, and provides advice on intellectual property (IP) issues. At Davis+Gilbert LLP, his creative approaches help clients confidently pursue partnership opportunities that generate innovative campaigns, materials and activations.
With a business-focused approach, Andrew assists advertising and marketing agencies, sports agencies, production companies, esports apps, brands, individual talent and creators in bringing their big ideas to life with minimal risk. Drawing on his in-house counsel experience, he understands the pressures clients face and lessens their workload with practical and efficient legal support.
Andrew provides insight and perspective on issues that arise in talent and influencer deals, sponsorships, productions, agency-client agreements, services agreements, trademark licensing, copyright licensing and cross-platform distributions. Recognizing that many transactions he handles involve partnerships, he seeks to facilitate conversations and negotiations that establish a productive middle ground with opposing parties.
Before he joined Davis+Gilbert, Andrew was in-house counsel in the global marketing division of Endeavor (previously WME|IMG), where he gained experience in advertising, experiential marketing, privacy and data security, influencer and talent deals, FTC compliance and IP matters. While in law school, Andrew pursued his interests in media and advertising through internships at Comedy Central and Excel Sports Management.

Organization
Associate
Davis+Gilbert LLP