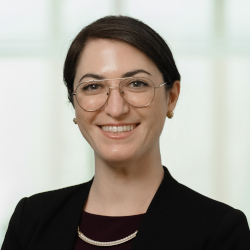 Agencies and brands exploring innovative ways to produce and use marketing content trust Samantha Rothaus to balance legal risk with business objectives. At Davis+Gilbert LLP, she helps clients launch collaborative projects, understand their contract rights, and negotiate talent deals and production agreements.
Often involved at the earliest stages of a client's project, Samantha brings an attentive and practical approach to avoiding problems and crafting solutions. Her thoughtful and individualized guidance supports brands, creative agencies, and communications firms launching traditional advertising campaigns, in addition to sponsored influencer content and branded entertainment produced by media partners. She is also well-versed in guiding clients through legal requirements and best practices in running contests, sweepstakes and other prize-related promotions. Whether companies are collaborating through co-branded promotions or sponsored events, or engaging influencers, celebrity spokespeople or content production vendors, Samantha helps them find strategies to achieve their goals and serve their best interests, even during contentious, high-pressure negotiations.
Samantha maintains a particular focus on production and talent agreements, and often assists advertisers and agencies in identifying and understanding complex SAG-AFTRA union obligations. She also regularly counsels independent film and television producers in connection with the development and production of entertainment and documentary projects.
With a background in intellectual property litigation and trademark prosecution, Samantha recognizes the value companies place on protecting their IP rights. She evaluates potential benefits and consequences of sharing or promoting content so clients can make sound business decisions. When companies seek to understand or expand upon their scope of use for a particular piece of content, they benefit from her contract analyses of their legal rights, obligations and required permissions, and the practical solutions she offers.

Organization
Partner
Davis+Gilbert LLP