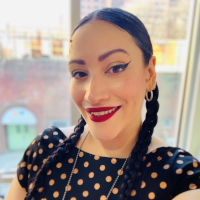 Christina Stokes (she/her/hers) is an award-winning talent management professional and executive recruiter. She currently serves as the Senior Vice President, Director of Talent Acquisition at RUBENSTEIN; a New York City based strategic communications and reputation management firm. She has extensive expertise developing and implementing high-level talent acquisition strategies, coupled with employer branding and visibility initiatives. She is passionate about refining and enhancing employee engagement, company culture, and diversity and inclusion efforts. She also proudly serves as co-chair of RUBENSTEIN's inaugural DEIA Council. Prior to her role in leadership with RUBENSTEIN, Christina was the Director of Talent Acquisition for MikeWorldWide (formerly known as MWWPR). Earlier in her career, she worked across a variety staffing agencies (Phifer & Company, Stephen-Bradford Search, and TTS Personnel).
Christina is an active member of the Public Relations Society of America and the PRSA New York chapter. She is a Board Member and Conference Co-Chair with the PRSA Tri-State Chapter, Board Member and VP Programs with PRSA-NY for 2022, as well as a contributor to the monthly PRSA Strategies & Tactics newspaper with her column, Hire and Seek. She is also a member of the Society of Human Resources Management, in addition to their New York Chapter. Finally, she is a Council Member with the OnCon Senior Talent Acquisition Council.
Christina lives in Queens, New York with her fiancé, her daughter, and their two black cats.
Organization
Senior Vice President, Director of Talent Acquisition
RUBENSTEIN