Fulfilling a Critical Need: Strategic Communications Course Resources for Business School Educators


Preparing future business leaders to meet the demands of a fast-changing marketplace requires a strategic understanding of corporate communications — specifically how to manage brand reputation, gain consumer trust and achieve business results.
In partnership with leading business schools, the PRSA MBA/Business School Program assists educators in introducing MBA-level strategic communications courses into their institutions' curricula.
This program is based on course curricula developed over three decades by Paul Argenti, professor of corporate communications at Dartmouth College's Tuck School of Business, and was developed with the support of the Arthur W. Page Society.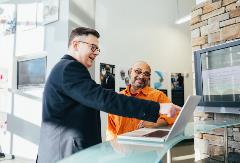 The PRSA MBA/Business Program is a multi-year effort to advocate the importance of training in strategic communications and reputation management in MBA programs. This initiative will provide MBA candidates with a better appreciation of public relations' strategic value and help them to understand and apply the associated knowledge required for organizational and leadership success in the future.
Multiple surveys, including those conducted by PRSA, have shown that reputation management and communication strategy are important skills for businesses success. But a gap exists in the communications and reputation management skills training of MBA graduates; skills they will need as future business leaders.
Survey: Communications a 'Vital Skill' for Today's Business Leaders
Making strategic communication a key element in MBA programs not only will make a significant contribution to the practice of public relations, it also will contribute to sound business practices. A greater understanding and appreciation of public relations among senior executives will help public relations practitioners gain easier and more frequent involvement in C-suite business decisions.
Business School Course Resources
To meet the specific needs of individual MBA programs, the PRSA MBA/Business School Program provides flexible full-semester, "mini-mester" and seminar formats, and covers such areas as corporate communications (internal and external), integrated marketing communications, investor relations, corporate social responsibility (CSR), government relations and crisis communications.
Our community of educators is eager to support your efforts to incorporate this subject matter into your graduate business school program. To help you introduce strategic communication course work at your institution, PRSA offers:
Sample Syllabus - easily modified to fit your course needs from Paul Argenti, professor of corporate communications, Tuck School of Business, Dartmouth College.
"Developing A New Generation of PR-Savvy Business Leaders," - by Judy Phair, APR, Fellow PRSA, chair, PRSA MBA/Business School Program, and president, PhairAdvantage Communications, LLC.
"Bridging the Gap Between Strategic Communications Education and Master of Business Administration (MBA) Curriculum,"- by Kristie Byrum, Ph.D., APR, assistant professor, Bloomsburg University of Pennsylvania.
Counsel from communications educators at partner MBA programs, such as Dartmouth, Northwestern and the University of Maryland, on introducing this program. For more information, please email.
Outlined below are the steps for partnering with PRSA and joining a growing number of business schools dedicated to providing future business leaders with vital strategic communication training.
Step 1: Review Our Course Resources
Step 2: Submit the Electronic Application
If you wish to further discuss the program before applying, connect with Jeneen Garcia, vice president, Education, PRSA, via email, or call at (212) 460-1466.
Step 3: Coordinate a Call or In-person Visit
PRSA can coordinate a conference call or in-person visit to help you get started. Educators at Dartmouth, the University of Maryland, Northwestern and other partner MBA programs would be happy to speak with you about the approaches their universities are using, and PRSA can provide additional implementation tools and counsel.