George Washington University – Graduate School of Political Management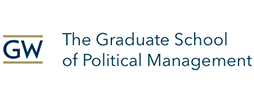 Founded in 1987 and located in the heart of Washington, DC, GW's Graduate School of Political Management is the first and foremost school of applied politics, communications, and advocacy, offering master's degrees in the following disciplines: Legislative Affairs, Political Management, Strategic Public Relations, and Comunicación Política y Gobernanza Estratégica.
We provide a hands-on education, not a theoretical exploration. Our students know what they want to do to change the world; we teach them how to use the strategies and tactics needed to do it.
Our faculty are recognized industry leaders and bring the best practices of the field into the classroom. Our more than 2,500 talented alumni, scattered around the globe and representing more than 40 nations, are leaders and change-makers in the world of government, politics, public relations, and public affairs. Find out why GSPM was right for them, and hear how they are putting their master's degrees to work making a difference in the world.