Amanda Brown Olmstead Marks 50 Years as an Agency CEO
Name: Amanda Brown Olmstead, APR, Fellow PRSA
Title: CEO, A. Brown Olmstead Associates
Location: Atlanta
Career highlights: From the Goodwill Games in Moscow in 1986 to the launch of the CitiBank card and the Manufacturers Hanover Corporate Challenge runs in Atlanta and New York, her firm has been at the forefront of trends in business and issues.
Favorite downtime activity: "Playing house, entertaining friends, family and community."
Favorite books: The two I have been working on this past year, "The Many Lives of Andrew Young," and "It's in the Action, Memories of a Nonviolent Warrior" by C.T. Vivian with Steve Fiffer.
Best leadership advice: Adopt these phrases, "life is an adventure," "every day is a blessing" and "persistence pays off."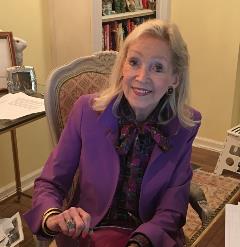 ---
What were your early career ambitions?

My early career ambitions were to be in the fashion industry. Having been selected as best dressed on campus at Ole Miss, upon graduation I had already invested a great deal in understanding the world of fashion. I quickly found myself as fashion and publicity director at the finest women's designer clothing store in the Southeast. It was there that my outreach opportunities with media, community and civic organizations began.
I then went on to a similar position to open the Atlanta-based Saks Fifth Avenue store where my visibility in the community significantly increased. Following a short stint at a new public relations firm, I went on to open my own business — Amanda Brown Creative Consultants — on June 1, 1972.
What have been some of the most rewarding parts of the agency experience?
The agency experience has been rewarding personally and professionally throughout these 50 years and certainly continues to this day. Achieving success for clients, interaction and friendships built with them and using creativity to find solutions to the greatest challenges have all been terrific. I love the opportunity to learn about new businesses, new industries and the constant expansion of knowledge that agency leadership requires.
Tell us more about the agency's core value statement: "We Measure Our Results by That of Our Clients."
Our value statement is the fundamental reason we are still in business. No matter what is required of a PR firm, clearly it is the result we achieve in addressing the client's own objectives that matters. Great results give us our reputation, for our present and future business.
I learned early on that our flexibility in the services we provide a client was so critically important. Certainly the fundamentals of written materials, strategic planning, events and media relations were a part of what we did, but I always looked for "what else."
As a judge for the Silver Anvils, I so embraced the four steps, which are capped with "results," the reason for engagement in the first place. Matching the original goals with the achievements is how I have managed my firm.

How would you describe your management style?

I guess you would need to ask employees over these 50 years about my management style, but I hope I provide guidance and stimulation from a position of encouragement and support for each individual who spends time with this company.

How has your internship program evolved through the years?
In year five, I established an internship program. Originally, this was with Georgia State University, where students walked across campus to work in our offices for a limited number of hours per week. That progressed into a paid internship program with each internship lasting three months. I have found the program to be exceedingly beneficial to the agency in identifying young talent that could join our team as well as the mentoring and learning experience each intern has received throughout the years.

You have been a champion of diversity — why is this important to you? How has your work with DE&I clients evolved through the years?

From the early s1970s we have been a champion of diversity. We were the first firm in this market with a diverse staff and the first white owned agency to have African American clients. I have taken great pride in our focus on diversity in Atlanta, "the city too busy to hate." The "cradle of the civil rights movement" has offered a richness in working with outstanding clients and causes over the years.

Today our work with the C.T. Vivian family and foundation and the development of a college curriculum has been an absolute joy as has been the Andrew Young 90th birthday celebration where we had an opportunity to coordinate media relations, bring participants to a Peace Walk in downtown Atlanta and create an exhibit and coffee table book titled "The Many Lives of Andrew Young". How special it has been to work with civil rights leaders in this city to project our story to the world.
You've been a PRSA member for 40-plus years. What impact has it had on your career?
I joined PRSA in the first year of my business, seeking mentors including a relationship with LobsenzStevens in New York, a Pinnacle firm, and the guidance and advice of Chet Burger.
There is no question that PRSA has helped develop my business as well as allowed me to invest heavily in the organization through my leadership roles in Counselors Academy, participation in the Silver Anvil judging and work on special committees. I also served as an Assembly delegate for 15 years.
What's next for you and the agency?
At the agency's 50th anniversary celebration on June 1 of this year, I ended my remarks that evening with, "I want to make it perfectly clear. This is not a retirement party," and it isn't.
At a time in our country when our president is approaching 80, Tony Bennett is still singing and President Carter can still comment on issues of the day, my response is Why not?
Return to Current Issue
Tech & Social | August 2022
Share this article