Former President Vicente Fox on a Lifetime of Self-Determination
Vicente Fox's path to becoming president of Mexico started in an unlikely place: Cincinnati.
Fox's grandfather, Joseph L. Fox, was born and raised in the Ohio city where he worked as a butcher's assistant. But when the job became too violent for him — Fox's grandfather was traumatized by the sound of squealing hogs — he decided to move south to Mexico in the hopes of starting a new, better life.
Fox's grandfather's resilience and bravery made a lasting impact, teaching the aspiring politician and businessman that every individual has the capacity to change their situation in life — as long as they're driven by a strong sense of purpose.
"When you discover the leadership that you have within, you can do so many things," said Fox, who was interviewed by Conference Chair Rhoda Weiss, APR, Fellow PRSA, at the Oct. 21 General Session. "We are all leaders, each and every one of us."
Business beginnings
Fox first discovered his sense of purpose while at Coca-Cola.
He started working at the company in 1964 as a truck driver and salesperson, delivering soda to mom-and-pop stores across Mexico. However, he didn't think that the job properly utilized his talents and capabilities. He wanted to make a difference on a more corporate level, and by 1975, just nine years later, he became CEO of Coca-Cola Mexico.
How did Fox rise in the ranks so quickly? He told himself, in the spirit of his grandfather in Cincinnati, that he had the capacity to be a successful, self-made businessperson — because anyone has the capacity to be a successful, self-made businessperson.
"You were not born to be poor. You were not born to be a migrant. You were born to do great things in your life," said Fox.
Political efforts
As president of Mexico from 2000 to 2006, Fox made industrialization and global trade top priorities.
During his interview, he touted the fact that Mexico is now the "most competitive manufacturing place in the world," housing top-producing automobile plants from companies such as GM, Ford and Mazda. He also talked about his strong relationships and collaborations with other leaders from that time — including former President George W. Bush.
But for Fox, making globalization a political focus wasn't just about opening up Mexico to foreign business. It was also about diplomacy and kindness. Supporting the hard work and industrial efforts of your neighbors and allies, said Fox, is a potent way to fight isolation and nationalism.
"You gain the capacity to lead by love, by democratic dialogue," he said.
Fox told the audience that many of today's leaders are so unpopular because they aren't in touch with the emotional pulse of their constituents.
"You need a leader that understands we aren't in this life to look for our own happiness, but to look for the happiness of the other, to put yourself in the shoes of the other," he said.
But prioritizing the "happiness of the other" doesn't just earn you the adulation and appreciation of the people you're governing. It makes leadership far more gratifying for the leader, too — a key lesson Fox first learned in Jesuit school and then again, from his own experiences, as the president of the 15th largest country in the world.
"If you work for the other, you will find happiness for yourself," he said. "You find your shortcut to happiness by being for others."
Charitable endeavors
Though Fox left the presidency in late 2006, he remains committed to the causes that defined his time in office.
Fox's main focus now is running Centro Fox — a nonprofit foundation dedicated to developing young leaders in Mexico and Latin America — with wife and former First Lady of Mexico Marta Sahagún de Fox.
When Fox speaks with these young, aspiring leaders, he makes sure to imbue them with the same sense of hope and self-determination that has been a part of the Fox family for generations.
"In school, they tell you leaders are a select class, a few people," said Fox. "But it's not true. We are all leaders."


photo credit: albert chau

---
Backstage Q&A With Vicente Fox

How important is it for leaders to be able to communicate with their constituents?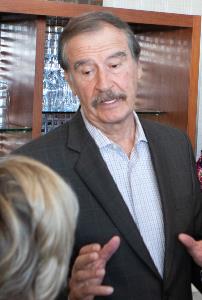 It's fundamental. There is no reason for leadership except to communicate, to move society, to move citizens, to move businesses. You don't have to make great speeches; you just have to communicate.


What's your advice to young, aspiring leaders who are looking to make a difference?
[Leadership] starts with yourself. You have to look within yourself. You have to discover who you are, what you live life for. Once you do that exercise, leadership will start flourishing within you. We are all leaders, as long as we have a good cause and purpose for our lives and for the lives of others.


Your wife, Marta Sahagún de Fox, is a PR professional. How has her insight informed your work and outlook?
She's helped me with love, with knowledge, with companionship. Being two is much better than being one. — Dean Essner
Return to Current Issue
#PRSAICON Recap | December 2019
Share this article