Heidi Wilson on Teaching the Next Generation
Name: Heidi Wilson
Current status: Assistant Professor, the Department of Mass Communications at Virginia Union University
Location: Richmond, Va.
Career highlights: Vice President of professional development for PRSA's Tar Heel Chapter; PR Consultant at HWilsonPR; Chairwoman for Communications at Virginia Union University; PRSSA Adviser
Favorite place to travel: New Orleans — I love the culture, social scene and delicious food, and Mardi Gras is so much fun.
Any three dinner guests: Beyonce, Oprah and Michelle Obama
Favorite book: Currently, it's "Becoming" by Michelle Obama.
Go-to news sources: National: CNN and MSNBC; Local: Richmond Free Press and my hometown newspaper, the Martinsville Bulletin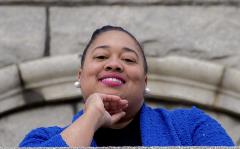 ---

Why did you decide to make the transition from public relations to teaching?

I think teaching has always been in my destiny. From a young age, I remember being in love with all forms of communications and playing school with my baby dolls. I remember being gifted my first typewriter and camcorder. I have been blessed to have my love for communications, people and teaching come full circle.
My transition into teaching came when I was asked to speak to a PR class by my former college advisor. Since there wasn't a PR curriculum at Virginia Union University at that time, the department relied on practitioners to expose students to this part of communications. I fell in love with how the students absorbed all the information I provided them. They were so excited to learn.
Did you ever imagine that you might one day return to your alma mater in this role?
I did not! I am still sometimes in disbelief. It has been a complete honor and pleasure to serve the students of Virginia Union University in the capacity of chairperson, assistant professor and adviser.
Every day that I walk the campus of VUU, speak to students in the hallways and lecture in and outside the classroom, it takes me back to a time when I was a student. Moreover, as a leader on the campus, I'm constantly brainstorming ideas on how to make the learning and social environment better for students. I just hope that I am making all stakeholders of VUU proud.
You helped Virginia Union University launch a PR sequence. What were the essentials that went into this programming?
Initially, research, planning, course development, implementation and writing a proposal — we were able to test one course from the sequence to measure how students would respond. The course we decided to launch first was social media. The social media course is still a popular one at VUU. It attracts students from various majors, such as business, marketing, biology and criminal justice.
How are you helping increase your department's enrollment and retention?
Over the past six years in my role as chair, I have led the department through rebranding efforts, fundraising campaigns, course development and an inaugural mass communications week event at the university. I continue to help increase the department's enrollment and retention through programming, chartering national student organizations such as
PRSSA and NABJ (National Association of Black Journalists), field trips to local media companies, student and alumni engagement, social media engagement and more.
VUU's PRSSA Chapter celebrated its one-year anniversary in February. What were a few highlights from the first 12 months?
This anniversary made my heart smile. In a short time, the Chapter has worked to make the VUU campus community aware of public relations by using the theme, "The VUU Network." This theme is inclusive and teaches all VUU students that, no matter what your major is, networking and making connections is important.
The Chapter has also hosted programs that include a local radio tour, public speaking workshop, "How to Make It in Media" panel discussion and free professional headshots to VUU students.
What's your proudest moment as an educator?
My proudest moment as an educator is seeing the growth, development and elevation of my students. I can't explain the feeling when you see students enter as shy freshmen and you follow their journey as they take on leadership roles in student organizations, join honor societies or fraternities and sororities, and then cross the stage at graduation.
Photo credit: vuu
Return to Current Issue
Social Purpose | April 2020
Share this article