HP's Vanessa Yanez on Humanity and Tech
Name:

Vanessa Yanez
Current status:

Head of Global Print Communications, HP
Location:

San Mateo, Calif.

Career highlights:

HP, FleishmanHillard, Axicom and PRSA Silicon Valley. In total, I've worked on 67 awarded campaigns including Silver Anvils every year for the last three years.
Favorite leisure activity:
I love to move — working out, running, hiking, dancing and playing Just Dance with my family.
3 apps you can't do without:
My Activity, Twitter, TikTok
Any 3 dinner guests:
My husband and my two daughters. They are who I want to be with every night.
Favorite films:
One of the most beautiful movies I've ever seen is "The Last Black Man in San Francisco."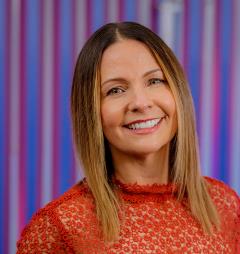 ---
You graduated from San Francisco State University with a degree in Broadcast and Electronic Communication Arts. What were you career aspirations at the time?
I was sure I was going into TV news. Many fellow students were leaving prior to graduation as there was a hiring boom. I found that I was interested in taking another direction, and it took me a few years after graduation to know what I wanted. It was the next few years and a PR hiring boom that brought me to this profession.
You're president of PRSA's Silicon Valley Chapter. What inspired you to pursue a leadership role?
Like all good assignments, I was what they call "voluntold." When I was recruited to the Board, I had just had my first baby and what I considered the least amount of time. I learned that I needed the "white space" work. Time spent on things I wanted to do.

Board work represented the best of that. Networking and connecting with people working on a common community goal was energizing. The experience helped me stay grounded as I navigated my career. The people I started out with are still going. We still work with many and, as they retire, we stay connected.


The #FridayForum is a weekly meeting providing insight-led discussions by those in communications making a difference. In early March, we had been hearing from our members and network that there were many questions and concerns. Everyone was motivated to meet that challenge.
Our Chapter is known for our programming chops and it seemed like a natural extension for us to host a weekly speaker series. So, PRSA Silicon Valley organically started hosting an open Zoom call to talk about what was on our minds, answer questions and get advice in real time. We invited the San Francisco team, our sister Chapter, to join us. Our programming is now open to all Chapters who want to cooperate with us to meet member needs. It's vital that we stay connected and informed.
At the time of this writing, we've hosted two months of unique programming that we know is making a difference. That was the goal. Our guests have covered trending topics the industry wants to hear. From Richard Edelman presenting Edelman's latest research on trust, to top recruiters talking about what job seekers need to know, to Chan Zuckerberg Institute's CCO Abby Lunardini talking about embedding their team with Gov. Newsom's team/State of California as it determined its COVID-19 response strategy, #FridayForum delivers insights that will be useful as we all make our own judgement calls in this dynamic, crisis-first environment.
It's inspiring to see how quickly we've adapted. Attendees on the forum and the FB Live come from all over the country and range from students to senior practitioners. Our Chapter's Facebook group has been rapidly growing and is super active with new jobs, content and event shares. It's a place of community and inspiration for us. Our volunteer staff is growing, and the attendee community keeps growing week by week.


What is top of mind for your Chapter during this crisis?
How we will all get through it, personally and professionally. We get questions for more information on the state of journalism and social media, consumer behavior, what the profession will become and, most important, jobs.
What do you think the rest of 2020 holds for the profession?
What's clear is that public relations is an essential function. It's made the difference in both the public and private sector. There is no time to cheer, however, as we've all been working.

The PR profession will follow the general business trajectory, while hiring will remain slow and likely get worse before it gets better. Like it did in 2008, the network lives on. Those who adapt and stay connected will make it through this unprecedented time.


At HP, you lead the print global communications team. How has HP been able to successfully champion print in a digital age?
Printing is essential now, as is much of the technology we sell.
Companies like ours, which empower humanity through technology, have important roles to play in helping people everywhere adapt to new ways of living, working and learning.
From printing faces on personal protection equipment to printing the PPE itself, and printers helping you adapt to learning or working from home, we have a lot to be proud of. And while this time isn't easy on anyone, we are lucky to be able to focus on service as our founders did over 80 years ago.


As a mentor, what have you seen in the next generation of PR professionals?
This is a time like no other and the next generation of PR pros are showing up hungry for opportunity. Many are doing what it takes: networking, volunteering and making the most of their situations. These people will find a way and make the profession better.


You've worked in the agency and corporate sectors. What do you find exciting about the PR/communications profession?
What I love about communications and reputation is there is so much opportunity to discover, and words matter. Creativity, doing what's right, and what matters are hallmarks of the best work.

In an agency, as the lines became blurred and as advertising, marketing and communications overlapped, I got more energized. I am a fan of an "above the fold" story, but also of initiatives that drive gender diversity outcomes and change, producing work that becomes an "ad of the week" or wins a Silver Anvil, or executive producing a Tribeca-awarded documentary series, now on Amazon.
The takeaway is that there are no limits. If you know what you want to say, know your audience, and communicate what matters well, then you can change the world.

photo credit: yhelfman
Return to Current Issue
Crisis Management | June 2020
Share this article