Isidro Reyna, APR, on NASA and Life in Houston
Name: Isidro Reyna, APR
Current status: Senior Communications Specialist, NASA Johnson Space Center; President, PRSA Houston
Current location: Houston
Career highlights: Public Affairs Specialist (Fort Hood, Texas, and the Pentagon);
Deputy Chief of Public Affairs (Army Corps of Engineers)
Favorite downtime activity: Binge-watching reality TV and the occasional "turn off both my phones" nap.
Favorite place to travel: Puerto Vallarta, Mexico, is my go-to spot. Moscow and Baikonur, Kazakhstan, for a rocket launch, will forever rank high on "most-interesting

Any three dinner guests: Selena, Usher and Whitney Houston — imagine the karaoke party we'd have! work trips."
Favorite films: "The Devil Wears Prada," "Mean Girls," "Selena" and "The Bodyguard"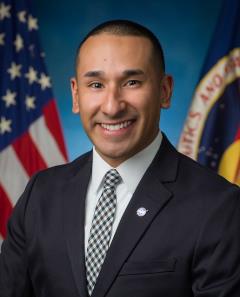 ---
What was your dream job as a child?
I told my parents I was going to be a lawyer or politician. I remember us driving around San Antonio, my hometown, seeing campaign yard signs in our neighborhood, watching candidates on TV asking people for votes and thinking, "I could do that!"
I was probably most fascinated with the campaigning aspect of these roles — not the actual job. Campaign communications director is still my bucket list job.
How did you transition from agency work in San Antonio to a career in public affairs with the U.S. Army and later NASA?
Internships and networking were the keys to my early career transitions. While completing my final year of college, I secured a full-time job at an agency, which allowed me to take time off to fulfill internship requirements. I interned twice with the Department of Veterans Affairs in Washington. Through networking, I ended up meeting an Army officer in D.C. who recommended I consider the Army's civilian internship program. I applied, interviewed at the Department of Defense, and the rest is history.
During my last assignment with the Army, life hit me hard. My dad was diagnosed with cancer. I physically uprooted to move home to assist with his care, but kept my job in a telework capacity. My dad passed away a year later and I decided it was time to do something new.
Not to sound too cliché, but the stars aligned while I was on the phone with my mentor discussing potential options. A position opened at NASA's Johnson Space Center. I interviewed for the senior communications specialist role and was offered the job.
Why did you decide to get involved with leadership at the Chapter level?
I've held a variety of leadership positions. I felt it was time for me to take the collective knowledge I've learned throughout the years and implement my own ideas to create a more inclusive Chapter and modernize our ways of doing business. A driving factor was moving away from rhetoric when addressing diversity in public relations and putting concrete ideas into action to make our Chapter more inclusive.
How do you describe the PR market in Houston?
The Houston PR market is healthy, competitive and vibrant. Houston is the most diverse city in America and our Chapter's membership reflects the city's demographics. We have a variety of industries that provide a stream of job openings for members to consider.
In 2017, NASA's "Year in Space" program received the Best of Silver Anvil. What was it like to be a part of this award-winning team?
Winning the "Best of Silver Anvil" was one of my professional career goals. I was humbled and excited to be a part of the Best of Silver Anvil team. I am fortunate to share stories that inspire the next generation of explorers to reach for the moon and Mars.
What's next for your career, both at NASA and PRSA?
I would love to serve on the PRSA National board once my term as PRSA Houston president ends. We've had a transformative year in Houston, to include an increase in membership, sponsorship and our overall treasury, and we've made changes that embrace the diversity in our city with a goal of being an inclusive organization for everyone. I'd like to share some of this knowledge to make a positive impact on our organization nationally.
At NASA, we're immersed in a variety of activities related to the historic Apollo 11 Moon Landing 50th Anniversary. This requires our team to be all-hands-on-deck at a tactical level. Once our anniversary work is complete, I'd like to get back to a strategic level and continue to lead our center's internal and external strategic communications campaign efforts. "Houston" was the first word spoken on the surface of the moon and we're on a mission to return in a sustainable way within the next five years! There's a lot of communications work to be completed.
What advice do you have for other members thinking of pursuing Chapter leadership?
Get involved with a committee and find a mentor. Committee work allows you to see how the Chapter operates, gives you an opportunity to influence programming and demonstrates your willingness to lead.
What advice do you have for prospective Silver Anvil entrants looking to submit their campaigns?
Start the submission process early. Submission writing doesn't begin when the campaign is completed; it starts before the campaign begins. Compile all of your data and be organized. Pay attention to the research, planning, implementation and evaluation process and make sure you have supporting documentation to substantiate each section. If you're not an Accredited in Public Relations (APR) member, have an APR review your submission. APRs understand strategy and can help you identify what's important and what's not. When you think you have the winning submission ready to go, proofread it, submit it, then go out and celebrate!
Return to Current Issue
The Best of Silver Anvils | August 2019
Share this article