Journalist Laura Ling on Never Giving Up Hope
As a journalist, Laura Ling has traveled the world to tell stories about the struggle for freedom.
"Many of the people I have met along the way have inspired me, from women in the Arab world speaking out about greater rights to indentured servants in the Brazilian Amazon lured to work there in backbreaking conditions," Ling said. "I never truly understood what a luxury our freedom is until I went out in the world and met these people who had risked their lives for greater freedom — of course, until I lost my own."
And now, it is Ling who is inspiring audiences by sharing her own harrowing and inspiring story.
During her compelling General Session on Oct. 20, Ling talked about her captivity in North Korea, which eventually made headlines around the world. She also discussed the one thing that helped save her: the power of hope.
In March 2009, while researching a story about the trafficking of North Korean women for Current TV's "Vanguard" documentary series, North Korean soldiers captured Ling and her colleague Euna Lee along the China-North Korea border. The North Korean government eventually sentenced the pair to 12 years of hard labor for illegal entry into the country.
"I was in total shock. I didn't know if I would see my family again. I did not know if I would survive until the next day," she said. "I felt as though I was living this out-of-body experience. I never felt more scared, alone and confused."
Later, Ling had small moments where she bonded with her female prison guards over brief conversations about families or fashion. There were other glimmers of humanity.
"Another guard, after learning that I had just been sentenced to 12 years of hard labor, seemed genuinely shocked and saddened for me," Ling said. "I was huddled in a ball crying uncontrollably in a corner, and she came up to me and said something that I'll never forget: 'Laura,' she said, 'Always have hope.'"
The darkest hour
Still, despite the random acts of kindness shown by her guards, Ling said that, in the darkest hours during her captivity, she contemplated taking her own life. At the time, this seemed to be the only escape for her.
"I now know what a horrible mistake it was to even consider such a thing," she said. "In my heart, I knew that my family would never give up trying to get us home."
And she eventually was able to return to the United States and be with her loved ones. Former President Bill Clinton traveled to North Korea as a special envoy, leading to Ling and Lee's release after 140 days in captivity.
The strength of gratitude
During her captivity, Ling did one thing every evening to maintain hope — practicing the act of gratitude. She would think of something that happened during the day that she felt grateful for, such as seeing a butterfly outside of her prison window.
"Thinking about those small things allowed me to get on to the next day," she said. "It's something that I continue to do to this day. I have found that it can not only bring a sense of peace, but also of purpose."
Ling went on to talk about the situations that we all face today, which can leave us feeling confused and alone.
"We are living in a deeply fractionalized world and time — ethnic, racial and religious tensions divide us," Ling said. "In the U.S., women still face a pay gap in nearly every occupation, and the gap between the rich and poor continues to grow here and around the world.
"But no matter how difficult things get, we just have to — as my North Korean guard once told me — hold on to hope. It will lead us through to brighter days."


photo credit: albert chau
---
Backstage Q&A With Laura Ling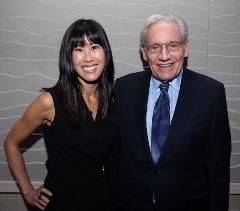 What part of your story resonates most with people? And how were you able to find hope in such bleak circumstances?
During our captivity, many people — even complete strangers — felt touched by our story and compelled to help. People connected to a personal story. But I still feel guilty that there are journalists imprisoned around the world who do not get the same attention. hope in such bleak circumstances?
I was determined to break down barriers between me and the guards, my interrogator and other people who I came in contact with. Empathy can open up many possibilities. Recently, I worked on a project about the science and benefits of kindness… not only [about] people on the receiving end of kind acts, but also the benefits we experience when we are kind.


How can people embrace the positives to maintain a work-life balance?
Developing certain rituals can be helpful. These rituals allow us to experience a rhythm in our lives, especially when things seem chaotic or stressful. Practicing and maintaining rituals can allow us to feel more centered, focused and prepared.
Practicing the act of gratitude became a ritual for me. It allowed me to focus on, and appreciate, the small things, and to find a greater purpose and peace from those.


What gratifies you personally about telling your story?
It's not easy for me — I get butterflies every time I go up on a stage, even though I do this quite often. I carry tissues with me because sometimes I get emotional. But I tell my story because it allows me to speak about larger themes that I hope will resonate with the audience.
One of those themes is about how we can, and should, appreciate our freedom, and to look at our liberties as a responsibility, not just as a right. When I can use what happened to me to speak about a larger message or theme, I feel as though I can make a small impact. — John Elsasser
Return to Current Issue
#PRSAICON Recap | December 2019
Share this article