Ken Melton on the Power of Storytelling
Name: Ken Melton
Job title: Communications Strategist, Johns Hopkins University Applied Physics Laboratory
Location: Columbia, Md.
Career highlights: Completing Syracuse University's Military Visual Journalism Program 2011; Winning the 2016 U.S. Marine Corps Heritage Foundation Major Megan McClung Award; Obtaining a Master's from Georgetown University in Public Relations in 2017; Coordinating the USDA's Veterans Day Ceremony in 2018
Best downtime activity: Playing video games (I've been a gamer since I was 6!), watching a movie and reading
Favorite way to start a workday: Snuggles with my girls (ages 8 and 6 years, and an infant), a quick 30-minute workout and short prayer with my wife
Best leadership advice ever received: "Be the leader you would want to be."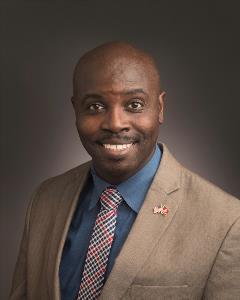 ---
What were your early career aspirations growing up?
Like most young, Black males growing up in the 1990s, I thought I would be the next Michael Jordan or Snoop Dogg. Well, at least that's what I wanted people to believe; my true ambitions were to be an actor or TV journalist. I was fascinated with storytelling and cinematography. I just didn't see much representation in that area to feel I would succeed, so I kept it a secret until I went away to college.
How did your love of photography develop?
It developed from my lifelong love of movies, newspapers and cinematography. I wanted to be a broadcast journalist in the Marines but failed the voice test, so I strove to be a more competent photographer. In 2005, while in Iraq, my battle buddy Shane — now an instructor at the Defense Information School — often gave me pointers, and helped me see a new level in the beauty of the still image.
My love of photography fully developed when I attended Syracuse University's Military Visual Journalism Program in 2010. After working alongside my service brothers and sisters and learning from a group of dedicated photography instructors, I was excited to share my newfound love with anyone who would listen.
Why did you pursue a career with the U.S. Marine Corps?
Honestly, I was at a dead end. I went to college, got an associate's degree, and spent six months looking for a job. My options were limited: work as a factory temp or get involved in "questionable" business ventures with hometown friends.
So, when a recruiter invited me in for a chat, I arrogantly told him I was only interested in the public affairs/communications job but didn't see why I should join them. He stood up and told me I could leave, because he didn't think I had what it took to be a Marine or a military communicator. Challenge accepted! I was back in his office two days later, and the rest is my history.

You served in the Marine Corps for 12 years. What were some of the more rewarding work-related highlights from your time in the Marines?

If you ask any Marine or service member, you will likely get the same answer — it's the people you serve with. Much like working outside the military, the people you work with can make or break your experience more than the job or the boss.

From Puerto Rico and Iraq to Thailand and Japan — just to name a few — I enjoyed every deployment or exercise. In each one, telling the warfighters' stories was humbling. I also looked for any opportunity to mentor a young storyteller, whether it was helping a young Marine understand the importance of being selective in the photos that accompany their articles, or guiding another through a reinterview of a subject because the story felt unfinished and unauthentic.

I felt even more fulfilled when a young Marine won an award for their efforts, or I received an email thanking me for believing in them and helping nurture their career. I was happy to play a small part in their life story.
You were a writer/photojournalist for the Marine Corps. What tips can you share with other communicators about storytelling?
Stories are all about evoking emotion. Understand that every person you interview is sharing a piece of their life and trusting you to relay the feelings behind their story to the world. When your piece is done, the reader or viewer needs to feel something rather than only be informed — whether it's proud, sad or happy. If they don't, then you've done little more than record and relay events and conversations.
What helped you prepare for the transition from the Marine Corps to civilian life?

I can't stress the importance of external mentorships and networking! In the military, you're surrounded by people with shared experiences and often similar views on life because of this. But in the "real world," there are so many different views and experiences. Most civilians don't have direct connections to the military, which creates an unfortunate knowledge and familiarity gap. To break this gap, you have to get uncomfortable.
My first civilian mentor was an executive with a corner office in New York City. This connection allowed me to pick the brains of, and rub shoulders with, people I would have never met in the military.
You currently work as a communications strategist at the Johns Hopkins University Applied Physics Laboratory. Can you tell us about your main roles and responsibilities?
I am effectively the communications manager for APL's Air and Missile Defense Sector. I am a trusted adviser for the sector's leadership team on communications matters, and craft methods to best communicate ideas and accomplishments to external and internal audiences, and help staff realize and tell their story. I act as liaison to the Lab's larger communications department, ensuring all goals and efforts work in concert with the overall Lab mission.
I'm responsible for a range of tasks, from coordinating communication elements for VIP visits and identifying subject experts for potential media interest, to formulating and executing communications strategies and managing content on the sector's internal website.
What advice do you have for anyone who's considering joining the Marine Corps or another branch of the U.S. military?
Be ready for intense and rigorous physical and mental training; take every opportunity to deploy and gain perspectives from wherever you land; build your network inside and outside the military; don't wait until you need a friend to make one.
Return to Current Issue
The Annual Writing Issue | February 2022
Share this article