Lee Weinstein's PR Life Plan
Name: Lee Weinstein
Current role: Founder, Senior Consultant, Weinstein PR; Founder, Co-Owner, Intentional Life Planning, LLC
Location: The Dalles, Oregon
Career highlights: Nike: Director, Global Employee Communications; Director, Global Corporate Responsibility Communications; Director, U.S. Public Relations; Manager, Internal Communications. State of Oregon: Deputy Press Secretary, Office of the Governor; Director of Communications, Department of Insurance & Finance.
Favorite downtime activity: Listening to vinyl
Three dinner guests: Joni Mitchell, Bryan Stevenson and Greta Thunberg
Favorite films: "King Kong" (1933 version) and "Harold and Maude"
Favorite places to travel: New York City, Hawaii and Italy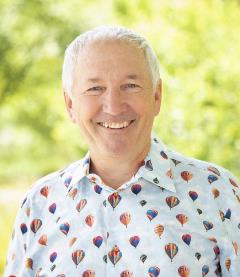 ---

Your LinkedIn profile says your first job was a part-time scooper at Baskin-Robbins. What were your early career ambitions?
In sixth grade, I wanted to be a writer and to have a truck camper and travel around the country interviewing people in their communities. I started writing my own newspaper that school year and selling it door-to-door in my neighborhood in Salem, Ore. I later considered running for political office, but discovered public relations, which is a marriage between the two.
How did the transition to politics occur?
In elementary school, I was deeply impacted by the assassination of the Kennedy brothers and Dr. Martin Luther King Jr. I was very much against the Vietnam War and wrote letters to members of Congress about the war and pollution. That interest led to me majoring in political science at Lewis & Clark College and working in the U.S. House of Representatives upon graduation.
You and your wife Melinda teach Intentional Life Planning workshops. What life moment led you to launch this business?
Only 13 percent of Americans have a written plan for their lives. We plan for so many things, but our work, family and financial obligations can make it so time just slips by. One Saturday morning after we were married, Melinda came into the kitchen where I had a 12-foot sheet of butcher paper laid out on the counter and a raft of sticky notes waiting. I asked her what we want to do with our lives now that we're married, and we invented our Intentional Life Planning process, which has really worked.
I shared it on Facebook and had a huge response from friends asking to teach them how to do it. That led to our teaching workshops and publishing "Write, Open, Act: An Intentional Life Planning Workbook," which was featured in The New York Times.
You spent 15 years at Nike, most recently serving as director, global employee communications. What are you most proud of about your work there?
I loved working at Nike, and feel like I got a Ph.D. working in PR there. I got to meet and work with wonderful people and teams all over the world, and we evolved the culture of internal communications, which was pretty America-focused and top-down in 1992, to more bottom-up, side-to-side and international — with a lot more listening.
The first day on the job, I received an assignment from Phil Knight asking for an all-employee communication expressing Nike's opposition to Oregon Ballot Measure 9, which would have embedded discrimination against the LGBTQ+ community into the Oregon Constitution. Nike was one of the first companies to take the lead against that measure, which was voted down, and I was very proud of that first task.
Companies and organizations of all sizes today are increasingly under pressure to speak out on high-profile political and social issues. What factors should a company consider before weighing in on an issue?
Companies need to do a much better job in this arena — and get on these issues proactively and immediately. This isn't necessarily defensive; these are opportunities to examine your corporate culture and practices, to engage employees and ask them for their opinions and insights, and to connect with their stakeholders, including consumers and members.

Employees are super-smart and connected and want to be involved — and if you don't involve them, they may leave you. Get diverse voices in the room. Be open and listen to critics. Evolve now, or else consumers and others will force you to, and you may evolve out of business or relevancy.

Review annually your three Ps –– policies, practices and procedures –– from the department level all the way up to be sure they are relevant today. If they aren't, you and your colleagues should work to improve them. Measure things that are important, and be honest about what you're failing to measure and must address.
You just sold your boutique agency, Weinstein PR. What advice do you have for someone thinking of doing the same with their business?

Start planning for the sale far in advance. We had a "Weinstein PR transition" sticky note on an early version of our Intentional Life Plan, and we knew what year we'd wanted to exit. About four years out, we started working proactively on it, and the last two years aggressively.
Don't wait for someone to come to you; you need to make this happen. We had several potential buyers and options, and were extremely fortunate that one of the brightest, most capable PR people I've ever known, Molly Ishkanian, was contracting with us and interested in the business.
Then COVID happened and [it was] full-stop, but we restarted our discussions with Molly in January 2021, and she bought the business. The transition has taken six months, with lots of planning and training, and has gone extremely well.
How do you know when it's time to move on and try something new?
Whether you're walking your dog, first waking up or in the shower, you should constantly be searching your soul, digging and dreaming. If I have an itch that I'm getting bored or I'm not learning anything new, then it's time to pay attention and look into that.
I've been journaling since seventh grade, and strongly believe in writing things out or seeing a licensed counselor. Take notes about your ideas and dreams or dictate them into your phone. Rainer Maria Rilke's admonition to love the questions in your heart and live them now is vital.
Return to Current Issue
Inspiring Innovation | October 2021
Share this article