The Promise and Perils of ChatGPT
On the next Strategies & Tactics Live, join Editor-in-Chief John Elsasser and Aaron Kwittken, founder and CEO of PRophet, for a conversation on the promise and perils of generative AI and tools such as ChatGPT. Tune in on LinkedIn: Wednesday, March 22, 1 p.m. ET.

---

In recent months, it's become increasingly difficult to spend more than a few minutes online without encountering headlines (or heated debates) about generative AI.
It's understandable why — the generative AI boom gave the tech industry a late spark after a tumultuous 2022. It also prompted large swaths of the workforce to ponder the future of their jobs.
Despite all the buzz, a large learning curve still lies ahead with some critical considerations to be made if we're going to effectively incorporate this technology into our daily professional lives.
What is generative AI?
As its name implies, generative AI can generate various forms of content. Even in the early stages of adoption, the possibilities have already proven to be immense; users have tasked generative AI tools with designing graphics, writing code, drafting essays and more. Emphasis on "users have tasked" — generative AI relies on prompts and feedback from humans to generate content successfully.
The bottom line, however, is that generative AI is ultimately here to help humans work smarter, not replace them. This is made possible by the time that generative AI can save professionals, helping them become more efficient and focused on their highest priorities.
Some workers are beginning to become privy to this advantage; a 2022 survey conducted by The Harris Poll found that 90% of PR professionals identify AI's potential to allow them to spend more time on high-value tasks.
Generative AI tools such as Jasper and DALL-E have attracted ample attention lately, but none more than OpenAI's ChatGPT. Launched in late November, ChatGPT holds the distinction of being the world's most sophisticated chatbot. Free and open to the public, ChatGPT introduced the masses to the power of generative AI.
In terms of impact, some have already likened the meteoric rise of ChatGPT to the introduction of the iPhone. Just over a month after its launch, OpenAI entered talks to sell existing shares in a tender offer valuing the company at $29 billion.
Around this same time, Microsoft (a major investor in OpenAI) began exploring ways to incorporate ChatGPT into Outlook, Word, PowerPoint and its search engine, Bing. This turned up the heat in Silicon Valley, leading Google's management to issue a "code red" and shift focus to developing AI products.
How will this tech impact PR?
While communicators tend to be adaptable, forward-thinking individuals, our profession as a whole isn't always the first to incorporate the newest technologies. Until quite recently, public relations was one of the only areas in the marketing world that wasn't rooted in data and performance metrics.
As founder and CEO of PRophet, the first-ever AI-driven platform designed by and for PR pros, I've seen firsthand how AI can play a role in revolutionizing our profession.
Ultimately, PRophet helps PR pros become more performative — something that's only going to become more essential as time goes on. Moving forward, the most strategic PR professionals will need to become "communications engineers," using actionable, real-time data and analytics to drive strategy and creativity. And, in my opinion, AI-driven tech such as ChatGPT will be a key component of this transformation.
ChatGPT, when paired with the right data, will make comms professionals more performative by enabling them to create base content faster. In this expedited process, they will then be able to surgically make final edits on deliverables like press releases, pitches, social posts, marketing collateral, blogs and bylines.
With the time saved on content creation, communicators will have more bandwidth to perform higher-value tasks that AI can't always facilitate. Big-picture endeavors such as ideation and innovation are best impacted by the keen instincts and human touch that PR pros possess.
Across business objectives, ChatGPT holds the potential to serve as a strong research assistant. It's not yet reliable enough to replace manual research — and may never truly be — but it is able to provide more detailed responses than traditional search engines in a fraction of the time. Its prowess for language could also prove to be helpful for message and legal compliance, especially when working with third parties such as influencers or spokespeople.
What are the drawbacks?
Accuracy will continue to be one of ChatGPT's biggest obstacles. For us to confidently immerse ChatGPT into our workflows, it will need to become far more reliable; its knowledge post-2021 is limited at the moment, leading it to provide incorrect or biased information in some instances.
Considering society is already grappling with the constant threat of misinformation, it's going to be crucial to ensure that ChatGPT doesn't douse this existing fire with a million barrels of gasoline.
ChatGPT's potential for plagiarism has already been feared by teachers across the globe, but it's also a valid concern for the corporate world. If content generated by ChatGPT isn't touched up by a human before going public, it runs the risk of plagiarizing pre-existing copy, causing reputational (if not legal) damage.
Even though generative AI is at its best when coupled with human craftsmanship, it's unfortunately inevitable that some professionals will become more complacent and less creative as ChatGPT becomes more capable.
In addition, the more that this tech advances, the more likely it will consume professional roles long served by junior staff — an outcome we should seek to avoid.
What does the road ahead look like?
ChatGPT isn't perfect by any stretch, but it still marks a monumental moment for our profession. Essentially, ChatGPT was the needle that pierced the veil of AI doubt among comms professionals.
As impressive as it is, the tool is just the tip of the iceberg when it comes to generative AI's capabilities and impact — and the current limitations are only encumbered by the lack of data needed to make it more performative.
In the months ahead, we can expect to see improvements to ChatGPT's data and overall accuracy as it continues to enter the mainstream. Additionally, OpenAI competitors will be scrambling to track ChatGPT's growth, likely driving innovation in the space.
For PR pros particularly, 2023 will be a time to test the waters of ChatGPT, tasking it with low-stakes exercises. We may still have a way to go until we can fully incorporate ChatGPT into our processes and systems, but communicators who stay ahead of the curve will have the upper hand as this tech continues to advance rapidly.

---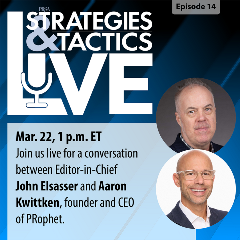 The next S&T Live is on March 22 at 1 p.m. ET. Join Editor-in-Chief John Elsasser on PRSA's LinkedIn page for a conversation on AI with Aaron Kwittken, founder and CEO of PRophet.
Return to Current Issue
The Future of Work | March 2023
Share this article