Asian American & Pacific Islander (AAPI) Heritage Month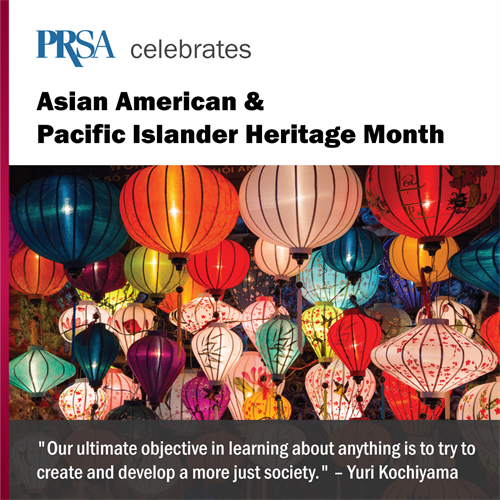 Asian American and Pacific Islander Heritage Month is observed in the United States during the month of May, and recognizes the contributions and influence of Asian Americans and Pacific Islander Americans to the history, culture and achievements of the U.S.
Through Diverse Dialogues, we bring together leaders and experts in Diversity and Inclusion to share insights and best practices to guide communications professionals in having critical conversations to enable real change.
Beyond the Hashtags: How PR/Comms Pros Can Drive Unity
Recorded May 19, 2021 5:00 PM in Eastern Time (US and Canada)
Join PRSA Diversity & Inclusion National Committee in celebrating Asian American Pacific Islander Heritage Month and recognizing the essential role ALL diverse communities play in advancing the rights, equality, equity and inclusion of the AAPI community and other Black, Indigenous, and People of Color groups. The program will cover strategies and examples of current partnerships built to combat hate.
Our panelists will discuss how to drive unity through coalition building and authentic allyship, and share tactics for PR/Comms practitioners to implement and activate as we seek to keep unity efforts moving forward.
Moderator:
Scott Shirai, APR, Fellow PRSA, Chair & President of Visual Perspectives
Panelists:
Cheryll Forsatz, VP of PR and Corporate Communications at Ferrero USA
Marsha R. Pitts-Phillips, President and Founder of MRPP & Associates Communications, LLC
Jorge F. D'Garay, President & CEO of MXUS Public Relations
Building Bridges: Standing & Speaking Up Against Anti-Asian Racism
Recorded Mar 16, 2021 04:28 PM Eastern Time (US and Canada)
PRSA and PRSSA hosts a special virtual panel to discuss the impact of xenophobia, discrimination and assault on the Asian American & Pacific Islander (AAPI) community. The one-hour session provids insight, guidance and shares strategies on how communications/PR professionals and college students can apply themselves, or on behalf of their organizations, to not only speak up in support but to take action.

Moderators:
Carolyn Lok, PRSSA National President & Haniya Shariff, PRSSA, Vice President, Diversity & Inclusion
Presenters:
Grace Meng, Congresswoman
Cady Lang, Staff Writer, TIME
Bill Imada, Chairman and Chief Connectivity Officer, IW Group, Inc.
A Celebration of Asian American & Pacific Islander Heritage Month
Recorded Jun 19, 2020
Moderator:
Carolyn Lok, President, PRSSA 2020-2021 National Committee
Panelists:
Angela Chitkara, Researcher and Consultant, World in 2020 Project
Soon Mee Kim, Executive Vice President and Global Diversity and Inclusion Leader, Porter Novelli
Ted Nguyen, Immediate Past President of OC/PRSA and National Delegate; Senior Manager of External Affairs at the Orange County Transportation Authority
This professional development offering is designed as an on-demand, certificate of completion program. It will equip management-level communicators with the tools to build a strategic approach to communication planning that advances diversity, equity and inclusion issues for our profession and in our workplaces to achieve more effective public relationship outcomes.
Advancing Your Communication Strategy in DE&I Certificate Program
The DEI Toolkit provides members with diversity-related research, materials, applicable tools and professional development opportunities.
Its creation rests on two objectives:
To educate members by providing them with the resources they need to help them manage the diversity and inclusion initiatives of their own Chapters, Districts and Sections
To influence the composition of their professional development and membership so that the diversity of its membership reflects and embraces the diversity of the profession
Toolkit de Diversidad e Inclusión - 2020