PRSA and APPrise Mobile Launch New Podcast Series: "How I Communicated That"
Feb. 15, 2018
Premiere Episode to Air on February 15th With Guest Lisa Ryan, SVP/Managing Director at Heyman Associates


NEW YORK – The Public Relations Society of America (PRSA) and APPrise Mobile today announced the launch of a new podcast series designed to share instructive, real world experiences that help communications professionals hone their skills amidst a rapidly changing environment.
"How I Communicated That" will be hosted by APPrise Mobile CEO Jeff Corbin, in conversations with some of America's most respected communications pros. Insightful, timely stories will focus on topics such as challenging moments in their careers and how they navigated them, lessons learned along the way, tips for success, and inspiration for the future.
The first episode will go live on February 15, 2018, exclusively on the PRSA Member app, and will feature Lisa Ryan, SVP/Managing Director at Heyman Associates. Corbin and Ryan will discuss the current state of the PR job market, including what recruiters are looking for, where today's opportunities are, the skills most in demand, and the pros/cons of specialist vs. generalist. Beginning on April 17th, the episode will be available on www.theEMPLOYEEapp.com and www.prsa.org.
The podcast represents a fresh, strategic initiative to inform members about how professionals across the country are managing the evolving profession. "How I Communicated That" will map to PRSA's key editorial themes for 2018, seeking to assess how technology and societal change are affecting key communications disciplines such as creative storytelling, reputation management, crisis communications and employee engagement.
"We're thrilled to be working with Jeff and Apprise Mobile on this podcast series," said Joseph Truncale, PRSA CEO. "Professionals in our industry face a shifting landscape awash with both challenges and opportunities, and hearing from peers who have successfully handled some of these situations makes for highly valuable content."
"When I started as a PR consultant, the comms world was a very different one – photocopying releases, stuffing envelopes, wining and dining correspondents," said Jeff Corbin, CEO of APPrise Mobile. "Today's audiences consume information through very different channels, and this is the perfect time for a thoughtful look at how some of the industry's leading communications experts handle common but complex challenges. The PRSA Member App is a great place to host our podcast."
Upcoming "How I Communicated That" guests will include Eileen Sheil, Executive Director of Corporate Communications for Cleveland Clinic.
About the Public Relations Society of America
PRSA is the nation's largest professional organization serving the communications community. The organization's mission is to make communications professionals smarter, better prepared and more connected through all stages of their career. PRSA achieves this by offering its members thought leadership, innovative lifelong learning opportunities to help them develop new skills, enhance their credibility and connect with a strong network of professionals. The organization sets the standards of professional excellence and ethical conduct for the public relations industry. PRSA collectively represents more than 30,000 members consisting of communications professionals spanning every industry sector nationwide and college and university students who encompass the Public Relations Student Society of America (PRSSA). Learn more about PRSA at https://www.prsa.org.
About APPrise Mobile
APPrise Mobile is the developer of theEMPLOYEEapp®, an internal communications and employee engagement mobile platform that allows companies of any size to have their own branded app for Apple and Android devices (as well as a web app). It securely integrates with a company's employee database and allows for the aggregation and distribution of content, workplace tools as well as the instantaneous push of messages, directly to an employee's mobile device.
About Jeff Corbin
Jeff Corbin brings an array of experience and enthusiasm to his role as host of "How I Communicated That." Prior to pioneering the use of technology in the communications industry as founder and CEO of APPrise Mobile, he served as CEO of public relations and investor relations agency, KCSA Strategic Communications. Jeff is the author of "Investor Relations: The Art of Communicating Value."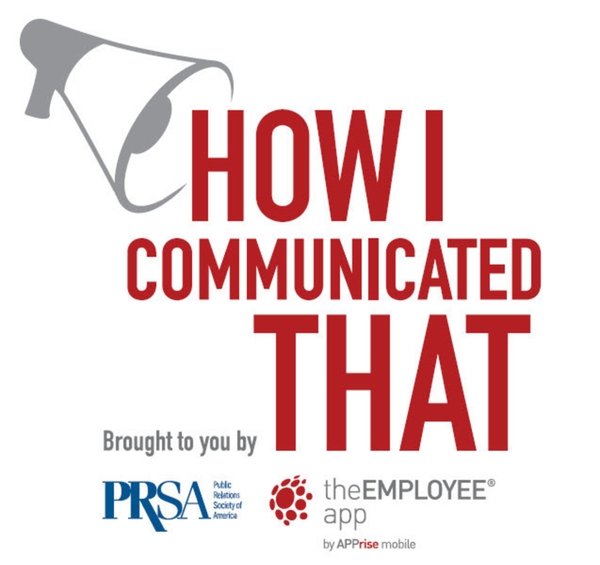 Contacts
Karen Mateo
Chief Communications Officer
(212) 460-1454
Rod Granger
Director, Content and Integrated Communications
(212) 460-0307
Communications Associate
(212) 460-1479