PRSA To Recognize Members for Substantial Contributions to the Society and Public Relations Profession at 2019 International Conference
Oct. 20, 2019
NEW YORK, October 20, 2019 – PRSA, the nation's leading professional organization serving the communications community, will present eight individual awards during the PRSA 2019 International Conference, honoring members who have served the Society with distinction and made a difference in the public relations profession. The individuals will receive these awards during the Conference being held from Oct. 20–22 in San Diego.
"We are incredibly pleased to recognize these individuals for their outstanding achievements in public relations," said Debra D. Peterson, APR, 2019 PRSA National Chair. "I'm always inspired by the extraordinary work our members do and these award winners epitomize exceptional public relations professionals."
Gold Anvil Award – Rhoda Weiss, Ph.D., APR, Fellow PRSA
The Gold Anvil Award, PRSA's highest individual honor recognizing lifetime achievement in public relations, will be presented to Rhoda Weiss, Ph.D., APR, Fellow PRSA, president of Rhoda Weiss Consulting Group, Inc. She is a past PRSA National Chair/CEO and the 2019 International Conference Chair.
A highly honored innovator in public relations, marketing and branding, Weiss travels globally as a speaker and is a well-known consultant and author for nationally recognized organizations. She chaired the AHA Society for Healthcare Strategy & Market Development, receiving its Leadership Excellence Award, as well as led Women in Health Administration and was a recipient of its Woman of the Year award.
Weiss is the recipient of several honors, including the PRSA Health Academy Lifetime Achievement Award, Educators Academy Award for Contributions to Public Relations Education and the PRSA Los Angeles Professional of the Year. A Kellogg Foundation Fellow and UCLA Extension Distinguished Faculty honoree, Weiss is also a U.S. Air Force Chief of Staff National Civic Leader, and chairs the AMA Executive Leadership Summit and Becker's Healthcare C-Suite National Conferences. She is listed among its Top 24 Women to Know in U.S. Healthcare.
Public Relations Professional of the Year – Brook DeWalt, APR+M, Fellow PRSA
Captain Brook DeWalt, APR+M, Fellow PRSA, a captain in the U.S. Navy, and Director of Public Affairs Operations in the Office of the Secretary of Defense, will be honored with the Public Relations Professional of the Year Award. The award is given to the individual who, in the previous year, represented the best in public relations as an outstanding example of the management function that established a mutually beneficial relationship between an organization and the public upon who its success or failure depends.
DeWalt has more than 33 years of military/civilian experience in the communications profession, and previously served as the Deputy Chief of Information for the U.S. Navy, and as chief of public affairs for America's largest combatant command, the U.S. Strategic Command, based at Offutt Air Force Base in Nebraska. While there, he led efforts to increase public understanding of global warfighting responsibilities including strategic deterrence, nuclear operations, space operations, joint electromagnetic spectrum operations, global strike, missile defense and analysis & targeting.
He also served seven years with the Universal Accreditation Board, overseeing professional standards in the field of public relations.
Atlas Award for Lifetime Achievement in International Public Relations – Justin Green
PRSA will present Justin Green, president of the Global Alliance for Public Relations and Communication Management, with its Atlas Award for Lifetime Achievement in International Public Relations. This award recognizes a public relations professional who has made extraordinary contributions to the practice of public relations on an international level.
With a communications career spanning 30 years, Green has become a leader in international public relations. As president of the Global Alliance, he represents more than 280,000 professionals in over 120 countries and has played a key role in the organization's growth and diversification. In addition to his work with the Global Alliance, he has made an impact through campaigns for diverse clients as CEO of Wide Awake Communications, an Ireland-based agency, and as the director of agencies in Kenya and Nigeria. A past president of the Public Relations Institute of Ireland, he is also the global ambassador for the African Public Relations Association and the Public Relations Society of Kenya.
Outstanding Educator Award – Rochelle Larkin Ford, Ph.D., APR
The Outstanding Educator Award, which recognizes a PRSA member who has made a significant contribution to the advancement of public relations education through college or university teaching, is being given to Rochelle Larkin Ford, Ph.D., APR, dean of Elon University's School of Communications.
A nationally recognized leader and scholar in communications and diversity, Ford serves more than 1,300 students and more than 80 faculty members at Elon University. In her role, she has led the reorganization of academic departments in the School of Communications to create more access to administration for students, improved mentoring of faculty and strengthened academic programs of study and industry partnerships. Ford has led hundreds of presentations on multicultural communications and diversity and her scholarly works have appeared in numerous publications and refereed journals. She has been the Champions of PRSSA Co-Chair since 2010, as well as the Programs Chair and board member of the PRSA Foundation since 2012. She was also inducted into the PRWeek Hall of Fame and the PRSSA Hall of Fame in 2018 and 2000, respectively.
Patrick Jackson Award for Distinguished Service to PRSA – Mary Deming Barber, APR, Fellow PRSA
Mary Deming Barber, APR, Fellow PRSA, president and CEO of The Barber Group, is receiving the Patrick Jackson Award for Distinguished Service to PRSA. The award recognizes an individual who has made significant contributions in advancing PRSA and the professional development of its members.
An accredited communications veteran with more than 40 years of experience in public relations, Barber has counseled clients throughout the West, including a variety of food organizations and as a key team member on two successful U.S. Senate campaigns. She is the current co-chair of the PRSA Governance Committee and has been a co-leader of the Newcomer Orientation at the International Conference for more than 10 years. Barber is a former PRSA national board member, past chair of the College of Fellows and has served in numerous leadership positions with the Alaska Chapter and on several district and national committees.
Paul M. Lund Public Service Award – David R. Hakensen, APR, Fellow PRSA
The Paul M. Lund Public Service Award is being presented to David R. Hakensen, APR, Fellow PRSA. The award honors a PRSA member whose participation as a volunteer in important public activities has increased the common good and reflected credit on the organization.
With more than 35 years of agency and corporate public relations experience, Hakensen is a seasoned practitioner with expertise in crisis and sensitive issue communications, as well as being a skilled media relations strategist. During his career, he has held management positions at Minneapolis firm Padilla Speer Beardsley (now Padilla), Pearson Education and the Minneapolis/St. Paul office of FleishmanHillard. Hakensen has been active in PRSA his entire career, serving as president of the Minnesota Chapter and Midwest District Chair. Additionally, he has served on many nonprofit organization boards. He currently has his own consulting firm, H Co. in Minnetonka, Minn.
David Ferguson Award – Del Galloway, APR, Fellow PRSA
Del Galloway, APR, Fellow PRSA, vice president of communications for Wells Fargo's Atlantic Region and President and CEO of PRSA in 2004, will receive the David Ferguson Award, recognizing outstanding contributions to the advancement of PR education on the part of public relations professionals. It honors the late David Ferguson, APR, Fellow PRSA, in recognition of his outstanding support to PR education as PRSA president in 1985 and co-chair of the PRSA Educational Affairs Committee.
Galloway previously served as co-chair of the Commission on Public Relations Education. In 2014-2015, Galloway expanded the organization's outreach and mission, and co-chaired the first-ever Industry-Educator Summit sponsored by the Commission, convening professionals and academicians for a day of discussion and action. The results from the summit informed CPRE's 2017 report, "Fast Forward: Foundations and Future State, Educators and Practitioners," which provides an overview of the current state of public relations worldwide and reviews current and potential undergraduate curriculum guidelines.
D. Parke Gibson Award – Bey-Ling Sha, Ph.D., APR
PRSA will present Bey-Ling Sha, Ph.D., APR, dean of the College of Communications at California State University, Fullerton, with the D. Parke Gibson Award. The award recognizes a PR professional who has helped expand awareness of PR with multicultural communities.
Sha has lectured on intercultural public relations on three continents and won the Institute for Public Relations' Pathfinder Award, a lifetime achievement award recognizing her program of scholarly research. Sha is co-author of the most-recent edition of Cutlip and Center's Effective Public Relations, in which she added information about the experiences of minority public relations professionals. Previously director of the School of Journalism and Media Studies at San Diego State University, Sha won a grant from the PRSA Foundation to create a bilingual media writing program to prepare Spanish/English-fluent San Diego students to enter public relations and other media professions.
About PRSA
The Public Relations Society of America (PRSA) is the nation's leading professional organization serving the communications community. PRSA is the principal advocate for industry excellence and ethical conduct and provides members lifelong learning opportunities and leading-edge resources to enhance professional connections and support them at every stage of their career. With more than 30,000 members, PRSA is collectively represented in all 50 states by more than 110 Chapters and 14 Professional Interest Sections, and on nearly 375 college and university campuses through its student organization, the Public Relations Student Society of America (PRSSA). For more information, please visit www.prsa.org.
# # #
Media Contact:
Vinica Weiss
(212) 460-1479
vinica.weiss@prsa.org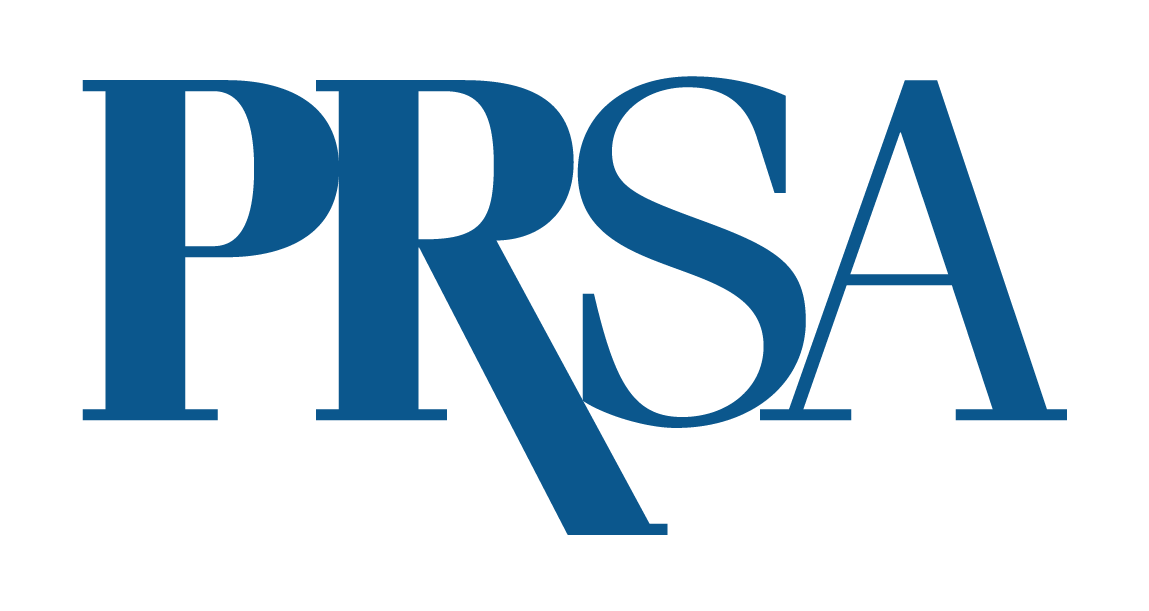 Contacts
Karen Mateo
Chief Communications Officer
(212) 460-1454
Rod Granger
Director, Content and Integrated Communications
(212) 460-0307