PRSA Welcomes 15 New Members into Its College of Fellows in 2020
Aug. 6, 2020
NEW YORK
,
August 6, 2020
—
PRSA
, the nation's leading professional organization serving the communications community, today announced the election of 15 new members into the College of Fellows, an honorary organization within PRSA comprised of more than 350 senior professionals and educators, each of whom has left a significant footprint on the public relations profession.
"Election to the PRSA College of Fellows is widely and justifiably considered to be the pinnacle of a person's communications career," said T. Garland Stansell, APR, 2020 PRSA Chair. "It signifies and celebrates the meaningful work accomplished, long-lasting impact made and dedication shown by these professionals in their organizations and their communities. We offer our congratulations to them all for their achievements as well as their ongoing leadership."
Due to the constraints of COVID-19, members of the College of Fellows Class of 2020 will be celebrated virtually on Sunday, Oct. 25. They will be formally inducted during the 2021 College of Fellows Induction Ceremony & Dinner on a date and time to be announced later.
The 2020 inductees are:
Judith (Judy) Smith Asbury, APR, Fellow PRSA, Assistant Dean, Communications and External Relations, Lewis and Clark Law School; Portland, Oregon
Kathy Barbour, APR, Fellow PRSA, Vice President, Integrated Marketing Communications, Brooks Rehabilitation; Jacksonville, Florida
Pam Gutel Campbell, APR, Fellow PRSA, Director of Public Affairs, Oklahoma City Branch, Federal Reserve Bank of Kansas City; Oklahoma City, Oklahoma
Kelly Jackson Davis, APR, Fellow PRSA, Public Relations Instructor, University of South Carolina; Columbia, South Carolina
Ronele M. Dotson, APR, Fellow PRSA, President, RAD Strategies, Inc.; Reno, Nevada
Kim Marks Malone, APR, Fellow PRSA, PR Instructor, University of Memphis; Memphis, Tennessee
Marlene S. Neill, Ph.D., APR, Fellow PRSA, Associate Professor & Graduate Program Director, Baylor University; Waco, Texas
Jo Ann S. LeSage Nelson, APR, Fellow PRSA, Vice President, Client Services, Pierce Communications; Albany, New York
Susan S. Pollard, APR, Fellow PRSA, Director of Communications and Media, Chesterfield County, Virginia; Providence Forge, Virginia
Mike Porter, Ed.D., APR, Fellow PRSA, Distinguished Service Professor, University of St. Thomas; Minneapolis, Minnesota
Christopher E. Vadnais, APR, Fellow PRSA, Public Affairs Officer, VA Tennessee Valley Healthcare System; Murfreesboro, Tennessee
Mary Louise VanNatta, APR, Fellow PRSA, CEO, VanNatta Public Relations, Inc.; Salem, Oregon
Clare L. Wade, APR, Fellow PRSA, Manager, Corporate Communications, Spectrum Health; Grand Rapids, Michigan
Kevin M. Waetke, APR, Fellow PRSA, Associate Vice President, Corporate Marketing, Sammons Financial; West Des Moines, Iowa
Brooke Worden, APR, Fellow PRSA, President, The Rudin Group; St. Paul, Minnesota.
Members of the College of Fellows serve in PRSA Chapter, District, Professional Interest Sections and National leadership positions. To qualify for admittance, the public relations professional must have at least 20 years of experience, hold the Accredited in Public Relations (APR) credential and have demonstrated superior professional performance in the practice/teaching of public relations.

About PRSA
The Public Relations Society of America (PRSA) is the nation's leading professional organization serving the communications community. PRSA is the principal advocate for industry excellence and ethical conduct and provides members lifelong learning opportunities and leading-edge resources to enhance professional connections and support them at every stage of their career. With more than 30,000 members, PRSA is collectively represented in all 50 states by more than 110 Chapters and 14 Professional Interest Sections, and on nearly 375 college and university campuses through its student organization, the Public Relations Student Society of America (PRSSA). For more information, please visit www.prsa.org.
# # #
Media Contact:
Rod Granger
(212) 460-0307
rod.granger@prsa.org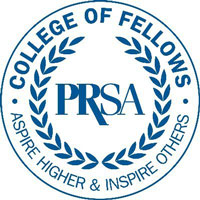 Contacts
Karen Mateo
Chief Communications Officer
(212) 460-1454
Rod Granger
Director, Content and Integrated Communications
(212) 460-0307