PRSA Honors Public Relations Professionals For Career Achievements And Contributions To The Profession
Nov. 3, 2022
Individual Awards To Be Presented At ICON 2022 in Grapevine, Texas, Nov. 13-15
NEW YORK, November 3, 2022 – PRSA, the nation's leading professional organization serving the communications community, will present six Individual Awards during ICON 2022, being held Nov. 13-15 in the Dallas/Fort Worth area.
"I am always impressed but never surprised by the magnitude of talent, accomplishment and inspiration among PRSA members and other professionals within the communications community," said Dr. Felicia Blow, APR, 2022 PRSA Chair. "This year's Individual Awards honor those who have truly dedicated themselves to setting their sights high and making a positive impact in everything they do."
Gold Anvil Award – Mickey G. Nall, APR, Fellow PRSA
PRSA's highest individual award, which recognizes lifetime achievement in public relations.
Since 2018, Nall has been a Professional in Residence in the public relations department, College of Journalism and Communications at his alma mater, the University of Florida. Previously, he was Managing Director of Ogilvy Public Relations Atlanta, part of Ogilvy & Mather. Mickey worked with Ogilvy for more than 22 years in the Washington, D.C., New York and Atlanta offices on a variety of brands and with dozens of clients.
Throughout his career, Nall has actively participated in, and led initiatives for, professional public relations associations including PRSA and the Florida Public Relations Association (FPRA). In 1986, he earned his APR and was inducted into the College of Fellows in 2008.
He was elected as PRSA's 2013 Chair and CEO, and he later served as trustee of the PRSA Foundation. In 2018, he was appointed as trustee to the Commission for Public Relations Education (CPRE) representing PRSA and continues to serve on the Commission. Since 2016, he has co-chaired PRSA's Educational Affairs Committee and is currently a member of PRSA's Georgia and North Florida chapters.
In 2018, Nall received the David Ferguson Award from PRSA's Educators Academy, and he has also won a Silver Anvil Award.
He is currently the faculty advisor to the University of Florida's PRSSA Chapter, and for the past five years he has served as co-chair of PRSA's Educational Affairs Committee overseeing the Certification of Education in Public Relations credentialing process for U.S. and international colleges and students.
Patrick Jackson Award for Distinguished Service to PRSA – J.W. Arnold, APR, Fellow PRSA
Named in honor of the late Patrick Jackson, APR, Fellow PRSA, this award recognizes a member who has significantly advanced PRSA by working to support Chapters, Districts and the overall organization, inspiring fellow practitioners, both professional and personally.
The principal of PRDC Public Relations, Arnold has for the past 21 years worked closely with national and international trade, nonprofit and membership organizations.
As press secretary to former U.S. Representative Marilyn Lloyd (D-TN), chair of the House Energy Subcommittee and the Armed Services NATO Panel, Arnold gained firsthand experience in the legislative process and the effective communication for a variety of policy initiatives.
After leaving Capitol Hill, he served as public affairs specialist for "The President's Own" United States Marine Band, which celebrated its bicentennial in 1998. He was responsible for the successful planning of events in the band's yearlong bicentennial celebration that achieved international media coverage and included an event at the White House with President and Mrs. Clinton.
Currently chair-elect of the College of Fellows, Arnold is a longtime member of PRSA and has served in a variety of roles, including Section Council Co-Chair, Sunshine District Chair, Governance Committee Co-Chair, Strategic Planning Committee Chair, Independent Practitioners Alliance Indie Chat Founder/Moderator, and 75th Anniversary Task Force member.
Atlas Award for Lifetime Achievement in International Public Relations -- Jean Valin, APR, Fellow CPRS, Honorary Fellow CIPR
This award recognizes a public relations practitioner who has made extraordinary contributions to the practice and profession of public relations in an international environment over the span of their career.
Valin founded Valin Strategic Communications after a 30-year career as a senior communication executive, and has advised senior officials, CEOs and ministers of the Government of Canada on many communication matters throughout his career. He is considered the father of the Global Alliance for Public Relations and Communication Management and a leading force behind the development and adoption of global standards of practice in public relations.
Valin worked on several high-profile national issues such as a gun control program, anti-terrorism and organized crime legislation, same sex marriage legislation, the launch of Service Canada (Canada's one-stop for all government services), as well as transportation policy for air, road, and marine safety and for security issues.
He is co-editor of the two-volume book, "Case Studies in Public Relations From Around the World." In 2018, he led research on the impact of artificial intelligence on public relations, and, in 2020, he co-authored an ethics guide to AI in public relations.
Valin is active in his professional association, the Canadian Public Relations Society (CPRS). He served as national president of CPRS in 1996-97 and has received several national public relations awards throughout his career.
His many awards include receiving PRSA's 2013 David Ferguson Award, and in 2008 he received the President's Medal from the Chartered Institute of Public Relations in the United Kingdom. He also received the Award of Attainment from the CPRS in both 2010 and 2013.
D. Parke Gibson Award – Shanita Baraka Akintonde, MBA, M.Ed., DTM
This award recognizes a PR professional who has helped increase awareness of PR within multicultural communities and participated in the promotion of issues that meet the special informational and educational needs of diverse communities.
A former tenured professor at Columbia College Chicago, Akintonde is the president of ShanitaSpeaks, a media enterprise that encourages clients to lead better, listen better and love better—themselves and those who appear to be different.
Akintonde was the first recipient of PRSA's Diversity Multicultural Scholarship, and has served in account management roles at top-ranked PR agencies including Porter Novelli, BBDO and Burrell Communications, where she was often the youngest employee, only Black employee, or both. She turned the uniqueness of her role into award-winning advertising and PR campaigns for global clients including McDonald, Coca-Cola, and P&G.
She has authored over 150 blog posts, vlogs, podcasts, articles and books, including "When Leadership Fails" in 2021, "Leading from the Heart" in 2018, and "Unleash the Leader Within" in 2006. Her newspaper columns have appeared in the "Chicago Tribune," the "Chicago Defender" and the "Chicago Sun-Times," among many other publications. She also shares her expertise as a marketing thought leader via her podcast entitled, "Marketing Insights," which she has hosted since 2018.
Outstanding Educator Award – Marlene Neill, Ph.D., APR, Fellow PRSA
This award recognizes and celebrates those who have made a significant contribution to the advancement of public relations education through college or university teaching.
An associate professor and graduate program director at Baylor University, Neill teaches undergraduate and graduate courses in public relations and advertising. Her research interests include public relations leadership, internal communications and ethics. She has published 30 journal articles and coauthored two scholarly books on public relations ethics and women in leadership.
She is also a longtime member of the PRSA Central Texas Chapter and has served in various leadership roles including two terms as chapter president, in 2006 and this year. She also served as the chair for the Southwest District of PRSA in 2011.
At the national level, Neill has served on the Universal Accreditation Board, the PRSA Board of Ethics & Professionals Standards (BEPS) and as chair of the PRSA Educators Academy. She also served as the Division Chair for the Media Ethics Division of the Association for Education in Journalism & Mass Communication (AEJMC) during the 2019-2020 school year and as a member of the Commission on Public Relations Education from 2019 to the present.
PR PRO of the Year -- Angelique Myers Evans, MPA, APR
This award honors an individual who, in the previous year, represented the best in public relations as an outstanding communicator or influencer, establishing or reinforcing the mutually beneficial relationship between an organization and the public or otherwise impacting the communications landscape.
A PRSA member who earned her accreditation in 2021, Evans serves as the Director of Communications at the Harris County Constable Precinct 1 Officer in Houston, overseeing all aspects of internal and external communications, implementing strategy and prioritizing the safety of Harris County residents.
Most recently, she was the Public Information and Marketing Manager for the Austin Police Department, responsible for the strategic planning, integrated communications, media relations and marketing strategy for the agency.
Evans began her career as a radio and television personality, and has served as a national spokesperson for the National Association of Broadcasters.
She served in K-12 public education as a Public Information Officer with Fort Bend ISD and as the sole Public Information Officer for the Round Rock Police Department managing the department's media and public relations, communications and social media.
In 2017, she was selected by the International Association of Chiefs of Police (IACP) and named one of the top 40 under 40, an award recognizing law enforcement professionals from around the world that demonstrate leadership and exemplify commitment to their profession. Evans also worked for the Army in the Public Affairs Office at III Corps Headquarters in Fort Hood, Texas, where she was recognized with the Department of the Army Commander's Award for Civilian Service and Achievement Medal for Civilian Service.
Photo key: Shanita Baraka Akintonde, J.W. Arnold, Angelique Myers Evans, Marlene Neill, Mickey Nall, Jean Valin
About PRSA
The Public Relations Society of America (PRSA) empowers its members to succeed at every stage of their careers through a wide breadth of professional development, networking and leadership opportunities. Guided by its Code of Ethics, PRSA is collectively represented by 110 Chapters and 14 Professional Interest Sections, as well as nearly 375 college and university campuses in the U.S., Puerto Rico, Argentina, Colombia and Peru through its student organization, the Public Relations Student Society of America (PRSSA). PRSA's signature events include the Anvil Awards and ICON, the premier annual gathering for communications professionals and students. For more information, visit prsa.org.
###
Media Contact:
Rod Granger
(212) 460-0307
rod.granger@prsa.org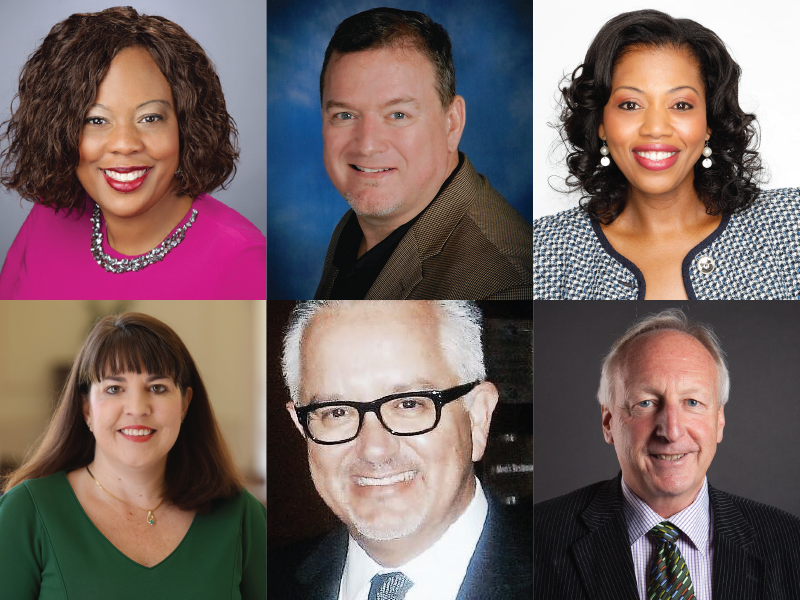 Contacts
Karen Mateo
Chief Communications Officer
(212) 460-1454
Rod Granger
Director, Content and Integrated Communications
(212) 460-0307