Home
/
About
/
Sponsorship
/
Florida International University School of Communication and Journalism
Florida International University School of Communication and Journalism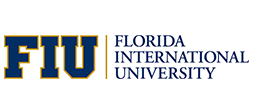 The Global Strategic Communications (GSC) graduate program at Florida International University's School of Communication+Journalism prepares graduates to be globally-minded and socially responsible communication leaders and innovators at the highest levels of corporate, government and non-profit organizations.
With a dual focus on communication management and digital communication, the GSC curriculum reflects the evolving global marketplace, providing an international perspective on such topics as reputation management, branding, social media, crisis communication, and professional ethics, among others. Students are exposed to an audience focused, data-driven approach to communicating with global publics.
The School of Communication+Journalism has a rich history of award-winning faculty, including topnotch media professionals and Fulbright scholars. Its more than 7,000 alumni worldwide have won prestigious accolades and awards, such as Pulitzers, Emmys, Silver Anvils, ADDYs, Clios, and others.
Whether you're looking to accelerate your career or start a new path, the GSC program offers different tracks to suit your individual needs:

Management
The GSC Management track gives students a global perspective in strategic communications to help them prepare for advancement in advertising, public relations, and integrated communications careers.

Fully Online: The professionally focused, fully online program can be completed in one year from anywhere in the world at any time preparing students for expanded opportunities in advertising, public relations and integrated communications, while enhancing performance in their current communication roles.
M.S. in Mass Communication: Global Strategic Communications 30 credits.
Specialization options available in:
Conflict Resolution and Consensus Building* (GSC + Conflict Resolution Certificate Option)
Digital Media
Management

On-Campus: Take classes in traditional, face-to-face, or hybrid formats with world-class faculty. Students learn to analyze organizations' business problems and recommend communications solutions using an array of communications strategies.

GSC + Conflict Resolution Certificate Option
The GSC Management track offers students the opportunity to obtain a master's degree in Global Strategic Communications with a Graduate Certificate in Conflict Resolution and Consensus Building. This option, available online and on-campus, provides students with the skills necessary to effectively communicate, operate, and manage complex communication conflicts within the global market.

Creative
The GSC Creative track, in conjunction with world renowned Miami Ad School, focuses on developing a global perspective in strategic communications through the development of trained art directors and copywriters. The program is specifically designed for creative minds who want to pursue a graduate degree that combines creative art direction and copywriting skills with the in-depth study of creative strategy, research and communications theories in the field of advertising.