High Museum of Art's Benson on Finding Inspiration During Crisis
Name:
Kristie Swink Benson, APR
Current status:
Director of Communications at the High Museum of Art
Location:
Atlanta
Résumé highlights:
Accredited PR professional, extensive crisis communications experience, PR experience in four unrelated industries, numerous awards and board service
Best downtime activities:
Reading, traveling and laying in the hammam at Exhale Atlanta
Favorite work of art:
"Red Leg" by Karen Schwartz (an artist local to Atlanta/NYC)
Any three dinner guests:
Lenny Kravitz, Malcom Gladwell and Cari Champion
Best place to travel:
Anguilla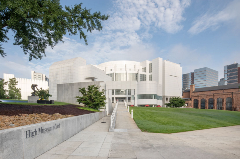 ---
Were you always an art lover growing up?

The arts have always been a part of my life. I played trumpet and was a section leader in the Southwest DeKalb High School Marching Band, and I played French horn in concert band in high school and at Winston-Salem State University on scholarship. After I started my career and got married, we acquired our first piece of artwork. Some form of art — performing and visual — has always been present in my life.

Talk about the High's ongoing messaging using communications to fuel interest in the arts.
When I joined the museum [three years ago], the message was "Here for You." The staff thought about Southern hospitality and wanted the High to embody that spirit. In 2018, the museum underwent a huge reinstallation (renovation) project. It was ambitious and designed to rethink the way artwork was presented in our galleries.

As we prepared for reopening, we thought about the importance of our community coming to visit. We could not fulfill our mission to connect people with art and become the gathering place for Atlantans without their presence and support. Hence, Art + You was born, a campaign designed to pair our visitors with artwork in marketing.
In October, we celebrated our one-year anniversary of the reinstallation and thought about how visitors had rediscovered our galleries among other wonderful exhibitions. On March 9, we launched a campaign that focuses on the High being Atlanta's place for ___. You can fill in that blank however you like. This campaign is dynamic and features people who have visited the museum and tagged us in amazing Instagram photos. You can check it out on high.org/my-place. We've had to pivot a little since COVID-19, but the campaign is fun.

Tell me about your work on the heartmatch app.
heartmatch was created from observations we made during Yayoi Kusama: Infinity Mirrors. It was the hottest ticket in town — 144,000-plus visitors came to the museum from November 2018-February 2019. We welcomed people from every state except South Dakota.
During that time, [staff] served as greeters, elevator operators and way finders. We all jumped in to make sure people had a great experience. This was many people's first visit to the museum, so I'd say, "Welcome to the High Museum. Your ticket for Kusama gives you access to all we offer. We have photography, decorative arts and design, European, American, African, modern and contemporary, folk and self-taught art." We'd receive blank stares. People didn't know what they liked and all the artwork we had to share only overwhelmed them.
I took the observations to my team, and thought about how we could make the museum more palatable. Via prototyping and surveys, we changed course from our original idea. Data should always lead your efforts. By pivoting, we developed and refined heartmatch.
We adapted a Tinder-like app to make people fall in love with art by swiping right or left on works we presented from our collection. Based on preferences, a map showed where the artworks are in the galleries, which could be shared. Anyone can access the web app through heartmatch.org.
We launched it on Feb. 14, 2019 and have gathered useful data on both the top and least favorite artworks that visitors select. Since the launch, more than 13,000-plus people have used heartmatch in 69 countries — we have media coverage to thank for the global reach.

What other social media tools does the High use to engage audiences and stay relevant?
We are on Facebook, Instagram, Twitter and LinkedIn. You can subscribe to our YouTube page for video content, and we write extended blog content on Medium that gives readers an in-depth, behind-the-scenes look at art. I also try to explore different technology concepts and ideas. You must stay knowledgeable about what's out there, even if you have never seen it used in your industry.

Is there unified messaging between the museum's internal and external audiences?
We share information with staff, which has ramped up since COVID-19. We are teleworking now, so it's important we stay connected. The employee newsletter is released twice a week. In terms of external audiences, we have dual messaging. We try to give members exclusive access to certain types of content first, but we share all that we do with both audiences. We want our not-yet-members to become members and our members to stay members. Accessibility is important to us, and that guides the way we approach our work.

How is the High finding ways to inspire during COVID-19?
Our staff rallied to provide interesting and relevant content during uncertain times. We have homed in on how we take in-gallery experiences and transition them to a virtual experience. This is so important now. We are digging through old videos and repurposing them with new content. We are taking extended labels about artworks in our collection and turning them into videos. We are taking exhibitions on view and making them available virtually. We are taking our inspiration from this moment by using the creativity of staff.

What else is the High doing to engage audiences at this challenging and uncertain time?
Museums are incredibly collegial. We always share ideas and support each other's work. #museumfromhome is a great aggregate of content from museums all over the country. We also have been creating challenges and activities that people can access through high.org or on our social channels. We recently joined an Atlanta initiative with attractions across the city called #FieldTripFriday, which gives families virtual opportunities to visit their favorite place every Friday, while being introduced to new and fun content.
Return to Current Issue
Leadership During a Time of Social Distancing | May 2020
Share this article