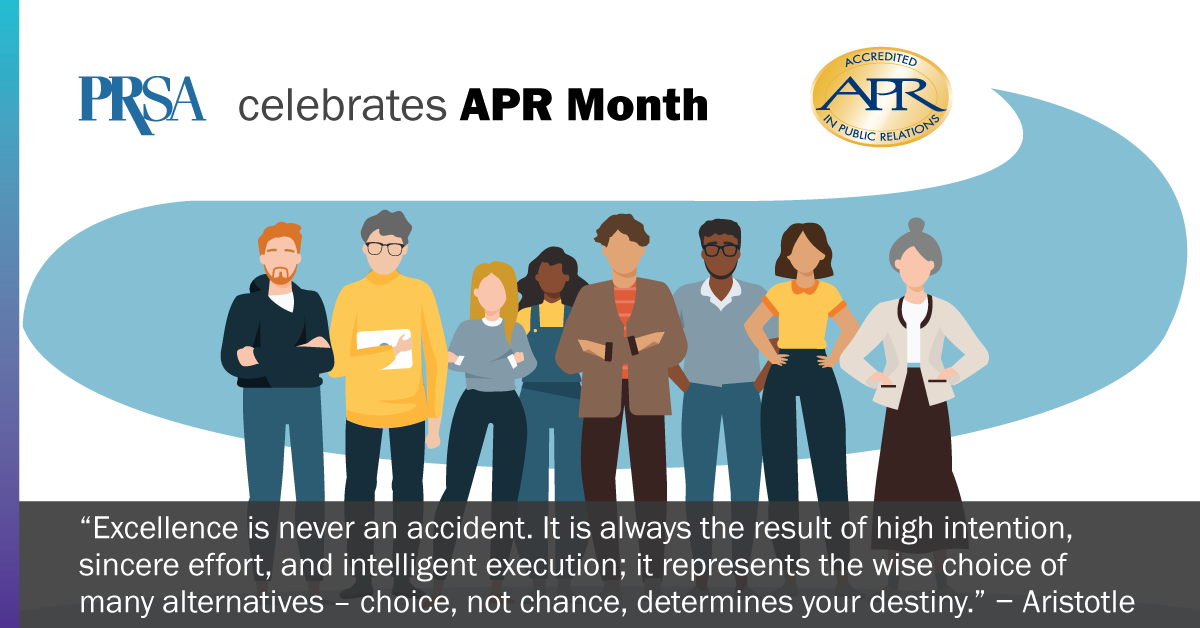 Welcome to APR Month!
Each April, we shine a special spotlight on the Accreditation in Public Relations (APR) credential. This credential sets communications, public relations and marketing professionals apart from the rest of the industry. These three letters identify you as someone who goes above and beyond to achieve exceptional results in today's competitive world.
The APR:
Asserts professional competence
Communicates professional expertise, plus personal and professional dedication and values
Reflects progressive public relations industry practices and high standards
Take advantage of the following resources designed to help you learn more about getting your APR.
APR: Nuts and Bolts Series
Webinar
Session 1: APR Process and Overview
Wednesday, April 19, Noon-12:45 p.m. EDT

Session 2: APR Panel Presentation
Wednesday, May 17, Noon-12:45 p.m. EDT

Session 3: APR Examination
Wednesday, June 21, Noon-12:45 p.m. EDT
Join us online to learn all about the APR process, from application and candidate timeline to the Panel Presentation and the APR exam.
You'll also have opportunities to get your questions answered in three, 45-minute sessions.
Learn More!
Earning an APR and Then Some: The Value of Ongoing Learning
Webinar
April 13, 2023, 3-4 p.m. EDT

Ever wonder if an APR is worth the effort? Find out all about Accreditation from two seasoned pros. They'll discuss real-world benefits, from defining the value for clients and management to the way this has helped them create countless award-winning public relations campaigns. You'll also get tips for creating a powerful portfolio and conquering the Examination for Accreditation in Public Relations.
Course/Workshop
May 3-5, 2023
Registration Deadline Is April 12!
This course is designed to provide a setting for busy professionals to focus on final preparations. We strongly recommend that candidates complete previous preparations through their local Chapter, on their own or by taking the APR Online Course. (This is not a seminar for those beginning their APR journey.)
Top Talents Compete Series
On-Demand Webinar

In this innovative on-demand webinar series, the live participants (previously recorded) were the ultimate judges to determine who's got the greatest communication campaign. Across four sessions in April 2022, attendees joined in to judge the best strategic framework in communication presented by three award-winning contestants with substantial expertise in entertainment, nonprofit, retail and technology.
Session 1:
Who's Got the Greatest Communication Campaign in the Category of Research
Session 2:
Who's Got the Greatest Communication Campaign in the Category of Planning
Session 3:
Who's Got the Greatest Communication Campaign in the Category of Implementation
Session 4:
Who's Got the Greatest Communication Campaign in the Category of Evaluation
Congratulations!
A well-deserved round of applause to all the 145 communications and public relations professionals who earned their APR in the period from March 2022-February 2023!

Download the PDF
Going through the Accreditation process not only made me a better practitioner, but also made me realize that I was capable of doing so much more for my career. It was a challenging process but it has changed the way I think and execute.
Sara Robbins, APR — Director of Social Media, KPS3
APR+M has made me a stronger leader, communicator and positioned me to effectively assist with mentoring the next generation of public relations and public affairs professionals.

Lt. Col. Christian Patterson, APR+M, Fellow PRSA — Director of Communications , U.S. Army ERDC Vicksburg, Mississippi
My APR gives me the confidence to help me work from a strategic point of view. It reminds me only to make the best ethical choices for my company and its audiences. Because of my APR, I am equipped to practice communications in any industry.
Ivy Johnson, APR — Senior Account Executive, MP&F Strategic Communications