The PR Education of Luke Capizzo, APR, Ph.D.
Name: Luke Capizzo, APR, Ph.D.
Job title: Assistant Professor, Strategic Communication, Missouri School of Journalism
Location: Columbia, Mo.
Favorite downtime activity: Choral singing (currently with the Choral Arts Alliance of Missouri)
Favorite way to start a workday: With a full Chemex
Favorite recent books: "A Strategic Nature" (Melissa Aronczyk & Maria I. Espinoza), "Range" (David Epstein*) and "Data Feminism" (Catherine D'Ignazio & Lauren F. Klein)
Best part about being an educator: Watching students surprise themselves with how much they can achieve.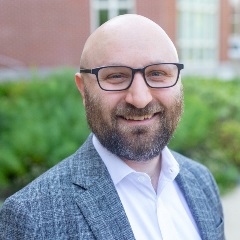 ---

What was an early career ambition for you?

I saw myself doing political communication. My major at Michigan State was political theory and constitutional democracy. However, I found an interesting communications-related internship in the governor's office in Michigan. After graduation, I stumbled into my first agency-PR position at Lezotte Miller Public Relations in Lansing, Mich.
How did you find that agency experience?
I loved the work and realized quickly that the political-communications side has the potential to be repetitive, particularly the campaign and partisan aspects. Whereas, in an agency, in and around a state capitol, we were working with trade associations and talking about issues, such as what was going to make a difference in terms of policy for the people of the state. It was invigorating and engaging work.
I then worked for three years for the Michigan Credit Union League, the trade association for the state's nonprofit financial institutions. Media relations was the center of both positions and my third and final professional position at Identity, a strong midsize integrated PR firm in Detroit.
After nearly eight years in an agency or in-house setting, what prompted you to rethink your comms career path?
There were questions that I was interested in beyond what I could spend my time doing during billable hours… a lot of interesting things happening in the world. Obergefell v. Hodges, the 2015 same-sex marriage Supreme Court decision, is a good example.
I was asking: "What changed for all of these companies that two, three, 10 years ago would have stayed silent on this issue? Why were they suddenly tweeting rainbows?"
In an agency setting, you're asking that question for one client. But from an academic and research perspective, you can say, "What is encouraging these different organizations to take these stances? What societal impact do these decisions make collectively?"
Along with Stephanie Madden, assistant professor of public relations at Penn State University, and Mikayla Pevac, who recently completed her Ph.D. at Penn State, you released a study in the spring that looked at expanding the history of public relations to include community activism. What motivated you to explore the use of PR strategies in community activism through the lens of the late authors and activists Grace Lee Boggs and bell hooks?
We're reading the work of really smart people and asking, "In what ways has public relations gotten away from this idea of geographic or physical community, because we're focused so much on digital communities in this day and age? What have we lost in terms of thinking about community, and what could we add to the way that public relations builds community, if we're prioritizing that?"
We wanted to demonstrate that activists use the toolbox of public relations constantly, whether they think of it as PR or not. But the work of building community is something that I think a lot of organizations don't prioritize, and could more than they do, as part of the work of public relations. Activist communicators also help us to see time in different ways: We can think of immediate activism as a public relations response to a timely community crisis, but practitioners could also learn from activists who work across decades to build coalitions and community strength.
Grace Lee Boggs and bell hooks were two activists and women of color who spent decades investing in their own communities, geographic and otherwise, as part of their activism. What can we learn as PR people from these folks who did such incredible work building communities through their communication?
How does this study challenge the prevailing notion that public relations is primarily a corporate communication practice?
We have these histories of public relations as something practiced by the folks who were leading corporations, which in the early 20th century were a bunch of white men, generally privileged, and well-off economically.
What does it mean if we can look at this historically and say, "Well, no, we've had all of these other folks doing public relations in maybe different ways, maybe with different names"? We can show a more diverse group of students that there are people related to the causes that they care about, who look like them, and who have done this work at the highest level.

How does expanding the history of public relations to include contributions from activists like Boggs and hooks benefit future PR students and practitioners?
Grace Lee Boggs demonstrated incredible personal bravery. She was an Asian woman who ended up getting heavily involved with the civil rights movement in Detroit and being a pillar of the black community at a time when Detroit was not an easy place to be. And she said, "How can we solve the problems of our community ourselves, and not rely on all of these external government or corporate forces to do it for us?"
She thought about the work of strategic communication over generational time and in ways that could make an entire community stronger. I don't think we do that enough, if I'm being honest, as PR folks.
We're often too worried about the next quarterly report, what we are going to present to the boss next month, when we have this incredible opportunity to look further down the road than other areas of the organization can and to make a case for why certain actions that might be more beneficial to a broader group of stakeholders are the right thing for an organization over the long term.
Gloria Jean Watkins, who used the pen name bell hooks, is probably more well-known as a Black feminist scholar and an author. Among the things that are valuable from reading her works, particularly those about community, are the ways our identities and individual strengths come from our experiences and where we're from. She also emphasizes finding leaders within a group, rather than necessarily looking for leaders from the outside.
She talks about advocacy, which again, we do in a million different ways as PR practitioners, as being an inherently intersectional experience. When you're advocating for something, you're always looking to build coalitions. We don't necessarily always think about all of the intersections that come up among different identify groups.
Bringing those perspectives more to the center of the way PR practitioners are approaching problems gives us a valuable perspective that we can add to organizations to make communications better to support clearer and more community-oriented decision-making. That, I think, is the greatest value of the PR function for organizations.
We can help them to see the world more clearly because of the unique view we have externally. We can help them make better decisions, from a more informed perspective.
Based on your work as an educator and a PRSSA adviser, what are your thoughts on the next generation of comms professionals?
Students are coming in with clearer ideas of what they want out of work, certainly more than I had in 2007 when I graduated. They are looking for work that reflects their values and want to be in roles where they can understand how they're making a positive contribution. They bring a lot of energy and power through these values to improve organizations and communities.
Return to Current Issue
Media Relations | September 2023
Share this article