ICON 2022
Dallas-Fort Worth area
Nov. 13 – 15, 2022
Gaylord Texan Resort, Grapevine, Texas

Join us in the Dallas-Fort Worth metroplex for ICON 2022, which we plan to hold in person for the first time since 2019!
Our headquarters hotel for PRSA and PRSSA will be the one-of-a-kind Gaylord Texan Resort & Convention Center, where we'll celebrate PRSA's 75th Anniversary. ICON 2022 will present top-notch thought leaders, an extensive array of breakout sessions, networking opportunities, and more. You'll be able to enhance your perspective and skill sets, renew old friendships and make new contacts, and meet representatives from leading industry service providers.


Marlee Matlin
Matlin's latest film, "CODA," recently earned three Academy Awards, including the Oscar for Best Picture. It also garnered the Screen Actors Guild Award for "Outstanding Performance by a Cast in a Motion Picture."
But this wasn't Matlin's first successful trip to the Oscars. Back in 1987, the then-21-year-old Matlin became the youngest recipient of a Best Actress Oscar for her film debut in "Children of a Lesser God." She is also the only deaf performer to win this particular award.
Though Matlin lost her hearing when she was only 18 months old, she never let challenges dictate her future or deter her dreams. Along with a successful Hollywood career, Matlin has dedicated herself to raising awareness for many humanitarian causes, including diversity, equity, inclusion and access along with LGBT rights.
Matlin published her New York Times best-selling autobiography, "I'll Scream Later," in 2009. A mother of four, she has also written three novels for children.
Matlin developed "Marlee Signs" in 2015. It's the first celebrity-driven app teaching the basics of American Sign Language on mobile devices.
Katty Kay

During her nearly 30 years with BBC News, Katty has been a reporter and lead anchor, reaching a huge global audience from her studio in Washington, D.C. She is a regular contributor and substitute host of "Morning Joe" on MSNBC.
Katty also writes on the art and science of self-assurance in women and girls. She is co-author, with Claire Shipman, of four New York Times bestselling books: "Womenomics," "The Confidence Code," "The Confidence Code for Girls," and "Living the Confidence Code."
Helping people turn thoughts into action and master a more confident mindset is one of Katty's passions. "The Confidence Code" inspires people to understand that confidence — the linchpin of success — is a choice.
Join us and hear firsthand how powerful Katty's message is.
Plan Ahead and Reserve Your Seat at the Center of Influence in 2022.
Professional communicators wield incredible power as influencers in their organizations, industries and society. ICON 2022 will showcase the impact of public relations and strategic communications over the past 75 years as well as defining the role of the communicator in the future.


The power of this influence will be explored at ICON 2022 through thought leadership, education, events and networking programs focused on the impact that communicators have in:
Driving business and society forward by leading the discussion on civility.
Influencing the conversation about change with facts, integrity and deliberate narratives designed to effect behavior.
Shaping the future of corporate and private business social responsibility, DE&I, social activism, and more.
Speaking with authority on matters of dis/mis and mal-information.
Impacting business decisions by earning and maintaining a critical "seat at the table."
Defining the future of communications in government, business, nonprofits, communities and beyond.
Health Academy Conference at ICON
This year, the Health Academy Conference is conveniently being co-located with ICON 2022 and will take place on Nov. 12-13. Registration is now open!
Professional Rates
Saver
on or before Sept. 16

Regular
ICON: Member
$1,395
$1,595
ICON: Nonmember
$1,695*
$1,895*
Health Academy Conference: Section Member
$595
$695
Health Academy Conference: PRSA Member
$695†
$795†
Health Academy Conference: Nonmember
$795
$895
ICON + Health Academy Conference Bundle: Section Member
$1,590
$1,890
ICON + Health Academy Conference Bundle: PRSA Member
$1,690†
$1,990†
ICON + Health Academy Conference Bundle: Nonmember
$2,090‡
$2,390‡
Please contact Cindy - cledesma@pcm411.com at our registration company and let her know that you wish to add Health Academy to your ICON registration. She will enter it manually for you, and then process the payment.
* For attendees who meet eligibility criteria, the nonmember rate for ICON Professional Registration includes full paid National membership for one year. PRSA will send you an application after the Conference in November 2022.
† The PRSA member rate for the Health Academy Conference includes free Health Academy Section membership for one year.
‡ For attendees who meet eligibility criteria, the nonmember rate for ICON + Health Academy Bundle includes full paid National membership, including the Health Academy Section, for one year. PRSA will send you an application after the Conference in November 2022.
Student Rates
Saver
on or before Sept. 16

Regular
Member
$335
$350
Nonmember
$395
$445
Exclusive ICON 2022 Conference Hotel Rate
For accommodations at the Gaylord Texan Resort and Convention Center, click on the booking link or call (877) 491-5138 and ask for the Group Name "Public Relations Society of America." PRSA has reserved a special room rate of $249 per night, plus taxes and fees. Rooms are guaranteed on a first-come, first-served basis through Oct. 5, 2022.

Interested in presenting at ICON 2022 and sharing expert insights, compelling content or innovative programming?
The Call for Presentations deadline has been extended until March 23, 2022.
For information and details on submitting a proposal, please click below.
Sponsorship Opportunities
PRSA means business.
Public relations, marketing and communications professionals are coming together to learn, network and define the future. Join us this fall as PRSA presents an in-person ICON 2022! Professional communicators are trusted advisers when it comes to purchasing decisions in small and large businesses and agencies, and are valued as consultants.

Get your representatives in front of these important decision makers and influencers working across a wide variety of industries. Showcase your brand, support the profession as a sponsor, partner or exhibitor, and connect with your current and future customers.

Beginning on Nov. 13, ICON 2022 offers compelling general sessions, timely keynote speakers, on-point breakout sessions, fun networking opportunities and more.
The PRSA team is ready to assist and create the right custom package to showcase your products, meet your budget, and exceed your business expectations.
PRSA offers a vast array of sponsorship levels, engagement and exhibit opportunities to reach thousands of communicators.

Did you know that PRSA outreach opportunities extends way beyond ICON?
Online display advertising in our award-winning publications – Strategies & Tactics.
Additional event sponsorships (Silver Anvil, Diversity & Inclusion, Sections conferences).
Webinar sponsorships.
University partnerships.
Dedicated emails and e-newsletter insertions.
Branded editorial content (per PRSA guidelines).
Storytelling content.
PRSA Jobcenter.
Interested in media alliances? Contact Richard Spector
Interested in emails – full or targeted? Contact Richard Spector
Interested in e-newsletter and publication advertising? Contact Lisa Franklin
Honorary ICON 2022 Co-Chairs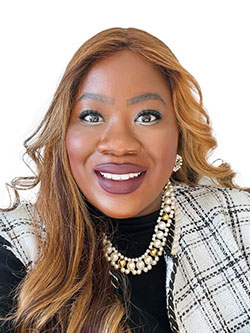 Sabrina Browne, Vice President, Corporate Affairs, BCW
Sabrina Browne is an award-winning PR executive, DEI champion, and women's advocate residing in the Greater New York City Area. Currently, she is a Vice President, Corporate Affairs at BCW, the world's third-largest integrated communications firm. In her role, Sabrina advises clients across the retail, CPG, financial, and spirits sectors.
Browne connects the firm's Fortune 500 clients to target audiences through integrated communication strategies that build consumer trust, drive purchase consideration, and sustain corporate reputation in media. She also leads BCW's African American Employee Resource Group in North America to elevate Black voices across the firm. Beyond BCW, she is the VP of Marketing at PRSA-NY and Co-Chair of PRSA's Black Voices Affinity Group.
To date, Browne has received several awards and recognitions including Business Insider's 20 Rising Stars in PR, Crain's Notable in Marketing and PR Award, and Top 100 Women Leaders of New Jersey.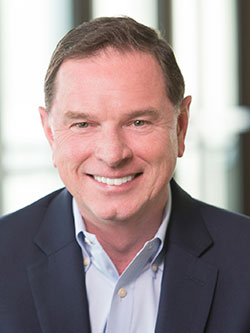 Robert T. Hastings, APR+M, Fellow PRSA
Executive Vice President, Marketing & Communications, Bell
Robert Hastings is Executive Vice President, Chief Marketing & Communications Officer, for Bell Textron Inc. where he leads the company's internal and external communications, marketing, branding, corporate giving, and community affairs.
Hastings joined Bell from Northrop Grumman where he served as vice president of communications for the Information Systems Sector. Previously, he was appointed by President George W. Bush to serve as Assistant Secretary of Defense for Public Affairs where he led a worldwide public affairs community of some 4,000 military and civilian personnel. Before joining the Defense Department, he served as chief of staff and vice president of communications for BAE Systems, Inc.
Hastings is a former member of the PRSA Board of Directors and Board of Ethics and Professional Standards (BEPS). He also served on the National Capitol Chapter Board of Directors and was Co-Chair of the 2010 International Conference. Hastings is a recipient of the PRSA Lloyd B. Dennis Distinguished Leadership Award.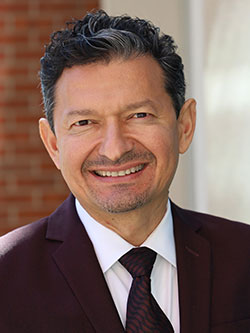 Juan-Carlos Molleda, Ph.D.
Dean of the School of Journalism and Communication
University of Oregon
Juan-Carlos Molleda, Ph.D. is the Edwin L. Artzt Dean and Professor of the University of Oregon School of Journalism and Communication since 2016. He has been an active scholar for more than 20 years, resulting in a noteworthy volume of publications and speaking engagement worldwide.
Juan-Carlos is the co-director of the Latin American Communication Monitor, the largest study of strategic communication in the region since 2014. He is actively engaged with the professional community, accumulating more than 10 years of public relations and communication management experience in the financial, insurance, pharmaceutical, and consultancy sectors.
Juan-Carlos is member of PRSA Educational Affairs Committee, the Institute for Public Relations' Board of Trustees, The LAGRANT Foundation's Board of Directors, and the Plank Center for Leadership in Public Relations' Board of Advisors. In Oregon, Juan-Carlos is member of the HIV Alliance's Board of Directors and the Jordan Schnitzer Museum of Art's Leadership Council.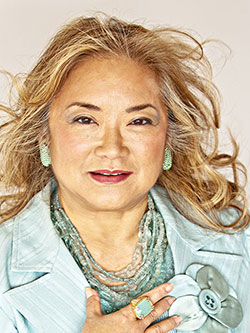 Patrice A. Tanaka
Founder & Chief Joy Officer
Joyful Planet LLC
Patrice Tanaka is a best-selling author, public speaker, serial entrepreneur and co-founder of three award-winning, PR & marketing agencies and the consultancy, Joyful Planet [joyfulplanet.com], focused on helping individuals and organizations discover and actively "live" or "operationalize" their purpose to unleash greater success, fulfillment and joy in their personal lives, workplaces and communities.


Tanaka is co-author of best-sellers, Beat the Curve [pressnewsroom.com] and Performance360 [joyfulplanet.com], where she writes about life and organizational purpose, and Becoming Ginger Rogers…How Ballroom Dancing Made Me a Happier Woman, Better Partner and Smarter CEO [amazon.com]. She has been honored by organizations, including PRWeek (Hall of Fame), PRSA (Paul M. Lund Award for Public Service), New York Women in Communications (Matrix Award), Girl Scouts of Greater New York (Women of Distinction and Gold Achievement Awards), among others.

Tanaka lives in New York City but calls Hawaii "home" and is committed to living her life with the "Aloha Spirit."
REGISTER NOW FOR DISCOUNTED SAVER RATES.
For information on partnering with PRSA as a sponsor, exhibitor or advertiser as we present ICON 2022, please contact: sales@prsa.org